FAU Financial Analyst Program
Objective
In partnership with Bloomberg®, the Financial Analyst Program (FAP) equips students with cutting edge skills in financial analysis and equity research taking the students through a deep value fundamental research process that results in the creation of independent equity research reports. The FAP provides an educational challenge that builds on relevant, real-world fundamental investment knowledge to educate, train and develop the next generation of top notch finance talent.
The Financial Analyst Program begins each fall semester. The fall 2018 Financial Analyst program begins Friday, August 24, 2018.
Financial Analyst Program (FAP) Facts:
The ONLY program of its kind in the state of Florida
Preselected group of students based on academic background, GPA, interview and essay
CFA-based financial analysis curriculum
Bloomberg Partnership and intern program
Students must become Bloomberg certified to successfully complete program
Internships opportunities with: Asset Management Firms, Family Offices, Hedge Funds, Equity Research Firms, Corporations
Student Benefits
Students gain real experience with real companies in the areas of financial analysis, financial modeling and company valuations. This one of a kind program helps students to become more competitive in today's job market. Utilizing the newly renovated FAU Trading Room, students will gain practical, hands-on experience and knowledge via Bloomberg® terminals. Students will receive a Financial Analyst Certificate from FAU and are also required to become Bloomberg Essentials Certified.

Only 30 students will be accepted to the Fall 2018 program, so make sure you contact us today!
Bloomberg Laboratory
The FAU College of Business has just completed construction on its Bloomberg Laboratory equipped with an array of Bloomberg terminals.
Students in the Financial Analyst Program have 24-hour access to this new lab located on the second floor of the FAU College of Business.
Accolades
The 2015 Financial Analyst Program students from FAU, led by Dr. Rainford Knight, won for the State of Florida Research Challenge. Teams from FAU's Financial Analyst Program has since program inception in 2011 qualified for the State of Florida Research Challenge, including this years competition in 2017!
Company Benefits
FAU/Bloomberg Terminal Internship Program
Through the FAU/Bloomberg Terminal Internship Program, companies not only gain access to talented FAU students, but also benefit from access to Bloomberg® terminals and industry experts.
FAU/Bloomberg Capital Markets Series
The inaugural FAU/Bloomberg Capital Market Series provides companies an opportunity to join the conversation with Bloomberg industry experts on the local and global impact of relevant topics such as the regulatory environment, fixed income, technical and fundamental analysis and equities.
Contact us for more information on the Capital Market Series, the Bloomberg Terminal Internship Program and how your company can benefit.
Program Structure
The Financial Analyst Program is a 6 credit-hour program. Selected Undergraduate and Graduate Students will be registered for 2 classes totaling 6 credit-hours beginning Fall 2018.
The two classes will run over two semesters (Fall & Spring) and will be graded at the end of the Spring semester. Students will be required to go through an intensive financial analysis training program modeled from the CFA curriculum. To complete the program, students will be required to submit and present a final research project and to become Bloomberg Certified. The FAP will also prepare students to sit for the CFA Level 1 exam.
Program Starts: August 31, 2018
Program Ends: April 26, 2019
Meeting Days: Fridays in the FAU Trading Room
Meeting Times: 9:30 AM - 12:30 PM
Application Deadline - August 1, 2018
MS in Finance - Financial Analyst Track
Students can apply to be admitted into the MS in Finance simultaneously as they are applying to the Financial Analyst Program (FAP). Students completing the Financial Analyst Program will obtain 6 credits towards the MS in Finance Program. Students completing the Financial Analyst Program will also receive a Financial Analyst Program Certificate from FAU.
Program
Step 1: Application and selection process
Step 2: Investment training program based on the CFA candidate curriculum ®
Step 3: Student is assigned a firm in a specific industry to analyze
Step 4: Draft equity research report is produced and presented
Step 5: Research will be graded, approved by the investment committee and published
Admission and Application Requirements
Visit FAU Financial Analyst Program - Admission & Application Requirements to complete an application for the fall 2017 starting class.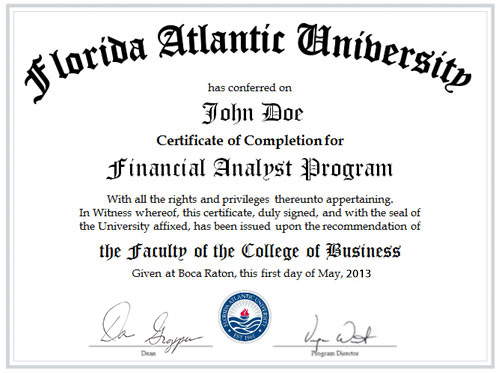 Contact Us
Rainford Knight, PhD
Director, Trading Room
email: rknight2@fau.edu
Quick Links
Student Experience

Play Video