Shyra Johnson, MBA Sport Management Student: Among Nation's Youngest Sports Agents
By Denise Gravatt | 11/21/2022
Tags:
Bulletins | Executive-Education | MBA-Sport
Categories:
Accolades | Students
On Track to Represent College and Pro Athletes
---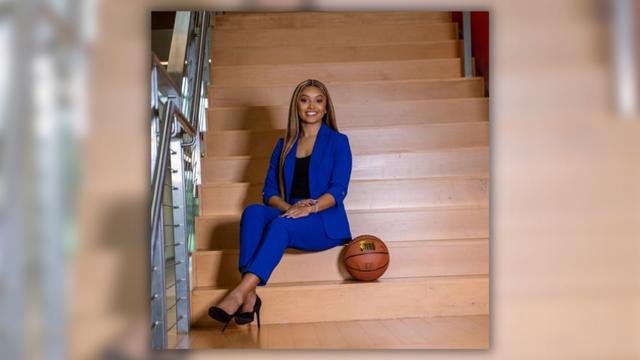 Shyra Johnson made history by becoming one of the nation's youngest certified sports agents when she passed the National Basketball Players
Association's Agent Certification Exam at just 21 years old.
Johnson, founder and CEO of the Team Empire Sports agency, is currently working on an MBA in sport management at Florida Atlantic, recently ranked as No. 11 worldwide, to meet the educational requirements for additional agent certification exams. Shyra is a determined trailblazer and budding entrepreneur, forging a path in the sports business industry as a strategic decision maker and networker with a heart for giving back. Her vision is to develop a tech-based agency to represent college and professional athletes.
She credits her parents with igniting her passion for sports business and instilling in her a fierce work ethic. Their support of her sports interests combined with their emphasis on scholastic excellence shaped her career aspirations and educational values, leading her to Florida Atlantic.
She came to Florida Atlantic as a first-generation college student and member of the Kelly/Strul Emerging Scholars Program. The program provides academically strong, first-generation, low-income students with a full scholarship and support services to help them graduate in four years or less — debt free — and prepare for successful careers.
"I chose FAU over offers from other Florida universities because of the people and the sports industry opportunities in South Florida."

~ Shyra Johnson
Before ever meeting a sports agent, Johnson began preparing for her career, participating in student clubs and organizations, building relationships, mentoring peers and being mentored, and creating networking opportunities. She was practicing to be an entrepreneur, all in a student-success-centered environment. She also built relationships through her sports-centric social life. Many of her dormmates and friends included Florida Atlantic basketball and football players, and she would often encourage them to study hard but take breaks when needed, earning her the nickname "Mama Shyra."
Just as impressive as her drive and accomplishments is her desire to give back. She worked as a retention specialist in the university's Office of First-Generation Student Success, which supports students through the challenges of college life. She said she believes her experience navigating college as a first-generation student also helps her relate to student-athletes because many are the first college athletes in their families. Johnson said she considers mentoring an important part of relationship-building and networking, crediting much of her success to her mentors through the Kelly/Strul Emerging Scholars Program. They helped her obtain internships with ESPN and a sports agency and continue guiding her next career moves and business decisions.
Arthur Adler, former sports executive with the New York Yankees and New York Islanders and a 40- year background in sports marketing and agency, said Johnson's timing for entering the sports agency business is impeccable. Potential clients have grown from thousands to hundreds of thousands, now that college athletes can profit from their name, image and likeness. Adler first met Johnson in 2019 when she was an intern at the Boca West Children's Foundation and said he was impressed with her ability to grasp information and channel that to her career pursuits.
"You rarely see that in a person of her age or experience...she is bright and relentless in getting to any goal she sets for herself."

~ Arthur Adler
Another mentor, Cecilia Peters, started meeting with Johnson once a week, and together they established a book club for Kelly/Strul scholars during the pandemic. The club remains a success two years later.
"That is what makes Shyra different. She is goal-oriented, not afraid of hard work, not shy, and pointed in her ambition to reach her dream. Young athletes gravitate toward her because she motivates and is capable of letting other students see a world of possibilities through her eyes. That ability cannot be taught."

~ Cecilia Peters
-FAU-