College of Business Webinar Series
The College of Business Webinar Series is intended for a wide audience including students, alumni, working professionals, and others. All are welcome to attend, and we hope to engage our audience digitally while in-person events remain unavailable. Furthermore, we aim to showcase the expertise of our professors and create opportunities to connect with our network of peers and professionals.
Webinars will cover wide-ranging topics including finance, hospitality, the business of sports, online learning, and ways to get involved with the college.
---
WEBINAR PLAYLIST
---
PAST WEBINARS
Kicking Off the Night with NFL Tennessee Titans' Kicker Greg Joseph '16 &'17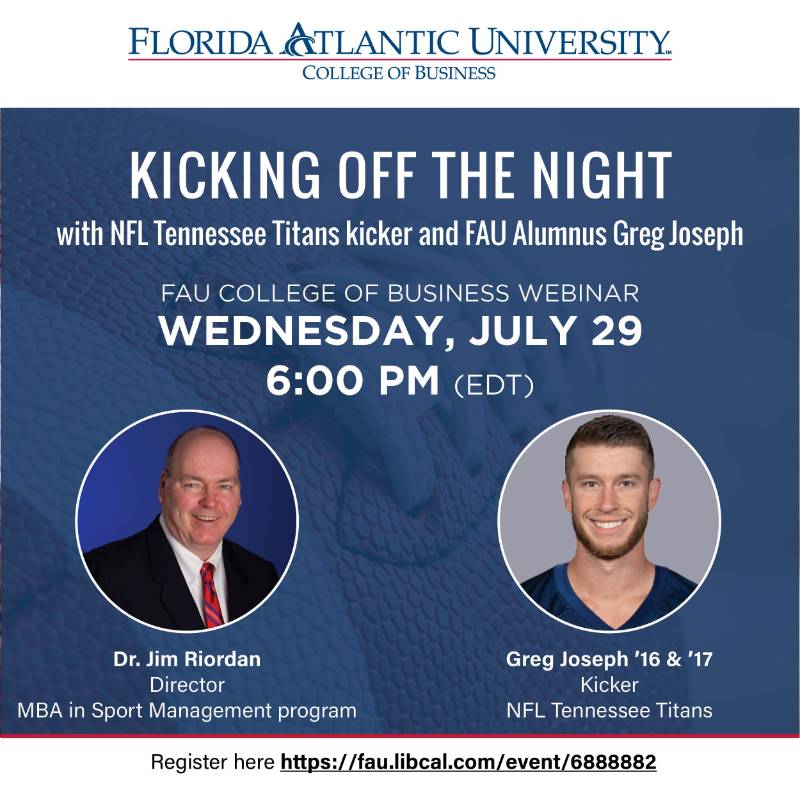 Interviewed by Dr. James Riordan, Director of the MBA in Sport Management at FAU College of Business, Greg Joseph shared details about his academic and athletic path at FAU, how he entered the NFL, the current situation in the league, and more.
>>Video Link
---
Mastering It Online: FAU Accounting Online Success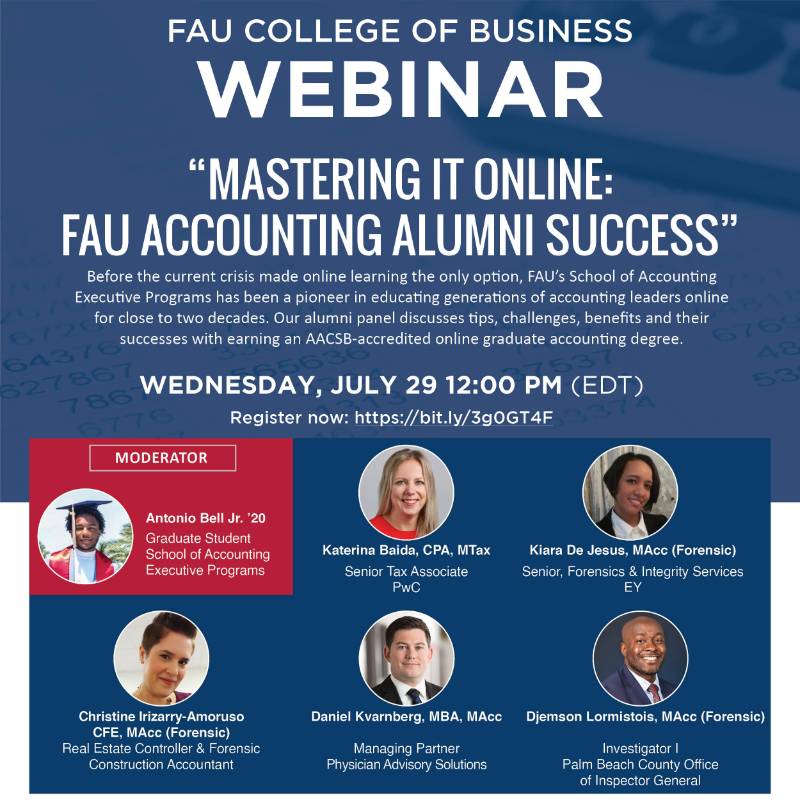 Alumni from the School of Accounting Executive Programs share tips for success in online learning. Panelists include Katerina Baida, Kiara De Jesus, Daniel Kvarnberg, Christine Irizarry-Amoruso, and Djemson Lormistois. Moderating the conversation is FAU new alumni and now current MAcc student, Antonio Bell. >>Video Link
---
Are You Our Next Mentor?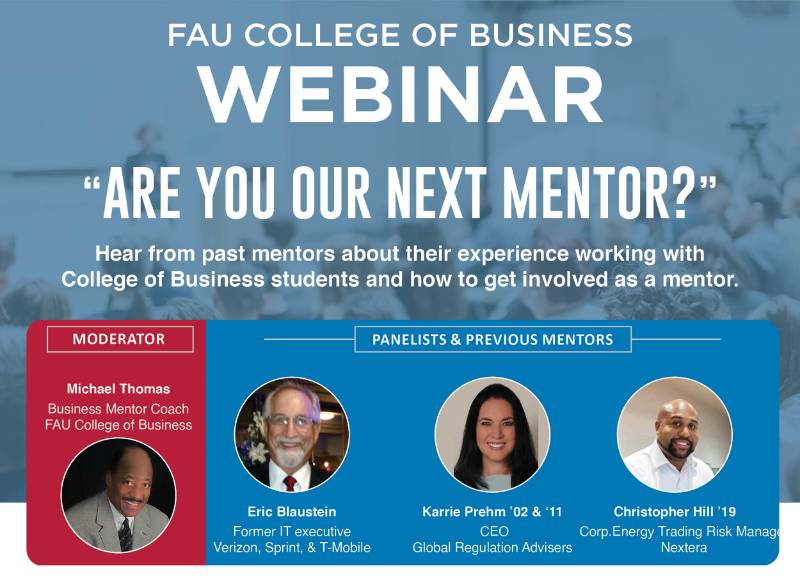 The FAU Business Mentor Program is coordinated by Michael Thomas. He is joined by three past mentors: Eric Blaustein, Chris Hill '19 & Karrie Prehm '02 & '11. Learn about the mentor program from past participants and hear how to get involved with the upcoming year.
Click here
for more information about the program.
>>Video Link
---
Has COVID-19 broken the Supply Chain? Where do we go from here?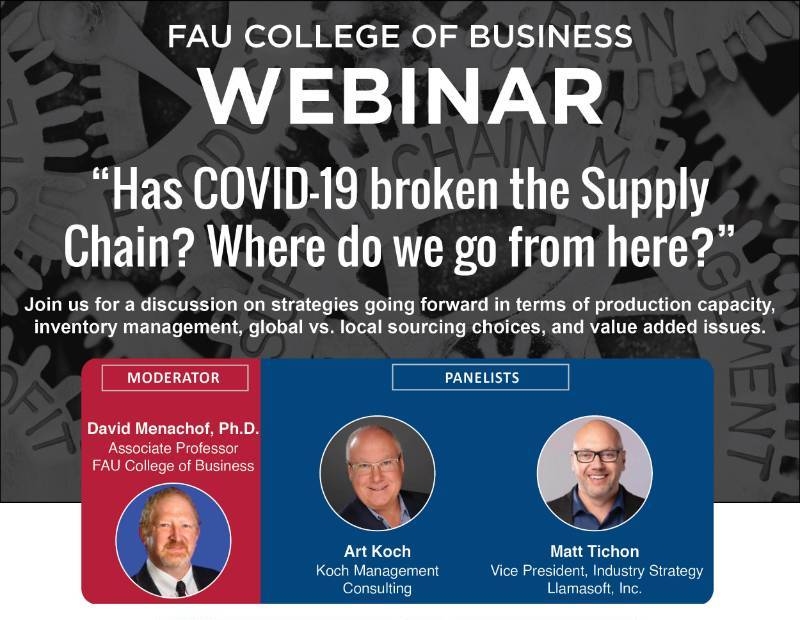 Moderated by David Menachof, FAU Associate Professor, Art Koch and Matt Tichon discuss the current supply chain and strategies going forward in terms of production capacity, inventory management, global vs. local sourcing choices, and value added issues.
>>Video Link
---
Hospitality & Tourism: The Next Steps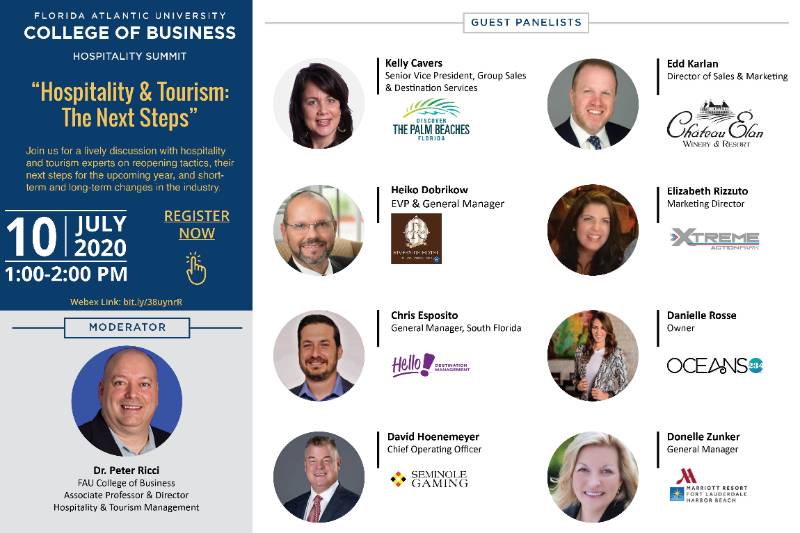 A conversation focused on Hospitality & Tourism: The Next Steps, moderated by Peter Ricci, Director of Hospitality Management at FAU with hospitality leaders.
>>Video Link
---
You Served, Now We Serve You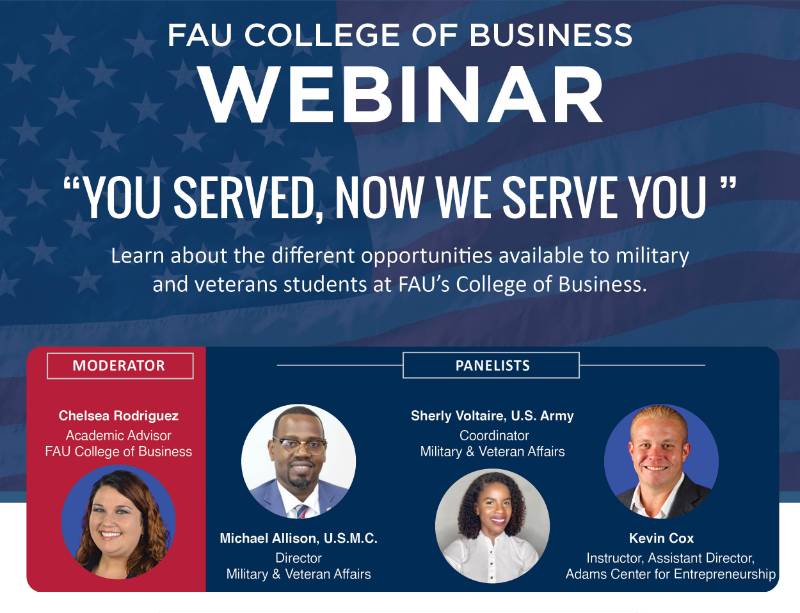 Chelsea Rodriguez (FAU Business Academic Advisor) interviews Michael Allison, Sherly Voltaire, and Kevin Cox. The panel discusses the different opportunities available to military and veterans students at FAU's College of Business.
>>Video Link
---
Financial Markets in Times of Crisis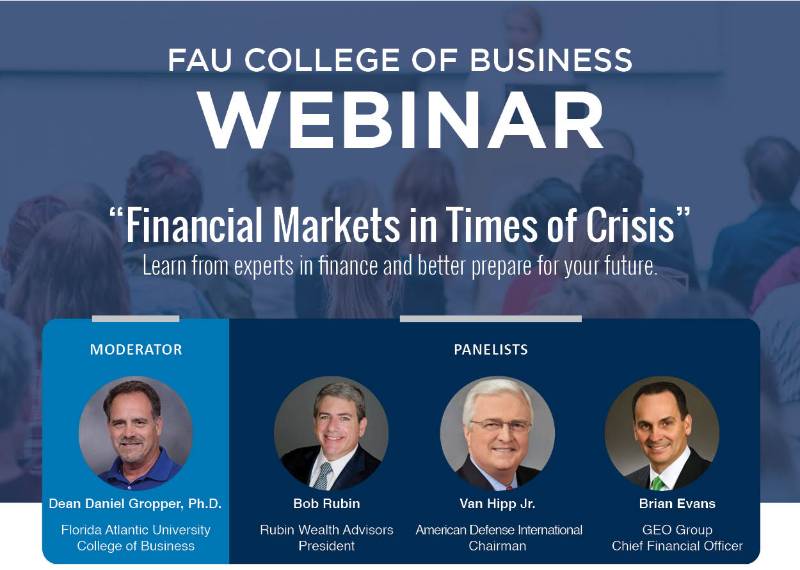 Dean Daniel Gropper interviews Bob Rubin (FAU Board of Trustees member), Van Hipp Jr., and Brian Evans. The discussion covers individual wealth management, cybersecurity, and corporate finance, and how things have changed over the past few months. >>Video Link