Dean's Office
Welcome to the College of Business at Florida Atlantic University. We are committed to excellence in all we do: outstanding teaching, high quality research, and active community engagement. Headquartered in beautiful Boca Raton, Florida and founded in 1964, the College of Business is among the largest Colleges of Business in the United States, with over 8,000 students, seven departments, several centers for research and engagement, and a comprehensive slate of interdisciplinary and professional development programs. These programs are accredited by AACSB International, the highest standard of business accreditation attainable. Our programs range from baccalaureate degrees (BBA, BHS, and BS) to both specialized and general master's programs, all the way to the doctoral degree - the PhD in Business Administration.
Dean Gropper on Fox Business News 11-16-2017
Recently our College was named one of the "Best Business Schools" by The Princeton Review. We attribute this to our world class faculty and staff who share a passion not only for teaching the core business skills, but also for providing education and professional development that is designed to prepare FAU students for great career opportunities.
As a dynamic learning environment, we continually review and refine our curricula to meet the needs of our students and their employers. We offer traditional full-time programs, as well as evening and weekend programs for working students. Our general business programs in each of the core business disciplines include Accounting, Economics, Finance, Information Technology, Management and Marketing. We also offer highly regarded specialized programs in several areas, including Hospitality Management, Sport Management, Health Care, and Entrepreneurship.
We are committed to serving our local community; the annual FAU Business Plan Competition, coordinated by the Adams Center for Entrepreneurship, gives FAU students, alumni, local middle and high school students and members of the business community an opportunity to test their business ideas. The Center for Economic Education promotes economic education by offering workshops and programs for K-12 educators. These are just two of many examples how our College faculty and staff make a difference in the community.
The College of Business houses a state-of-the-art Trading Room that seats 40 people and showcases real time feeds from Reuters. The Trading Room replicates a real-world financial trading experience and functions as a classroom and a laboratory that puts FAU graduates on the leading edge in the financial services industry. In partnership with Bloomberg®, the Financial Analyst Program (FAP) equips students with cutting edge skills in financial analysis and equity research.
The College of Business is here to serve you; with the support of the faculty, business community, staff, and alumni, we offer you an excellent educational opportunity. We look forward to welcoming you to Florida Atlantic University. Go Business Owls!!!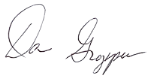 Daniel Gropper, Ph.D.
Florida Atlantic University
College of Business
Contact the Dean's Office
Dean's Office
phone: (561) 297-3629
email: vhale4@fau.edu
Business Manager
phone: (561) 297-0695
email: ppistoia@fau.edu
777 Glades Road
BU (86) Suite 320
Boca Raton, FL 33431