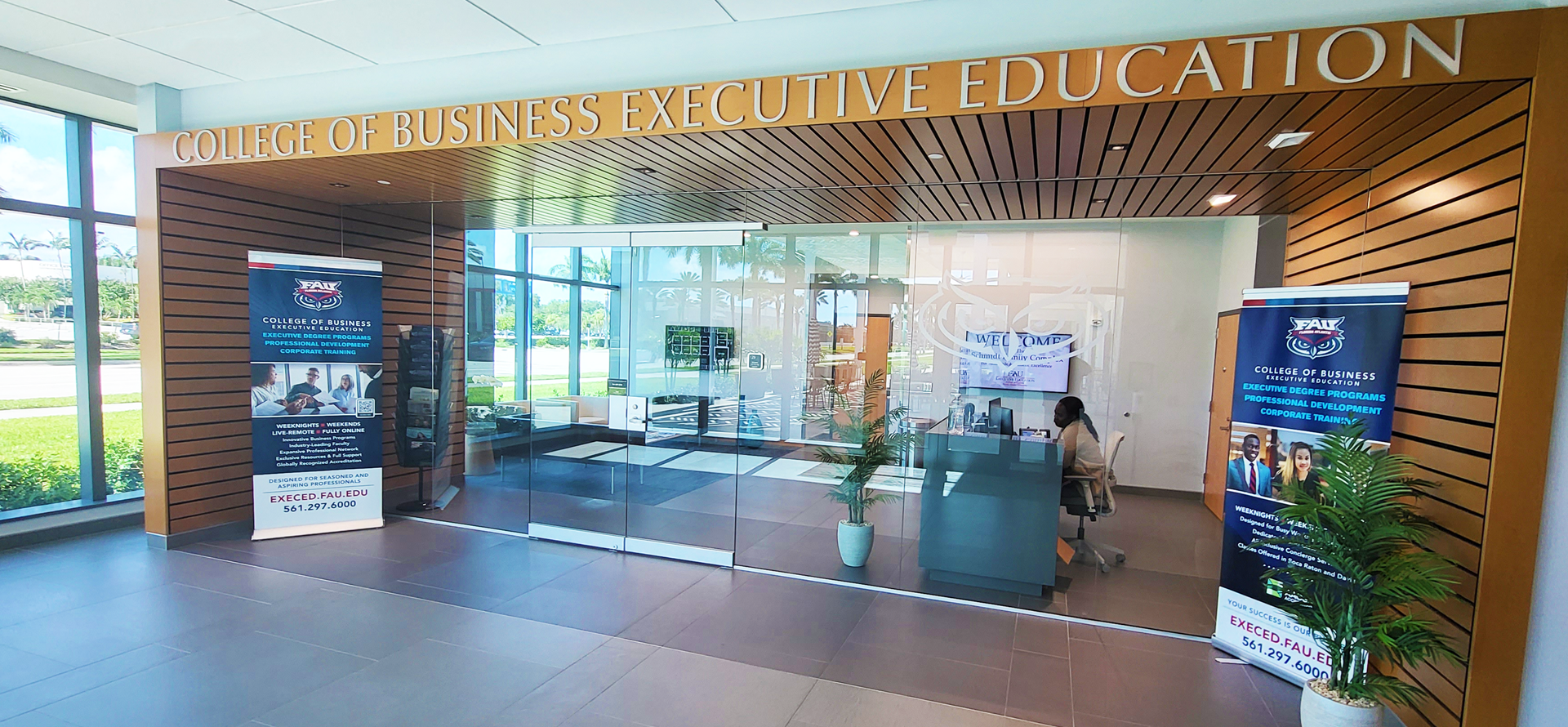 GET IN TOUCH
There are many ways to get in touch with FAU Executive Education. Whether you prefer a phone or video conversation, or coming in person to meet with our team and tour our facilities, we are ready to connect any way that best fits your preference.
Graduate Degree Programs
---
Doctoral Degree Program
---
Professional Development Programs
Call Our Office: 561-297-6000
Email Us: professionaldevelopment@fau.edu
Learn More About Our Professional Development Programs
---
Corporate Training
Call Our Office: 561-297-4819
Email Us: pgarrido@fau.edu
Learn More About Corporate Training
---
Walk-In Meetings
Boca Raton Campus:
We encourage prospective students, employers and visitors to connect with our dedicated Executive Education team. You will have the opportunity to tour our impressive facilities, review the program features, and discuss your background and professional aspirations.
Our dedicated advisors look forward to connecting with you and are available Monday through Friday, 8:30 AM - 5:00 PM.
Please contact our office if you would like to schedule your visit. If these times do not work with your schedule, please connect with us through one of the other options listed above.
Phone: (561) 297-6000
Email Us: ExecEdAdmissions@fau.edu
Address:
Florida Atlantic University
College of Business
777 Glades Rd. Building 103
Boca Raton, FL 33431 USA
Directions to the Boca Raton Campus:
Exit I-95 at Glades (Exit 45) / (Exit 75) from the Turnpike. Head EAST on Glades to10th/Broward Ave (the first and main entrance to FAU). Turn left into campus and continue on Broward Ave until the road curves right. Make the first LEFT, after the road curves into the parking garage/white building complex adjacent to the stadium and across from the College of Business, Office Depot Center.
Park on the second floor in one of the Executive Education visitor parking spaces and take the elevator or stairs to the ground-level entrance. If visitor parking is unavailable, you may park in an open space and speak to the Executive Education main office/front desk staff about parking validation.
---
Employers/Recruiters
Are you an employer or recruiter? Speak with our Career Specialists to recruit Executive Education students and graduates.
Email Us: RecruitExecEd@fau.edu