Master's in IT Management
FAU's IT Management Graduate Programs prepare students to bridge the gap between two vital areas of the corporate landscape - Business and Technology. Our highly skilled graduates, equipped with theory and application of cutting-edge IT developments and trends, are ready for professional careers in Information Technology (IT), Cybersecurity, Computer Forensics, Business Analytics and Big Data.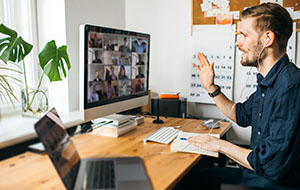 The Professional Master in IT Management is designed for working professionals in both on-campus and online formats allowing for convenience and flexibility. Students can concentrate in Information Technology or Business Analytics. Courses are taught by industry-leading faculty. Bachelor degrees from any discipline.
On-Campus
Monday & Wednesday Evenings, 6:30 PM - 9:30 PM
12 months (fast-track)
No GMAT/GRE Required
Students may pursue a hybrid online/on-campus option
No Foundation Courses required
Online
Fully Online
12 months (fast-track)
No GMAT/GRE Required
100% Asynchronous - Self-paced Learning
No Foundation Courses required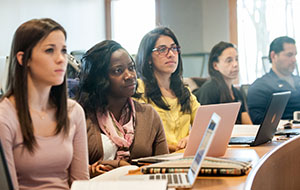 On-Campus Classes / Weekdays & Weeknights
18 months (full-time - fast-track) / 2.5 yrs. (part-time)
Foundation Courses may be required
GMAT/ GRE Required