Hospitality and Tourism Management Program
Welcome to the Hospitality and Tourism Management Program, located in the Department of Marketing, within the College of Business at Florida Atlantic University. The program prepares students for management positions in multiple segments of the world's largest service industry. Upon completion, graduates enjoy various professional roles in a variety of industries including: resorts, hotels, restaurants, private clubs, meeting and event planning corporations, destination marketing organizations, convention centers, conference centers, cruise lines, casinos, theme parks, auto rental agencies, sports facilities and arenas, spas, entertainment venues and theaters, and vacation ownership or fractional ownership operations.
Potential career areas include operations management, sales and marketing, public relations, revenue management, food and beverage, engineering, housekeeping, human resource management, tourism planning and development, hospitality consulting, hospitality law, and many others. Students who choose to major or minor in Hospitality and Tourism Management receive a broad management-based education following the core business curriculum. This base provides a platform of knowledge with the overall focus on improving one's ability to successfully and profitably manage a hospitality or tourism organization.
The Hospitality and Tourism Management program offers a large number of certificates including Meetings & Events Management, Club Management, and Hospitality Management.
More about Hospitality and Tourism Management, including: Mission Statement and Director's Welcome!
Peter Ricci, Director of the FAU Hospitality and Tourism Management Program, has been named the 2019 Stewart Distinguished Professor in the College of Business. Sponsored by the Virginia and Douglas Stewart Foundation, and now in it's 15th year, the award recognizes an outstanding FAU Business professor based on five criteria: (1) extraordinary dedication to teaching, (2) impact on and involvement with students, (3) scholarly approach to teaching and learning, (4) contribution to education in the institution, community, and/or profession, and (5) support from colleagues, current and former students. A final, noteworthy mention: former, and longest-serving Dean in College of Business history (1970 - 1987), Gary Luing, was instrumental in obtaining the funds for this award.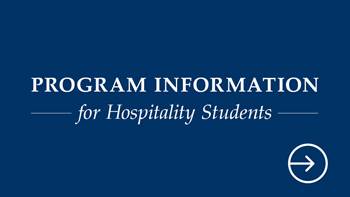 Learn about our innovative programs.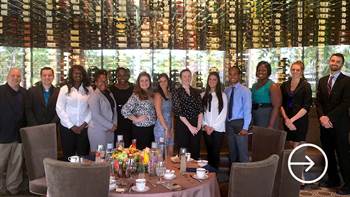 Learn about our Adopt-A-Class Corporate Sponsor Program.

The FAU College of Business (COB) is proud to offer a variety of scholarships to enrolled students at both the undergraduate and graduate level. Some scholarships are administered within the COB while additional scholarships are available from multiple hospitality and tourism organizations and foundations.
In total, there are hundreds of scholarships available to provide financial assistance to eligible students. Please click the links below which will direct you to different areas of scholarship listings. Remember to explore every area and every scholarship opportunity!
Hospitality and Tourism Management Scholarships Marketing Scholarships