Corporate Training
"Always treat your employees exactly as you want them to treat your best customers." Steven Covey
Covey was ahead of his time when he wrote that in 1989, but now it is clear that employees want MORE: to be engaged, valued, and respected. They desire a corporate culture that allows them to keep growing and learning. No one wants to feel "stuck." In a world that is shifting and reshaping constantly, employees know they, too, must constantly up-skill or re-skill.
A custom program with FAU Corporate Training creates a transformational learning opportunity that address your team's specific needs. Group training designed specifically for you creates meaningful and lasting change from within. Investing in your most valuable resource - your people - is fundamental to your long-term success.
WHY PARTNER WITH FAU TO BRING A CUSTOMIZED PROGRAM TO YOUR ORGANIZATION?
Fully customized content and instruction to meet your specific needs
Programs can be held at your location, at one of our University facilities, or live virtual
Qualified, experienced, industry experts and faculty as instructors
Proven track record with the area's top organizations
Instructional materials, case studies and activities related to your company and industry
Cost savings and volume discounts for your training budget
OUR PROCESS
Our experts will consult with you to gain insight into organizational "pain points" and priority learning needs. We will collaborate with you to design a program that will positively impact your organization's human and financial capital.
The process includes:
Consultative meeting with your stakeholders and our instructors
Proposal development
Curriculum development
Program delivery
Program de-brief and follow-up
Contact Us
Paige Garrido, MBA '02
Assistant Director
phone: (561) 297-4819
cell: (954) 415-1268
email: pgarrido@fau.edu
The Schmidt Family Complex for Academic and Athletic Excellence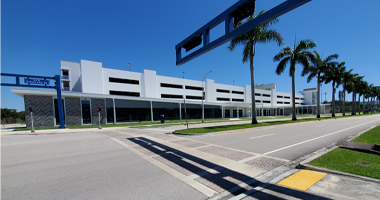 Opened in 2020, the Schmidt Family Complex for Academic and Athletic Excellence features state-of-the-art executive classrooms, media labs, workshop rooms and a multi-tiered amphitheater.
Corporate and Customized Programs


All Executive Education Degree and Professional Development programs are also available as a Corporate and Customized program designed to fit your organization's needs.