Phil Smith Events
In addition to teaching and research, we also host notable external speakers at the FAU campus under the auspices of the Phil Smith Center for Free Enterprise. Featured guests include economists, entrepreneurs, and business leaders from across the country who share their research and expertise with FAU students, faculty, alumni and our South Florida community. These events provide memorable interactions for the students at FAU, enhancing the traditional educational experience.
---
Executive Forum Speaker Series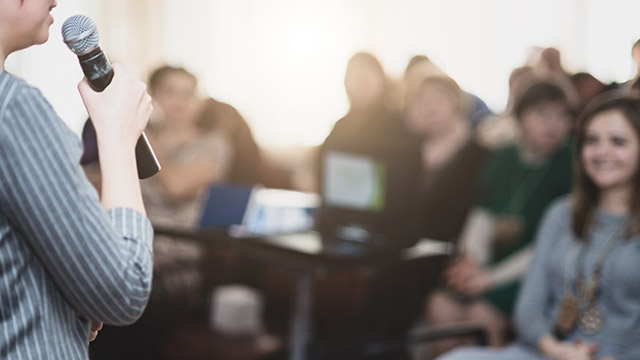 The Executive Forum is designed to provide the wealth of knowledge and experience of inspirational leaders and executives from a wide variety of businesses and industries. The speakers present a brief overview of their businesses, as well as specific professional experiences, followed by a discussion of key issues facing their industries in the current business and economic climate. The College of Business offers this program to our MBA students every Thursday. This program is for currently enrolled FAU MBA students.
---
Past Events
Economic Sciences Nobel Laureate, Dr. Vernon Smith with Business Etiquette Educator and Coach, Candace Smith
Dr. Smith lectured to approximately 250 economic students during his visit to FAU. He also met with over 100 business faculty and local professionals to share his insights on economics. Candace Smith led over 50 business students through an etiquette dinner where they learned proper behavior for business events.
Capitalism, Socialism and Entrepreneurship with Dr. Ben Powell and Dr. Robert Lawson
Dr. Ben Powell, Director of the Free Market Institute and Professor of Economics at Texas Tech University along with Dr. Robert Lawson, the Jerome M. Fullinwider Centennial Chair in Economic Freedom and Director of the O'Neil Center for Global Markets and Freedom at Southern Methodist University spoke to College of Business students and local business professionals at a lunch and learn event. In their presentation, the two authors recounted stories about traveling through socialist countries, discussing what they found and why bad beer is only the beginning of the problems with socialist governments.
---
Dr. Bryan Caplan presentation on Capitalism, Socialism and Open Borders
Mary O'Grady, Opinion Columnist with the Wall Street Journal - "There's No Such Thing as a Free Arepa"
Ms. O'Grady, author of "The Americas," a weekly column on politics, economics and business in Latin America and Canada that appears every Monday in the Journal, spoke with Dean Gropper and students about the social, economic, and political scenes of the Americas.
---
"Free Markets: Curse or Cure for Environmental Problems" with Dr. Terry L. Anderson
Dr. Anderson is one of the founders of "free market environmentalism," the idea of using markets and property rights to solve environmental problems; the third edition of his co-authored book by that title was released in 2015. He is author or editor of 39 books, including Unlocking the Wealth of Indian Nations (2016) that explores the institutional underpinnings of American Indian reservation economies.
Dr. Joshua Hall on "Economic Freedom and Well-Being: Tradeoffs or Free Lunches?"
Dr. Joshua Hall, Associate Professor of Economics and Director of the Center for Free Enterprise at West Virginia University. He is co-author of the widely-cited "Economic Freedom of the World" annual report and author of more than 50 journal articles; his research is published in Journal of Economic Behavior and Organization, Journal of Public Administration, Research, and Theory, Contemporary Economic Policy, and Southern Economic Journal. His research areas include applied microeconomics, with an emphasis on economic freedom, state and local public finance and entrepreneurship.
---
Phil Smith Dedication Ceremony
The dedication of the Phil Smith Hall and Center for Free Enterprise at FAU's College of Business was celebrated during a special unveiling ceremony on Tuesday, January 16, 2018. FAU President John Kelly and Daniel Gropper, dean of the College of Business, spoke to Smith's family, friends and FAU faculty, staff, and students gathered to honor his legacy.