Florida Poll finds Trump Popular in the Sunshine State while Biden Dominates Democratic Field
Voters want Felons to Pay Debts for Voting Rights
A new Florida Atlantic University poll finds President Trump's job approval at 47% with a 44% disapproval, a reversal from February's FAU poll that had the President's' job approval underwater at 46% disapproval and 41% approval. The May Florida statewide poll was conducted May 16-19, 2019, registered voters, mix-mode (landline and online), n=1,007, +/-3%)
In the Democratic Primary, former Vice President Joe Biden has a significant lead over 20 opponents with 39% of the vote, followed by Senator Elizabeth Warren and Senator Bernie Sanders tied for second with 12% each, Mayor Pete Buttigieg 9%, Senator Kamala Harris 7% and former Congressman Beto O'Rourke at 5% round out the top six. 9% of voters said someone else (n=403, +/-4.9%).

A lone bright spot for Sanders is he leads among 18-29 year olds, 25% to 15% for Biden, but trails all other age groups;
35-49: Biden 21% to Sanders 15%
50-64: Biden 56% to Sanders 5%
65+: Biden 53% to Sanders 8%
An indication of Trumps popularity in Florida, particularly within the Republican Party, is that while Trump won the 2016 Republican Presidential primary with 46% of the vote compared with Marco Rubio at 27%, in a hypothetical primary match up for 2020 Trump leads 85% to 5% for Rubio, John Kasich is at 2% and the only actual announced GOP opponent, former MA Governor Bill Weld is at 1%. (n=394, +/-4.9%).
In two of the head-to-head match ups, the Democratic challengers are within the poll's margin of error against President trump, with Biden being the most competitive being tied at 50% and Harris being the least competitive trailing 53% to 47%.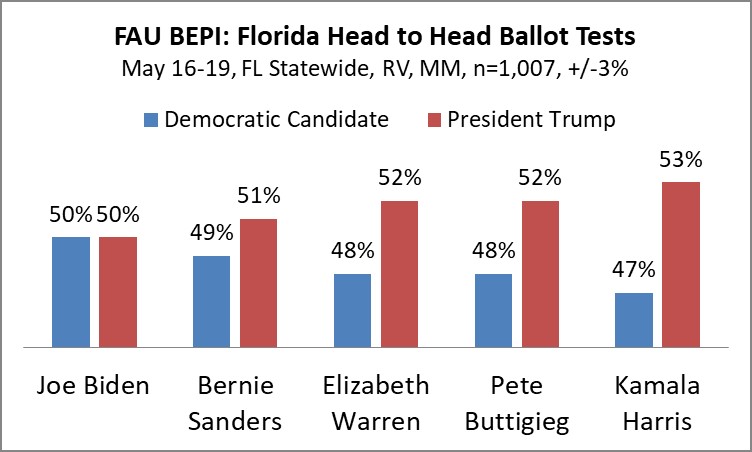 Joe Biden 50% v. Trump 50%
Bernie Sanders 49% v. Trump 51%
Elizabeth Warren 48% v. Trump 52%
Pete Buttigieg 48% v. Trump 52%
Harris 47% v. Trump 53%
A plurality of voters, 48%, supports current legislation requiring repayment of financial obligations before a felon's voting rights are restored, 34% oppose and 19% are undecided. Republicans are in strongest support, 68% to 19%, while Democrats are slightly opposed 46% to 39% and Independents are split with 36% opposed and 34% support. In 2018, Florida voters approved a constitutional amendment automatically restoring the right to vote to nearly 1.5 million people who had committed a felony in their pasts.
Methodology
The FAU BEPI Florida poll was conducted May 16-19, 2019. The sample consisted of registered voters, n=1,007, the poll's margin of error (MOE) of +/- 3 percentage points. The data was weighted by ethnicity, age, education, party affiliation, region and gender based on a 2016 voter model. It is important to remember that subsets carry with them higher margins of error, as the sample size is reduced. Data was collected using both an Interactive Voice Response (IVR) system of landlines (n=604) and an online panel provided by Dynata (n=403).