FAU Services Panel Series
The FAU Services Panel Series, presented by the Center for Services Marketing & Management in the College of Business, presents a panel of business leaders to share their expertise with FAU students, faculty, alumni, and the Boca Raton community. The panelists discuss timely and important topics in services and invites dialogue from attendees. These events are free and open to the public. For more information, and to receive invitations to events, please contact Dr. Andrew Gallan at agallan@fau.edu.
---
Thursday, October 24, 2019, 3:30 - 5:00 p.m.
Rakesh Niraj, PhD
Associate Professor, Case Western Reserve University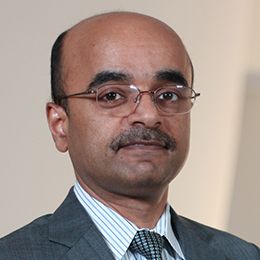 Rakesh Niraj, PhD, associate professor of marketing in the Department of Design and Innovation, focuses his research on both analytical and empirical modeling of marketing strategy in such areas as customer relationship management (CRM), retailing and social media marketing. Niraj's ongoing research explores success factors of biotech innovations, impact of customer trust on continued patronage in highly dynamic electronic retailing space and customer evolution across multiple channels in buying from a multi-channel retailer.
Since joining the faculty at Weatherhead School of Management in 2009, Niraj's courses have included Marketing Analytics for Supply Chain Managers, Measuring Marketing Performance, Customer Relationship Management, and Marketing Metrics.
Niraj has extensive publications in numerous peer-reviewed journals including the JOURNAL OF MARKETING, MANAGEMENT SCIENCE, MARKETING SCIENCE, JOURNAL OF BUSINESS AND INDUSTRIAL MARKETING, and JOURNAL OF MARKETING RESEARCH. He has received several awards for his publications including the MSI/H. Paul Root Best Paper Award for most significant contribution to the advancement of marketing practice.
Niraj has widely presented his work both in the U.S. and abroad, including the European Marketing Academy Annual Conference, American Marketing Association Educator's Conference, North American Society for Marketing Education in India, and at universities such as University of California, Irvine and Kent State University. Professionally, Niraj has been an editorial review board member of the JOURNAL OF MARKETING and is a current editorial board member of the JOURNAL OF BUSINESS RESEARCH. He received both his PhD and MSBA from Washington University in St. Louis.
Event Details:
Title: "Better Deal Closure Predictions – A Matter of "Survival" for Sales Operations"
Date: Thursday, October 24, 2019
Time: 3:30 - 5:00 p.m.
Location: Office Depot 102 (Boca Raton Campus)
---
Wednesday, April 17, 2019, 6:30 - 8:00 p.m.
Exploring the Intersections of Hospitality, Healthcare, and Technology
Panelists:
Todd Blum, CEO, ENT of South Florida
John C. Tolbert, President/Managing Director, Boca Raton Resort & Club
Jason Ethridge, VP, Technical Operations & Product Delivery, Modernizing Medicine
Chantal Leconte, CEO (retired), Joe DiMaggio Children's Hospital
Olga Peddie, SVP, Client Strategy & Success, Cendyn
Moderated by Dr. Andrew Gallan, Assistant Professor, Marketing Department and Director, Center for Services Marketing & Management