Executive Certificate in Business Analytics
Florida Atlantic University's Executive Certificate in Business Analytics program prepares participants to apply and manage data science to solve critical business challenges and make better, more-informed business decisions.
---
Program Benefits
Participants taking this 15-week program:
Become knowledgeable in Business Analytics methodology and concepts.
Understand and identify principle components of visualizations and dashboards.
Understand business practices for analyzing real world datasets using popular analytical tools such as Tableau, Power BI, Google Analytics.
Identify web and social media analytics metrics and conduct analysis on websites.
Apply multiple quantitative and qualitative methods to analyze website traffic and social media.
Understand concepts and work with various Data Mining/Machine learning algorithms.
Learn methods for selecting suitable data mining algorithms for various business problems.
Learn decision support modelling and optimization using decision-making method.
Gain proficiency with the following tools and methodology:
Tableau – Visualizations, Dashboards, Storytelling

Power BI – Visualizations, Dashboards

Google Analytics/Web Analytics – Competitive Intelligence Analysis

Data mining/Machine learning – Prediction algorithms and Market Basket Analysis

Excel Solver – Goal Seeking, Breakeven Analysis
A total score of 70% or above will result in participants' certification in Business Analytics.
---
Curriculum Description
This program comprises the three basic aspects of Business Analytics – Descriptive, Predictive and Prescriptive.

Descriptive analytics – creation of visualizations and dashboards using popular analytical tools such as Tableau, Power BI and Google Analytics (Web Analytics).
Predictive analytics – core concepts of Data Mining/Machine learning, its techniques and outcome prediction methods using XLMiner (Excel based software).

Participants learn to mine heterogeneous data and demonstrate proficiency in applying various popular classification and regression algorithms on real world datasets (allowed to use their work datasets for the project).

Prescriptive analytics – decision modeling using spreadsheets and optimization techniques using Excel Solver.
Curriculum includes 'comprehensive hands-on experience' on all the analytics aspects mentioned above through weekly assignments.
Ideal Candidate
Business professional whose goal is to be involved in analyzing data, enhancing analytics skills by learning how to perform predictive analytics/machine learning on the work data, or creating interactive dashboards which facilitate business decisions.
Some Excel knowledge or experience working with spreadsheets recommended.
Faculty
---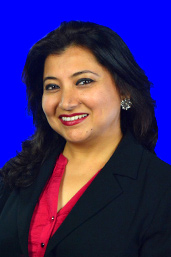 Bharti Sharma
Dr. Bharti Sharma has been teaching various Business Analytics courses in the College of Business at FAU since 2017. She has published research papers related to data analytics in prominent journals. She also has post-doctoral experience performing data analytics at the University of Miami. Prior to her career in academia, she gained twelve years of extensive business analysis and programming experience working for Florida Power & Light company. As an educator, she believes in delivering the highest quality teaching content and focuses on hands-on learning using latest analytical tools.
Education:
PhD (2014) Electrical Engineering, Florida Atlantic University

BS (1996) Engineering, University of Pune
Program Details
---
Format: Thursdays | Live Virtual

Dates: Jan. 28 – May 13, 2021

Time: 6:30pm - 9:30pm (with live lectures,assignment instructions,
Q & A sessions in that timeframe)

Hours: 45 Hours/ 4.5 CEUs

Sessions: 15
Location: Live Virtual

Books and Materials

Presentations, Lessons, and Assignments are downloadable
Included: XLMiner, PowerBI, Tableau, and Google Analytics