How an MBA Student at FAU Seized a Tremendous Business Opportunity
Lots of people dream of buying a business. But many don't realize that the purchase can come with an interesting bonus: a chance to gain some knowledge and do some good along the way.
That's been the experience of Sam Nimah, who bought a promising company in March 2014, a year after he graduated Florida Atlantic University's Executive MBA program. He's now the owner and CEO of Special Care Providers of America. Located in Ft. Lauderdale, the company manages hospital-based acute special-care units.
"I was looking for something to buy for more than three years," he recalled, "and I kissed a lot of frogs. Then I found this company that provides patients with wonderful clinical outcomes. I fell in love with the company and knew that this is what I wanted to do: We give people a second chance at life."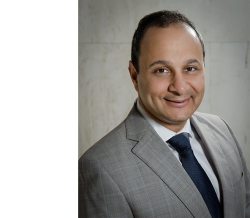 Nimah said that he couldn't have made it without FAU. "[At FAU] I gained the confidence to strike out on my own," Nimah said. "I knew I wanted to buy a business, but for some reason I'd never been able to pull the trigger: It's a big step and I was a little intimidated to take it. Before FAU, I'd looked at several-dozen acquisition targets. But when you go through the EMBA, you're able to tell whether it's a good business to buy, and that's of immeasurable valuable."
The FAU program both prepared Nimah to lead a company and ramped up his enthusiasm.
"The learning environment was incredible," said Nimah, who took all of his courses on campus over a two-year stretch. "The professors are engaging and provocative, but I also really enjoyed the other students. The caliber of people I learned with was fantastic. I was very pleased."
The feeling of admiration is mutual.
"Sam has been an excellent conduit for our program and he brought not only experience but also excitement into the classroom," said Vegar Wiik, executive director of FAU's College of Business.
Graduates such as Nimah are especially valued, Wiik added, because they show others enrolled in the EMBA what's truly possible.
Nimah chose a business sector that's particularly promising for newly minted MBAs.
"Healthcare is a space where there is tremendous opportunity, a hot area," said Rainford Knight, head of the Financial Analyst Program in FAU's Department of Finance. "We've had a couple of folks hired doing healthcare valuation and healthcare mergers and acquisitions. And given the demographic, Florida is a definite growth area."
A former vice president at Southern Wine & Spirits for nearly 15 years, Nimah wanted to make his new business an even better place for employees to come to work.
"It was a good culture but not a great culture," he said. "The biggest challenge—and the challenge for small businesses everywhere—is creating a positive corporate culture, because good or bad, every business has one. And in healthcare, it's especially critical. Happy nurses mean happy patients, and that means better rehabilitation. The psychological outlook of the patient certainly contributes to the speed of recovery—and that reflects back on the employees."
To get the ball rolling, Nimah improved the company's technology, starting with the purchase of new equipment for his respiratory team.
"The main pieces of equipment we use are ventilators, and the more modern ones improve the rehabilitation process. But it also has an impact on your team: They're excited to use the new equipment, and it helps them do the job better."
Nimah added that his time at FAU sharpened his resolve to marry book smarts with his life's passion.
"The purchase really was mission driven," he noted. "I didn't just want to buy something that was profitable as a business enterprise. I wanted something that would provide a legacy for my family and me. Healthcare is an ever-changing environment, and in everything I've done before, I've innovated. If I can bring innovations to this business, I'll really be doing something to make a difference."