FAU's Executive Education Programs Break Into 'Financial Times' Rankings
MEDIA CONTACT: Jim Hellegaard
561-319-2233, jhellegaard@fau.edu
FAU is No. 1 in Florida and No. 15 in the U.S.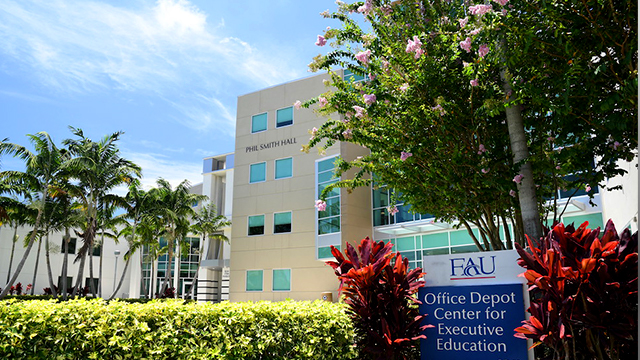 BOCA RATON, Fla. (June 4, 2019) – Florida Atlantic University College of Business' executive education professional development programs have been ranked by the Financial Times for the first time in its annual rankings of the top 80 open enrollment executive educations programs in the world.
FAU ranked No. 71 globally, No. 15 in the United States, No. 3 in the southeast, and No. 1 in Florida in the FT Executive Education Rankings. Among public universities, FAU ranked No. 6 in the U.S. and No. 2 in the southeast. FAU also ranked No. 3 in the world for female participants, with females making up 61 percent of its participants. Switzerland's IMD Business School and Stanford University's Graduate School of Business were tied atop this year's rankings.
"We are focused on delivering top-quality executive education programs to working professionals in Florida, and we are pleased when those programs also bring global recognition to our university," said Daniel Gropper, Ph.D., dean of FAU's College of Business. "Making the Financial Times' list of top programs globally takes hard work and dedication. Congratulations to all the staff and faculty that have worked to deliver excellent programs that focus on transforming working professionals and that help to build the economy in Florida."
FAU Executive Education offers professional development courses, seminars, certificate programs, and corporate and customized programs for professionals in all industries, from business owners to senior executives, seeking to pursue a higher level of knowledge, accelerate their career growth, improve performance and drive innovation.
FAU Executive Education offers the most diversified selection of national and international certification programs in South Florida, with more than 60 programs to choose from. These programs are developed for individuals who wish to hone their skills on a specific topic of interest whether to gain a further understanding of the subject matter, better their performance at work, or diversify their expertise. Offered in convenient online, evening, weekend or boot camp formats, these programs are designed by subject matter experts and deliver immediate, relevant knowledge that will make participants more marketable in any industry.
Financial Times looks at a variety of factors in determining its rankings. Participants are surveyed on the program's preparation, course design, teaching methods and materials, faculty, quality of participants, new skills and learning, follow-up, aims achieved, food and accommodation and facilities. The business school survey looks at female and international participation, program growth, international location, partner schools and faculty diversity.
"We are thrilled to be ranked among the best executive education providers in the world, said Vegar Wiik, executive director of FAU Executive Education. "The ranking confirms that we are providing convenient high quality programs that are enabling South Florida working professionals to further their careers."
FAU's Executive Education also offers executive degree programs that are designed for busy professionals who want to advance their skills without career interruption. All degree programs encourage long-lasting personal and professional relationships through their cohort design, as well as flexibility through weekend, evening and online courses.
Making the Financial Times' list is the latest success for a program that continues to grow and strengthen.
This fall, FAU's College of Business will launch its Executive Ph.D. in Business Administration, becoming one of the few AACSB-accredited business schools in the United States and the first in Florida to offer a Ph.D. in business in the executive format. Offered through the Department of Executive Education, the three-year, research-intensive program allows individuals to focus in the following areas: accounting, economics, finance, information technology, management or marketing. Additionally, FAU's Edu-Vantage Partner Program, which works with businesses, corporations and organizations to provide a high-quality educational strategy for fulfilling their employee education packages, recently announced a partnership with JM Family Enterprises to offer its 4,300 full-time associates full tuition for both undergraduate and graduate degrees and certifications.
- FAU -
About Florida Atlantic University
Florida Atlantic University, established in 1961, officially opened its doors in 1964 as the fifth public university in Florida. Today, the University, with an annual economic impact of $6.3 billion, serves more than 30,000 undergraduate and graduate students at sites throughout its six-county service region in southeast Florida. FAU's world-class teaching and research faculty serves students through 10 colleges: the Dorothy F. Schmidt College of Arts and Letters, the College of Business, the College for Design and Social Inquiry, the College of Education, the College of Engineering and Computer Science, the Graduate College, the Harriet L. Wilkes Honors College, the Charles E. Schmidt College of Medicine, the Christine E. Lynn College of Nursing and the Charles E. Schmidt College of Science. FAU is ranked as a High Research Activity institution by the Carnegie Foundation for the Advancement of Teaching. The University is placing special focus on the rapid development of critical areas that form the basis of its strategic plan: Healthy aging, biotech, coastal and marine issues, neuroscience, regenerative medicine, informatics, lifespan and the environment. These areas provide opportunities for faculty and students to build upon FAU's existing strengths in research and scholarship. For more information, visit www.fau.edu.