Sports Celebrities, Executives Speaking to FAU Summer Classes
MEDIA CONTACT: Paul Owers
561-221-4090, powers@fau.edu
FOX Reporter, Dolphins Officials Among Those Offering Virtual Presentations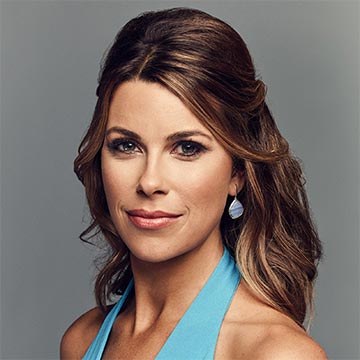 BOCA RATON, Fla. (May 27, 2020) – FOX Sports college football reporter and host Jenny Taft (pictured here) is one of more than a dozen media personalities and sports executives speaking virtually to two classes this summer in Florida Atlantic University's College of Business.
Taft, who also moderates FS1's "Skip & Shannon: Undisputed," is scheduled to speak on Thursday, June 25 to the College's Managing the Sports Enterprise class. Jonathan D. Mariner, former chief financial officer for Major League Baseball, the Miami Marlins and the Florida Panthers, also is scheduled to speak to the class in June. Former ESPN trivia czar Howie Schwab will address students on Thursday, May 28.
James Riordan, Ph.D., director of FAU's MBA Sport Management program, has organized the executive and celebrity presentations in recent years to augment classroom instruction.
"This supports our mission of offering practitioner-based education," he said. "This gives the students motivation, hearing from people that they've seen working in the industry."
Lee Zeidman, president of STAPLES Center, Microsoft Theater and the L.A. LIVE sports, residential and entertainment district, is among five speakers addressing The Management of Sport, Entertainment, Convention Facilities and Events class in June and July. Zeidman oversees event operations and production and the day-to-day support for the STAPLES Center's tenants, which include the NBA's Los Angeles Lakers and Clippers and the NHL's Los Angeles Kings.
The complete speakers' schedule:
Managing the Sports Enterprise class
May 28: Howie Schwab, former ESPN personality
June 4: Anthony Hilliard, CEO of The Sterling Group
June 11: Jonathan D. Mariner, former MLB, Florida Panthers and Miami Marlins CFO
June 18: Katerina Perez, Florida Panthers vice president of corporate partnerships
June 25: Jenny Taft, reporter for FOX Sports
July 2: George Linley, executive director of the Palm Beach County Sports Commission
July 9: Eugene Shen, Miami Dolphins director of football personnel analytics
July 16: Michael Graffin, FAU associate director for development in FAU Athletics
July 23: Joey Brander, First Serve Partners president/managing partner
The Management of Sport, Entertainment, Convention Facilities and Events class
June 13: Lee Zeidman, STAPLES Center executive
June 27: Sam Coghill, Miami Dolphins vice president of stadium operations
David Reuss, concert production and arena management executive
July 11: Antony Bonavita, Cleveland Cavaliers executive vice president for venue operations
Hugh Gallagher, Los Angeles Dodgers director of food and beverage
-FAU-
About Florida Atlantic University:
Florida Atlantic University, established in 1961, officially opened its doors in 1964 as the fifth public university in Florida. Today, the University, with an annual economic impact of $6.3 billion, serves more than 30,000 undergraduate and graduate students at sites throughout its six-county service region in southeast Florida. FAU's world-class teaching and research faculty serves students through 10 colleges: the Dorothy F. Schmidt College of Arts and Letters, the College of Business, the College for Design and Social Inquiry, the College of Education, the College of Engineering and Computer Science, the Graduate College, the Harriet L. Wilkes Honors College, the Charles E. Schmidt College of Medicine, the Christine E. Lynn College of Nursing and the Charles E. Schmidt College of Science. FAU is ranked as a High Research Activity institution by the Carnegie Foundation for the Advancement of Teaching. The University is placing special focus on the rapid development of critical areas that form the basis of its strategic plan: Healthy aging, biotech, coastal and marine issues, neuroscience, regenerative medicine, informatics, lifespan and the environment. These areas provide opportunities for faculty and students to build upon FAU's existing strengths in research and scholarship. For more information, visit fau.edu.