FAU Finance Ph.D. Candidates Present Research to University Students in Moscow
By Denise Gravatt | 12/14/2021
Tags:
Finance | PhD
Categories:
Academics | Research | Students
---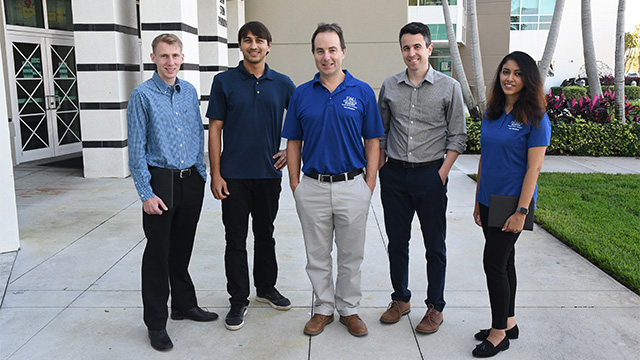 Four Finance Ph.D. candidates from FAU's College of Business were invited to share their research with students from MGIMO University (Moscow State Institute of International Relations) at the Financial Economics and Quantitative Finance Workshop on November 18, 2021.
The goal of the workshop series—a joint initiative between the Center for Mathematical Finance (CMF) and the Financial Economics Department (Finec) at MGIMO—is to assist students with navigating and producing financial research, large-scale data analysis, and applying machine learning in economics and finance.
MGIMO students also learned about career paths in economics and finance, how to get admitted into Ph.D. programs like FAU's, and what opportunities and challenges they may encounter during the process.
"FAU Finance Ph.D. students and faculty are very excited to collaborate with Finec MGIMO and CMF in Moscow," said Douglas Cumming, Ph.D., FAU professor and director of FAU's Ph.D. in Finance program. "The presentations were a great first step to introduce research topics from some of our leading Ph.D. students. It is a great opportunity to work together to share research ideas and collaborate on topics around technology and innovation in the financial sector."
FAU Finance Ph.D. candidates presented their research on a variety of finance topics during the online workshop:
"Does Government Contracting Impact Venture Capital Investment Outcomes?" by Masim Suleymanov
"Corporate Governance Mechanisms and the Impact of Share Repurchases on Bondholders" by Pedro Monteiro
"Death, Destruction, and Manipulation" by Maimuna Akter
"COVID-19 and Entrepreneurial Processes in U.S. Equity Crowdfunding" by Robert Reardon
Special thanks to Siri Terjensen, Ph.D., FAU Professor and Associate Dean for Research and External Relation, and Evgeny Pogrebnyak, Ph.D., Dean of Faculty at Finec MGIMO and CMF, for facilitating the collaboration.
-FAU-