Leadership Boot Camp: Effective Leadership
For any business to not only survive, but also grow and remain profitable, its team must master crucial skills in management and leadership: skills that will differentiate an organization when economic and inter-personal crises occur, and create the most innovative and effective leaders within. Florida Atlantic University's Management and Leadership programs guide students to develop advanced practices in management and leadership and become the next generation of leaders.
Developed by leaders in the Executive Training, Coaching and Human Resource Management fields and approved for recertification credits by the HR Certification Institute (HRCI®).
Program Details
Format: Tues. / Wed. / Thurs. | On-Campus
Dates: Feb. 6 - 8, 2024
Time: 8:00am - 4:30pm EST
Hours: 22.5 Hours / 2.25 CEUs
Sessions: 3
Location: Boca Raton Campus
Fee: $1350
Program Objectives
Florida Atlantic University's Leadership Boot Camp: Effective Leadership is an intensive Management & Leadership Development Certificate Program, designed for Supervisors, Managers and Senior Leaders, and which combines proven-in-action techniques with peer interaction and insights from the latest research to help you master the competencies of effective leadership. It will benefit anyone with managerial responsibility that requires strong decision-making skills and the ability to lead and motivate others.
This program is divided into 3-days, and includes core topics which address key subject areas necessary for management success:
Part I: Understanding Your Challenges as a Manager
Not all Managers are Leaders! We discuss what it takes to be a leader and have people follow you WILLINGLY. All leaders have goals and failing to plan is the same as planning to fail. Therefore managers need to be able to think and plan strategically and inspire their people to achieve their goals. This section discusses both strategic and tactical planning and shows the importance of group involvement in the process.
Key topics Include:

Leadership Principles & Best Practices
Leading vs. Managing
The Leader's World View

Values Based on Leadership for the Digital Era
Part II: Managing for Maximum Performance and Results
The attitudes and habits of a leader are the propellant to their success. The focus of the session is to help managers at all levels think and act like those leaders for whom people WANT to work. We discuss the principles of "people first" leadership by creating thinkers - not doers. This section discusses how to motivate others to want to do what you need done and develop techniques for managing generational differences and effecting positive change. You will learn key techniques of productive communication and how to implement those tools for maximum team performance.
Key Topics Include:

Building Success Attitudes and Productive Habits
Keys to Motivating Your Team
Effectively Managing Time and Change
Handling Generational Differences
Communicating for Performance Excellence

Part II also includes an individual DiSC® assessment per participant.

DiSC® is the leading personal assessment tool used to improve work productivity, teamwork and communication. DiSC is non-judgmental and helps associates within organizations discuss behavioral differences as they relate to performance.
Part III: Communication Skills for Leaders:
When you become responsible for managing people, it is paramount to communicate effectively with yourself and others. In this session, you will learn the effect of both verbal and non-verbal communication, become aware of language/ cultural patterns, the importance of rapport, and how to mediate conflict.
Key topics Include:

How to Maximize Verbal and Non-Verbal Communication
Self-Awareness / Awareness of Others and Cultural Differences
Perceptual Filters
Language Patterns
Exploring Conflict

Participants are encouraged to bring their own management questions and get answers from executive leadership experts - experts who have improved the performance of executives and their teams around the world using proven and powerful listening and empowerment techniques.
Instructional Method and Format
Instructor-led program
Led by Executive Leadership Experts and Executive Coaches
Accelerated leadership development program
Focus on implementation and practice, with activities that will help participants readily apply what they have learned
Participants will realize an instant ROI from the knowledge gained
Participants are encouraged to use current management and leadership experiences and share challenges, lessons learned and best practices in the class discussions
Contact Us
Sarah Wilson
Program Manager
phone: (561) 297-2366
email: sarahwilson@fau.edu
map: Bldg. 103, SF 129
Accreditation
Florida Atlantic University is accredited by the Human Resource Certification Institute (HRCI) as an Approved Provider.

Select leadership programs are eligible for re-certification credits by the HR Certification Institute.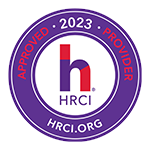 The use of this official seal confirms that this Activity has met HR Certification Institute's® (HRCI®) criteria for recertification credit pre-approval.
Florida Atlantic University is accredited by the Project Management Institute (PMI) as a Registered Education Provider (R.E.P.).

Select Leadership programs are accredited by PMI and eligible for Professional Development Units (PDUs).