Management and Leadership
All programs are available for corporate on-site training.
For any business to not only survive, but also grow and remain profitable, its team must master crucial skills in management and leadership: skills that will differentiate an organization when economic and inter-personal crises occur, and create the most innovative and effective leaders within. Florida Atlantic University's Management and Leadership programs guide students to develop advanced practices in management and leadership and become the next generation of leaders.
An intensive Management & Leadership Development Certificate Program, designed for Supervisors, Managers and Senior Leaders, Florida Atlantic University's Leadership Boot Camp: Effective Leadership will benefit anyone with managerial responsibility and who requires strong decision-making skills and the ability to lead and motivate others.
The Public Safety Leadership Development Certificate Program constists of two tracks: Track One for newer supervisors and Track Two for experienced managers. Each track is a 8-halfday course designed for the next generation of South Florida public safety leaders including Police Officers, Firefighters, Paramedics, Corrections Officers and Telecommunications Dispatch. Participants will develop crucial leadership skills and behaviors that will enhance their own careers, their agencies, and the communities they serve.
The Women in Executive Leadership program is an intensive course that will teach high potential individuals the skills they need to succeed in executive management positions. The Women in Executive Leadership Program is designed specifically for highly driven individuals whose goal is to attain executive leadership roles within their organizations or to achieve the ultimate level of professional success on their own entrepreneurial path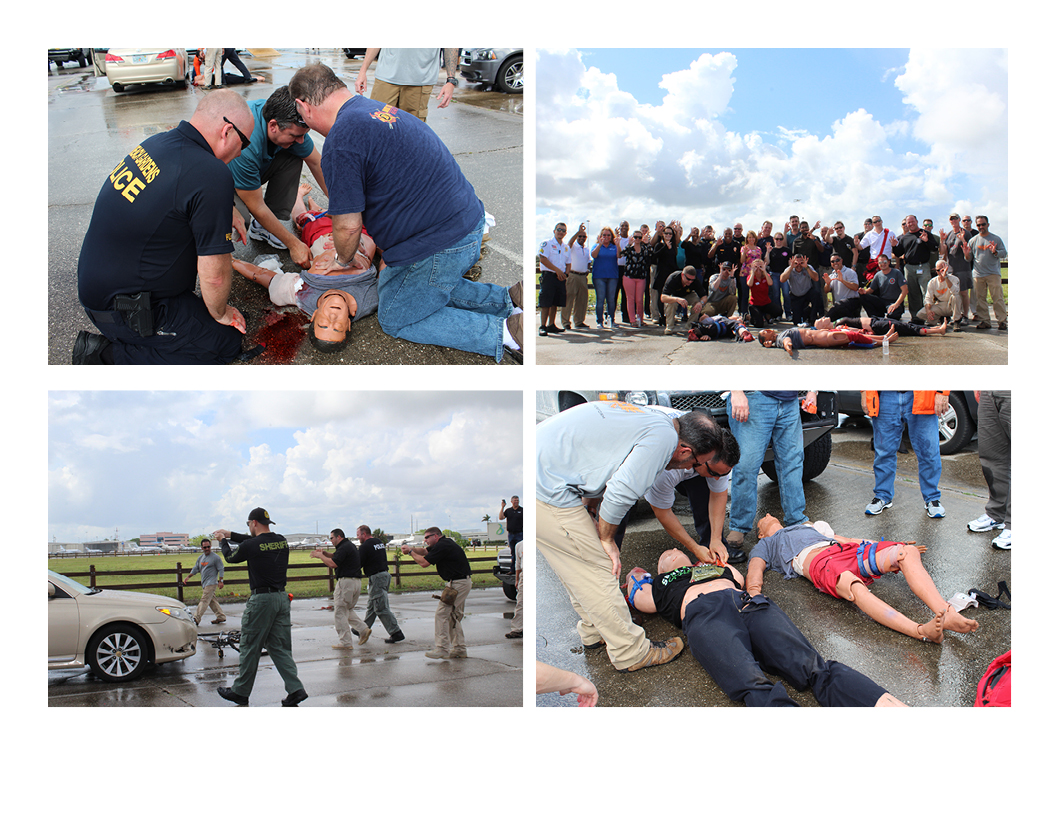 In partnership with the International Collaboration on Trauma and Resilience (ICTR), FAU offers a fully online Mental Health for Trauma and Resilience leadership program, taught by traumatology and resilience experts. The six-module format delves into the dynamics and neurobiology of trauma and resilience, and the holistic approach; psychological first aid and trauma; pre-, during, and post-crisis resiliency training; spiritual resiliency, and humor first aid; innovative approaches to emotional care and coping; and the "Formation of Band of Brothers/Band of Sisters" for leading community resilience and support groups.
Contact Us
For Leadership Boot Camp:

Sarah Wilson
Program Manager
phone: (561) 297-2366
email: sarahwilson@fau.edu
map: BU 86 203

For Public Safety Leadership Development, Mental Health for Trauma and Resilience, and Women in Executive Leadership:

Paige Garrido
Asst. Director Corporate Training
phone: (561) 297-4819
email: pgarrido@fau.edu

Accreditation
Florida Atlantic University is accredited by the Human Resource Certification Institute (HRCI) as an Approved Provider.

Select leadership programs are eligible for re-certification credits by the HR Certification Institute. (Public Safety Leadership program is pending approval.)
Florida Atlantic University is accredited by the Project Management Institute (PMI) as a Registered Education Provider (R.E.P.).

Select Leadership programs are accredited by PMI and eligible for Professional Development Units (PDUs).

Success Story
Leadership Boot Camp

"The Leadership program provided me with hands on tools to communicate effectively as a manager and resolve conflict with emotional intelligence. It has become an invaluable resource not only for my work but also my personal life. I highly recommend it."

-- Monika Moeller
Vice President, Pershing LLC