Researchers Gather For Second Corporate Finance And Governance Conference At FAU
By Paul Owers | 12/09/2021
Tags:
Finance
Categories:
Academics | Faculty/Staff | Research
---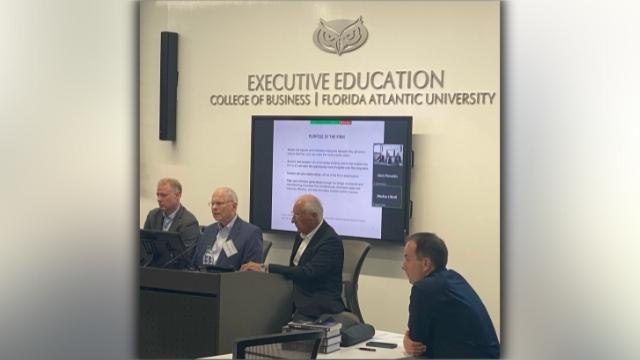 The Florida Atlantic University College of Business is hosting the second annual Boca Corporate Finance and Governance Conference that will bring together leading researchers from the United States, Europe, Asia and Australia.
The event, sponsored by the Institute for Humane Studies and the British Academy of Management, will be held Saturday Dec. 11 and Sunday Dec. 12 and will feature 72 presentations covering all aspects of corporate finance and governance. Topics include: diversity on boards, cryptocurrencies, venture capital, climate and crises, mergers and acquisitions and executive compensation.
In addition, there will be a panel discussion on firms' competitive life cycles by Bartley Madden, Jeff Madden and Mark Frigo on Dec. 11. Frigo is founding director of the Center for Strategy, Execution and Valuation in the Kellstadt Graduate School of Business at DePaul University in Chicago; Bartley Madden is an independent researcher; and Jeff Madden is portfolio manager at IronBridge, a division of RMB Capital.
On Dec. 12, Jay Ritter, Ph.D., of the University of Florida will deliver a keynote address on special-purpose acquisition companies.
"Governance has been extremely important in the volatile markets in 2020 and 2021," said Douglas Cumming, Ph.D., an FAU finance professor and event organizer. "Proper corporate finance and governance practices can lead firms through turbulent markets and mitigate risks to companies, employees and other stakeholders."
Cumming and fellow organizer and FAU finance professor Sofia Johan, Ph.D., are hosting the event partly online and partly in person, with about 50 participants in each platform.
The event will be held in the new Schmidt Family Complex in the Executive Education Center.
"We are indebted to the university and the generous donors for the opportunity to host the event in such a great new complex, and to have the technology to host a hybrid event," Johan said.
Following the final session on Dec. 12, the Institute for Humane Studies, British Academy of Management and Now Publishers will sponsor the best paper and other awards. There also will be an open discussion with editors of publications that publish research on corporate finance and governance.
To register or for more information, email BocaConference@fau.edu.
-FAU-