FAU Indexes Rank College Football Kickers and Punters
By Amber Bonefont | 09/19/2023
Tags:
Faculty-Research | Kicker-Punter | Press-Releases | Sport-Management
Categories:
Announcements | Initiatives | Faculty/Staff | Research
---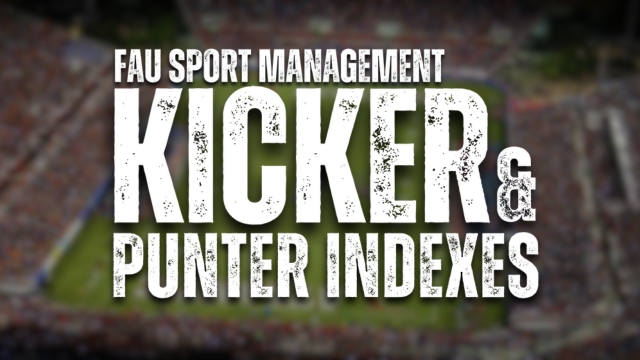 Over the past five years, researchers at Florida Atlantic University have gathered data and created formulas to evaluate kickers and punters, two of the most underappreciated positions in football.
The FAU Sport Management Kicker & Punter Indexes, designed by Evan Jaffe, data analyst in the College of Business and Marc Rhorer, Ph.D., assistant dean in the College of Business, offer weekly performance ratings of each active kicker and punter in the Division I Football Bowl Subdivision (FBS).
"Normally, those aren't the players who get much attention, but they play a crucial role in the game," said Rhorer.
Kickers and punters are placed in unique situations compared with their teammates. Kickers are called on to score points at specific moments, while punters are mainly responsible for improving field position. Both are expected to perform in high-pressure situations requiring mental toughness. Their skills and abilities are often the determining factors in the outcome of a game.
To evaluate the performance of kickers and punters, researchers used data on more than 10,000 field goal attempts and 40,000 punts from previous NCAA FBS seasons, relying on the principles of business analytics. While punters are typically evaluated mainly on the distance of their kicks, and kickers by the distance and accuracy of their field goal attempts, FAU's indexes dive deeper into their abilities by analyzing areas such as:
Geography of the stadium and atmospheric conditions.
Location on the field of a punt's origin (not just distance covered).
Timing of activity which relates to pressure situations for kickers.
Common punting measures, such as average yards per punt, the number of 50-plus yard punts, the percentage of punts inside the 20 or 10-yard lines can be weak assessments of actual quality. The researchers' model is more sophisticated, with its unique accounting for the origin of the punt. All punts are evaluated against a large database of historical performances from the same approximate location on the field.
The indexes also include a watch list of kickers and punters who have performed well in past seasons or made a big improvement last season.
Punters who have been consistently exceptional and are expected to have a big impact on team performance this year are:
Kai Kroeger, University of South Carolina
Ryan Rehkow, Brigham Young University
Tory Taylor, The University of Iowa
Kickers with a strong track record who researchers expect to make a difference this year are:
John Hoyland, University of Wyoming
Joshua Karty, Stanford University
Harrison Mevis, University of Missouri
Will Reichard, The University of Alabama
The rankings are updated each Wednesday during the NCAA football season, while final rankings, including bowl games, are published after the national championship game. Follow @FAUkickerpunter on X (formerly Twitter) for updates on players and rankings.
-FAU-