Certificate in Human Resource Management
Human Resource Professionals account for almost 1 million jobs in the current economy. Because managing resources is critical to an organization's success, knowledgeable and skilled Human Resource professionals are always in high demand. Human Resource professionals have evolved from behind-the-scenes administrators to leading the company in acquiring top talent and changing policies. Today's Human Resource generalists and specialists are tasked not only with talent management but are increasingly relied upon by senior executives to contribute to strategic planning.
Developed by leaders in the Human Resource Management field and approved for recertification credits by the HR Certification Institute (HRCI®), Florida Atlantic University's Certificate in Human Resource Management program prepares you to be an effective and integral member of an organization's Human Resource Management team.
Program Details
SATURDAYS
Format: Saturdays | Live Virtual
Dates: Aug. 12 - Dec. 2, 2023
Time: 9:00am - 12:00pm ET
Hours: 42 Hours / 4.2 CEUs
Sessions: 14
Location: Live Virtual
Fee: $1450
WEDNESDAYS
Format: Wednesdays | On Campus or Live Virtual
Dates: Aug. 23 - Nov. 29, 2023
Time: 6:30pm - 9:30pm ET
Hours: 42 Hours / 4.2 CEUs
Sessions: 14
Location: Boca Raton Campus or Live Virtual
Fee: $1450
Program Objectives
The Certificate Program in Human Resource Management is designed for Human Resource professionals and those who want to become Human Resource professionals to develop the knowledge, methods, and skills necessary to meet the challenges of today's changing workplace.
Participants who take this course will learn about:
Impact of Personal Style (including DiSC Assessment)
Internal Consulting & Communication
Human Resource Management in a Changing Environment
Strategic Management
Ethics
Globalization in HR Policy and Practice
Labor Relations in Today's Workforce and the National Labor Relations Act
Employee Relations in a Non-Union Environment
Compensation & Benefits
Equal Opportunity Employment
Legal Issues: Safety and Security/OSHA/ FMLA
Performance Management and Appraisal
Training and Development
Succession Planning
Conflict and Change Management
Staffing
Personnel Selection
Recruitment and Interviewing
Human Resources & Technology
Social Media and Its Place in HR
Project Management for the Human Resource Professional
Performance Metrics
Instructional Method and Format
Instructor-led program
Instructors are practicing Human Resource professionals with extensive experience and successful careers within the field of Human Resource Management
Curriculum offers an overview of human resource management concepts and principles delivered using lectures, small group case studies, discussions, carefully selected and up-to-date journal articles and includes real-life scenarios and experiences
Contact Us
Sarah Wilson
Program Manager
phone: (561) 297-2366
email: sarahwilson@fau.edu
map: Bldg. 103, SF 129
Accreditation
PHR®/SPHR® Credits!
This program has been approved through the HR Certification Institute (HRCI®). For more information about certification or recertification, please visit the HR Certification Institute website at www.hrci.org.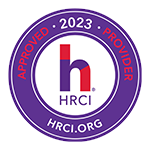 The use of this official seal confirms that this Activity has met HR Certification Institute's® (HRCI®) criteria for recertification credit pre-approval.