Internships and Career Advising
Get Career Ready with an Internship
Students gain valuable applied experience and make connections in professional fields they are considering for career paths
Internships give prospective employers the opportunity to evaluate talent before permanent employment.
An internship applies the knowledge gained in the classroom
Students can obtain credit or transcript notation for their Internship
Graduating soon?
Navigating the world after college can seem overwhelming. If you want to talk about career paths and how to start looking for your first job, we're here to help.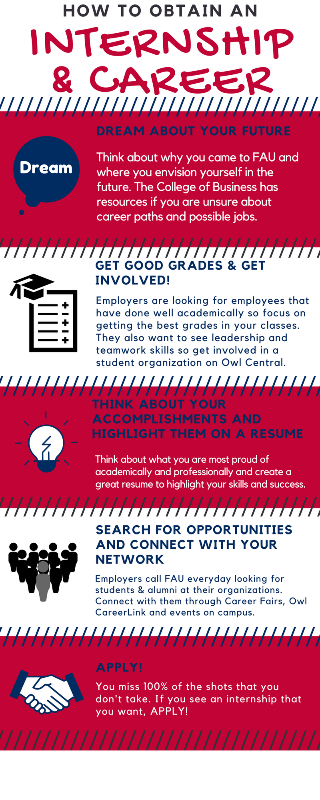 Record your Internship and Get Credit
The college of Business has multiple internship courses for credit. Report your upcoming internship today and learn about your course options.
Why Employers Recruit from FAU's College of Business
The FAU College of Business is one of the largest and most diverse colleges in the United States with nine majors. The curriculum in the College of Business prepares students for the changing needs of the marketplace. The faculty at in the College of Business is well respected by their peers as authorities in accounting, business management, economics, finance, health administration, hospitality, information systems, international business, and marketing.
Contact Us
Career and Internship Advising
College of Business
Boca Raton Campus
Fleming West, FW 102
To schedule an appointment:
Success Network and search Lauren Chorlog, Jodi- Kay Reece, Alberto Sempertegui, Taryn Santiago, and Gulsevim Madanoglu
Walk-in Advising:
Tuesdays and Thursdays from 8:30 a.m. - noon and 1 p.m. - 4 p.m.
Phone:
(561) 297-4388