Leadership Boot Camp: People Management
In today's business world, successful leadership requires the complex understanding of how to manage people for organizational success. Designed for Supervisors, Managers, and Senior Leaders, FAU's Leadership Boot Camp: People Management provides the insights, methods and techniques to do so. You will learn how to hire the right people for optimum performance, improve your understanding of behavioral patterns to boost collaboration and teams, and maximize verbal and non-verbal communication skills to enhance relationships, helping to ensure that employees are committed to the success of your organization.
Program Details

Format: Tues. / Wed. / Thurs. | On-Campus
Dates: Apr. 16 – 18, 2024
Time: 8:00am - 4:30pm EST
Hours: 22.5 Hours / 2.25 CEUs
Sessions: 3
Location: Boca Raton Campus
Fee: $1,350
Course Outline:
I. Hiring Right for High Performance
a. Hiring decisions are probably the most important of all the decisions a manager makes. These decisions have the potential of lasting 20+ years and cost millions of dollars. Too often, these decisions are based on "gut instinct" rather than through solid preparation and thorough analysis. Hiring Right for High Performance is designed to prepare participants to identify and demonstrate legally defensible competency-based interviews.
Key Topics Include:

Competency Based Interviewing
Hiring and the Law
Communication Practices for the Behavioral Event Interview
Hiring for the Right Requirements
Interview data interpretation
b. The Performance Management Process
The performance management process is critical for sustained success. There is no one best way to sustain performance excellence for every associate. Therefore, leaders must be prepared to tailor performance management to unique associate needs. This section prepares leaders for the challenge.
Key Topics Include:

Emotional Safety in the Workplace
Protecting Associate Dignity and Self-Esteem
Improving Performance
Conducting a Successful Feedback Conversation and Coaching Process
II. Building a Culture of Teamwork and Collaboration*
* Required Pre-reading - Five Dysfunctions of a Team by Patrick Lencioni
a. Successfully Managing Today's Multi-Generational Workforce
Today's workforce is more age-diverse than ever before, with Silents, Baby Boomers, Generation Xers, Millennials, and Generation Zers all sharing work space. With five different generations in the modern workforce spanning the ages from 16 to 72, managing employees in a way that promotes good will, productivity, and efficiency is more important than ever.
Key topics include:

Recognize and Understand Differences
Throw Stereotypes Out the Window
Tailoring Communications Styles
Leveraging Generational Strengths and Differences
Creating and Understanding the Value and Values of a Diverse Workforce
b. Dealing with Difficult People- Surely, It Isn't Me!
Difficult employees or peers often have the potential to be valuable contributors to an organization. The actions and behaviors of these employees also impact the culture and morale of the overall workplace. Understanding and implementing effective management strategies help difficult employees successfully:
Take the Stress Out of Stressful Conversations
Understand how their behavior or performance impacts the organization
Overcome personal or professional circumstances causing their behavior or performance issues
Build positive work relationships with their managers and colleagues
Make adjustments to their behavior that helps create a positive work environment
Improve their work performance and achieve their maximum potential
c. Building Transformational Teams
Work teams are the backbone of contemporary work life. A "high-performance work team" refers to a group of goal-focused individuals with specialized expertise and complementary skills who collaborate, innovate and produce consistently superior results. High-performance work teams are essential to the way most organizations organize and carry out their work, resulting in superior performance, which translates into a significant competitive advantage.
Key topics include:

Understand Expectations of a Cohesive Team
The Root Causes of Organizational Politics and How to Overcome Them
Encouraging Healthy Conflict – Then Manage It Properly
Establish Plans for Developing The 5 Aspects of A Highly Functional Team
How Leaders Meet Team Expectations
III. How to Communicate More Effectively with Yourself and Others*
The ability to communicate effectively is essential for any leader. This program provides communication insights, uncovers patterns and what can be done to effectively provide clarity to enhance relationships with self, team members, and clients.
Key Topics Include:

How Language Shapes Our Emotions: How we communicate and interact with ourselves, and others impacts our experiences, emotions, and behaviors. You will learn how to enhance the use of your words, voice qualities and body language to communicate more effectively.
Perceptual Filters and Finding Balance: We live in our unique reality from the filters through which we perceive the world. You will explore how perceptual filters affect all areas of life and how to move towards balance and fulfillment.
Taking Action to Achieve New Levels of Success: You will have an opportunity to create your own personal breakthrough by identifying and overcoming self-imposed limitations and barriers to your success. You'll learn how to harness your personal power to break through patterns that no longer serve you.
*Day 3 includes optional hands-on activity
Instructional Method and Format:
Instructor-led program
Led by Executive Leadership Experts and Executive Coaches
Accelerated leadership development program
Focus on implementation and practice, with activities that will help participants readily apply what they have learned
Participants will realize an instant ROI from the knowledge gained
Participants are encouraged to use current management and leadership experiences and share challenges, lessons learned and best practices in the class discussions
Contact Us
Sarah Wilson
Program Manager
phone: (561) 297-2366
email: sarahwilson@fau.edu
map: Bldg. 103, SF 129
Accreditation
Florida Atlantic University is accredited by the Human Resource Certification Institute (HRCI®) as an Approved Provider.
Select leadership programs are eligible for re-certification credits by the HR Certification Institute.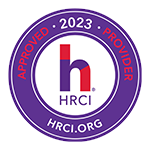 The use of this official seal confirms that this Activity has met HR Certification Institute's® (HRCI®) criteria for recertification credit pre-approval.