MBA Sport Industry Talks
Being an MBA in Sport Management student and alum gives you access to industry experts in the classroom. Throughout the program, students are immersed in industry talks where professionals share invaluable information, dynamic commentary, and feedback about the Sports industry. Speakers range from different Sport-related industries and disciplines.
Below is a highlight of select lectures from previous semesters.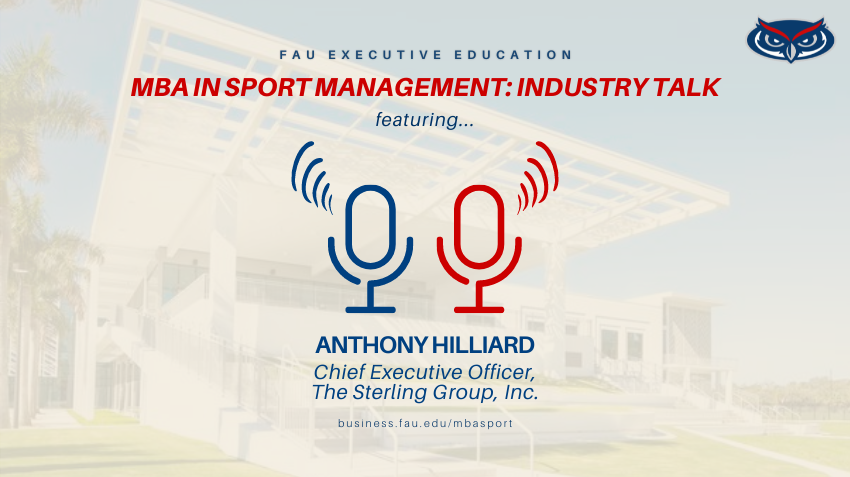 Industry Talk 1: Anthony Hilliard, Chief Executive Officer, The Sterling Group, Inc.
On the first episode of MBA in Sport Management: Industry Talks, our very own MBA Sport Director Dr. James Riordan welcomes to the classroom Chief Executive Officer of the The Sterling Group, Inc., Anthony Hilliard.
Find out how Anthony sticks to his integrity and honor to succeed in the Sports business.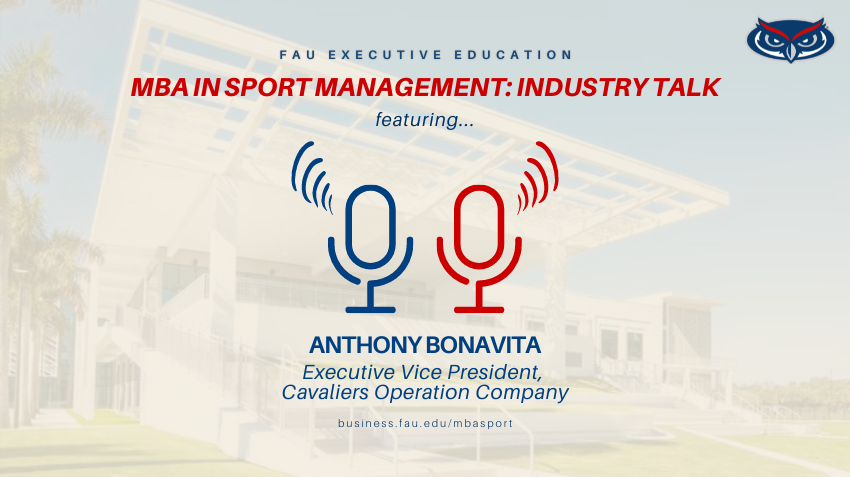 Industry Talk 2: Anthony Bonavita, Executive Vice President, Cavaliers Operation Company
On this episode, listen to Anthony Bonavita's successful journey of how he rose in the Sports industry and how aspiring leaders can apply this knowledge to their own journey.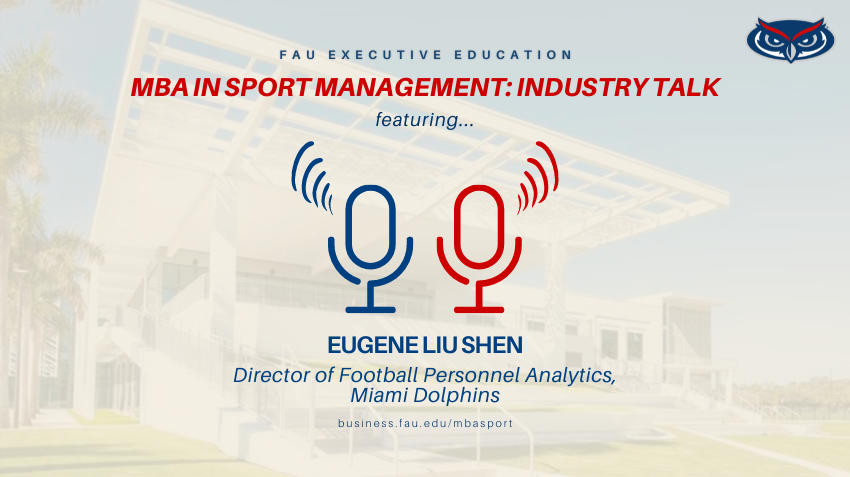 Industry Talk 3: Eugene Liu Shen, Director of Football Personnel Analytics, Miami Dolphins
Want to know how decisions are made using analytics? Listen in to this conversation with Eugene Liu Shen to see the science behind tactics and strategy at the Miami Dolphins. Learn about game management, personnel structure, talent identification, trades recommendation, and contract structures.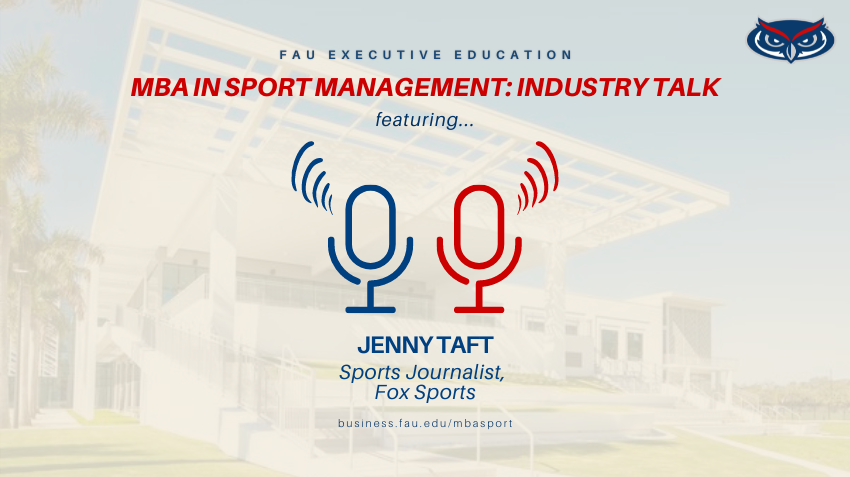 Industry Talk 4: Jenny Taft, Sports Journalist, Fox Sports
Jenny Taft started as a news desk reporter, evolved to college football correspondent, and then reported the Westminster Dog show, racing, and world cups. Now, she is an American sports television personality, serving as the moderator on Fox Sports 1's Skip and Shannon: Undisputed. Listen to more of her career adventures in the video below.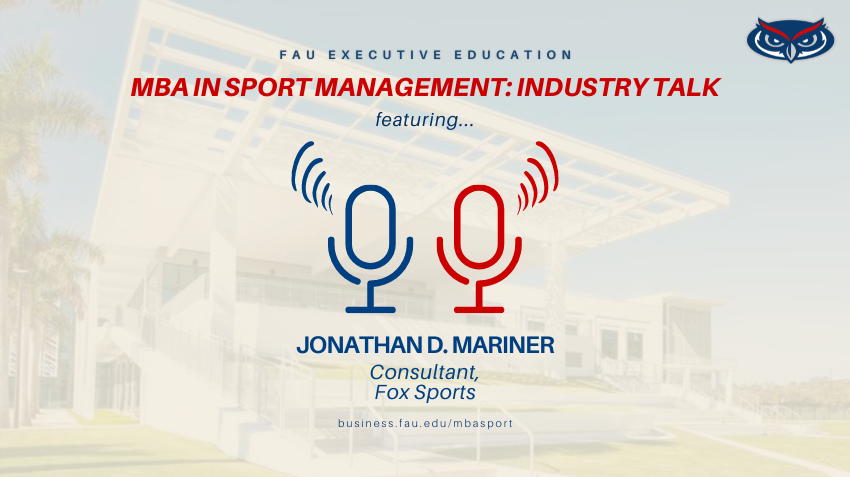 Industry Talk 5: Jonathan D. Mariner, Consultant, Fox Sports
Want to gain insight into baseball and other sports business models? Watch Johnathan Mariner's class. Formerly, he served as an Executive of the Miami Marlins and Florida Panthers, was former CFO of Major League Baseball, and is currently a Consultant at Fox Sports.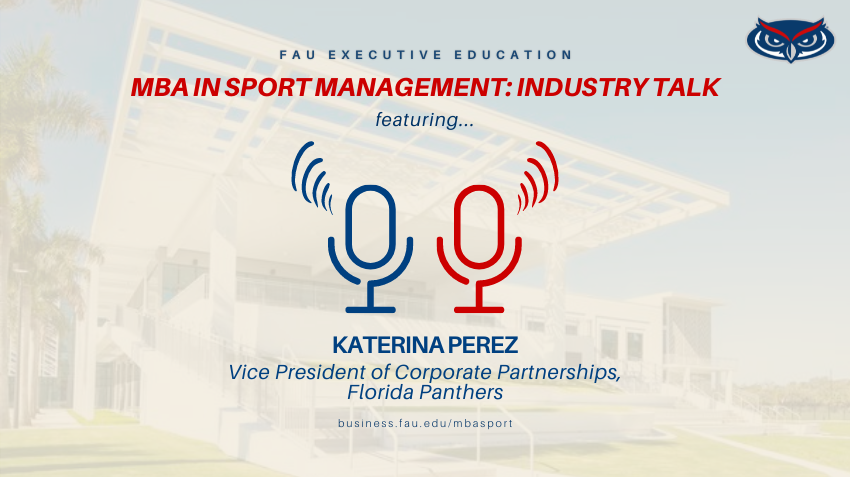 Industry Talk 6: Katerina Perez, Vice President of Corporate Partnerships, Florida Panthers
Listen in to Katerina Perez's successful journey starting from FAU to where she is now, as VP of Corporate Partnerships for the Florida Panthers. Learn the art behind corporate partnerships, such as the one she leads with Lexus, and the adventures in her career development from the beginning to her current role.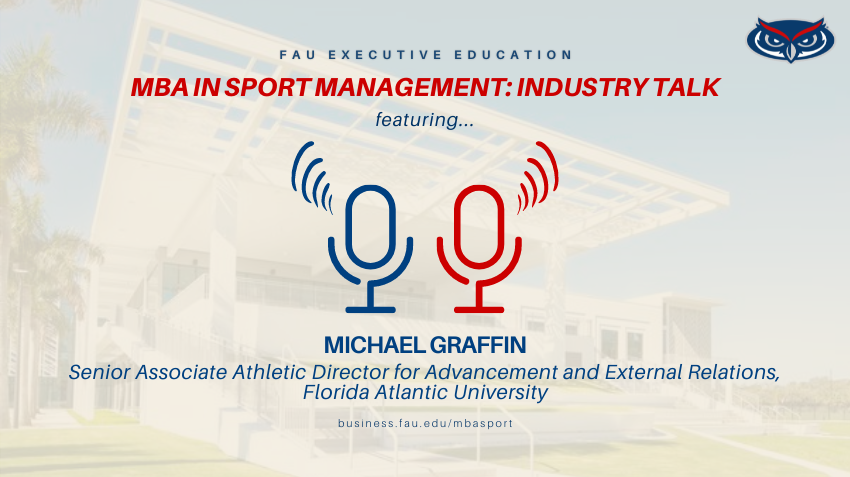 Industry Talk 7: Michael Graffin, Senior Associate Athletic Director for Advancement and External Relations, Florida Atlantic University
Curious about how FAU's Athletics team pivoted and adjusted from the COVID-19 pandemic? In this episode, Michael Graffin shares his experience and insights on how his team managed challenges that arose from last year to date. Discover how he overcame learning curves and how he built his career in Sports.