MBA Sport Industry Talks
Being an MBA in Sport Management student and alum gives you access to experts in the classroom. Throughout the program, students are immersed in industry talks where professionals share invaluable information, dynamic commentary, and feedback about the Sports industry. Speakers range from Sport-related industries and disciplines.
Below is a highlight of select speakers from previous semesters who presented to students, and the topics they covered in class.
Speakers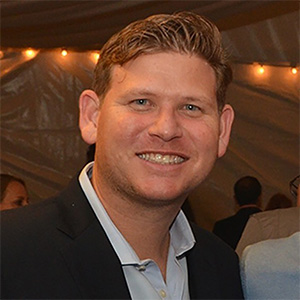 Adam Baron
Executive Director, Delray Beach Open (ATP Tennis Event)
Shared the logistics of corporate partnerships
Provided the day-to-day duties of a 10-day tournament
The business of sport - touched on marketing, event management, and fan engagement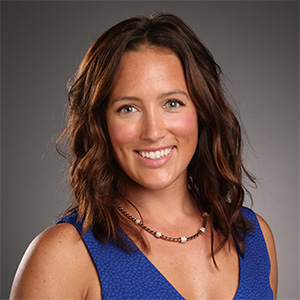 Katherine Milliken, '11 Alum
Vice President, Entertainment and Fan Experience, Miami Dolphins, Miami Open and Formula One Crypto.com Miami Grand Prix
Shared path to becoming a top sport business executive
Career tips in the sport industry to help propel next steps
Provided insight into her specialty in event production and experiential activations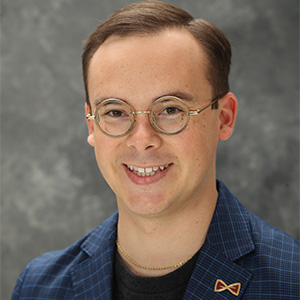 Canaan Campo
Director of Business Intelligence, Cleveland Cavaliers
Oversees the business analytics department for the Cleveland Cavaliers (NBA)
Align analytical findings with business objectives (ticketing, pricing, & revenue strategy)
Discussed the future of analytics in the sports industry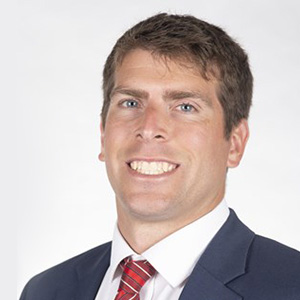 Michael Graffin
Senior Associate AD for Development, Florida Atlantic University
Develop the Foundation for Your Career: Focus On Your Passion
Discussion of your dream job
Importance of revenue generation in athletics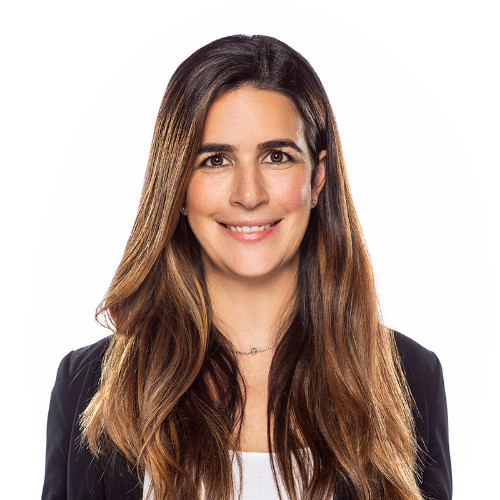 Lauren Cochran
Chief Marketing Officer, The Florida Panthers
Oversees digital marketing and strategy for the Miami HEAT by leading a talented team that turns data into dollars
Discussion on the HEAT's digital properties including social media, paid media, email marketing, web, mobile app, e-commerce, and eSports
Importance of social media engagement and growth, such as HEAT online retail store and paid media strategies that reap big returns on retail, branded content, and ticket sales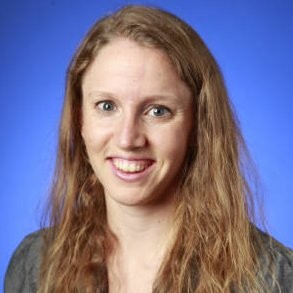 Mary Giardina
Senior Associate AD, Administration and Chief of Staff, SWA, Florida Atlantic University
Impact of COVID-19 on FAU Athletics' budget, the coaches, practices and the players
NCAA's hottest topic, NIL (Name, Image, or Likeness) and the rule changes and bylaws
Permissible activities for student athletes with new NIL
Anthony Hilliard
Chief Executive Officer, The Sterling Group, Inc.
Stories from over 30 years of experience in the sport industry, as an agent, sports executive and a consultant
Globalization of sports, the international sports business, and 2020-2021 milestones
Rapid rise of global professional basketball and the power of sports
Experiences as a sports lawyer (representing athletes in leagues in over five continents worldwide)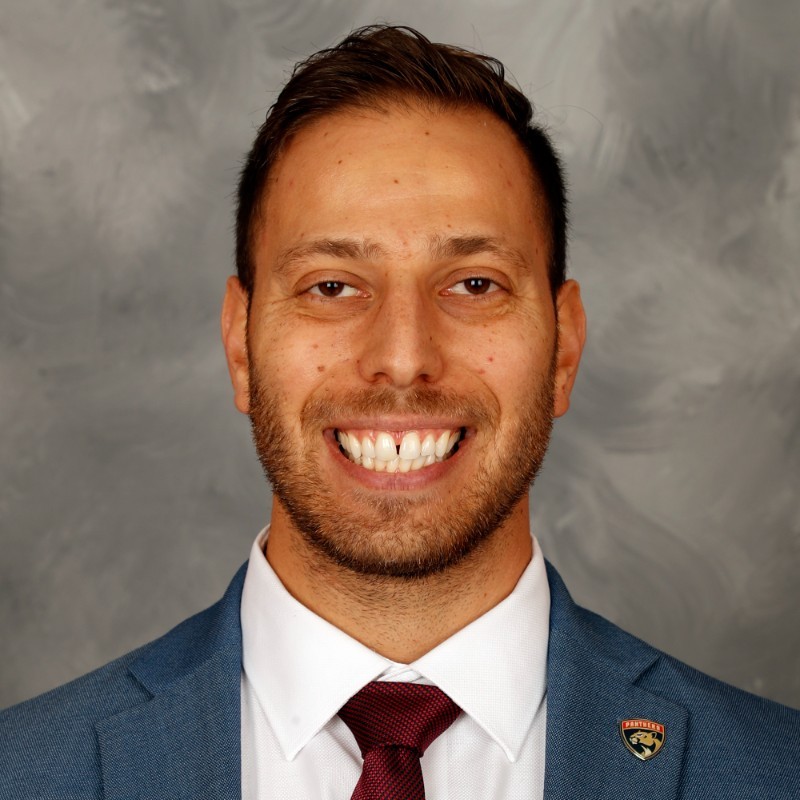 Joshua Korlin
Vice President of Corporate Partnerships, Florida Panthers
Shared career path roles as a member of the LSU Athletic Marketing Department, for women's basketball, the Houston Astros in Community Affairs, and experiences in Corporate Partnerships with both the Tampa Bay Buccaneers and Miami Dolphins
The logistics of corporate partnerships and the day-to-day duties
The importance of gaining experience and working in different roles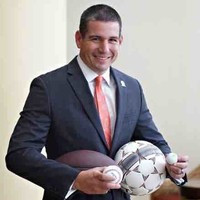 George Linley, '03 Alum
Executive Director, Palm Beach Sports Commission
Shared his journey into the sport industry and how his career successes were propelled by the MBA in Sport Management program
Explored information about The Palm Beach Sports Commission which is recognized as one of strongest sports commissions in the United States and how he developed recovery stages for sports events and tourism to recover from pandemic impact
Discussed the role of the sports commission in Palm Beach and the revival initiatives of sports from the sport tourism perspective
Spoke about the Palm Beach Sports Commission partnership with FAU MBA Sport and the internship and employment opportunities
Howie Schwab
Broadcaster, ESPN and Fox Sports
Career path: started in sport media with College and Pro Football News Weekly and eventually became the editor
Highlights of his career at ESPN for 26 years: started as a researcher and involvement with ESPN.com to eventually his own show on ESPN: Stump the Schwab
Experiences such as doing Sports Jeopardy with Dan Patrick and being the College Basketball Guru at FOX, predicting matchups during the College Basketball tournament
The changes in sport media from the past to now and employment opportunities in sport media
Eugen Shen
Director of Football Personnel Analytics, Miami Dolphins
Experiences of working in Finance for 20 years before working in the sport industry
His experiences as a consultant with the Jacksonville Jaguars, Baltimore Ravens, and Miami Dolphins in Football Analytics
The goal of analytics teams: providing decision-makers with meaningful data and insights and encouraging organizations to utilize data to augment traditional decision-making
The role of analytics in coaching (game management and opponent scouting) versus the role in personnel (drafting, trades, free agency, and player contract structure)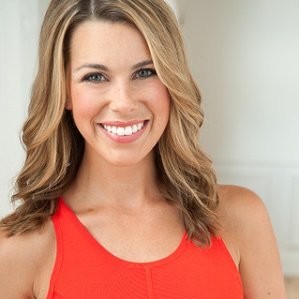 Jenny Taft
Sports Journalist, Fox Sports
Experience working as a moderator on Fox Sports Undisputed
Her journey through different roles in the sport industry
Shared the challenges as a sideline reporter during the pandemic in regards to interviewing college athletes and coaches
Advice and best practices on a career as a sports journalist or broadcaster
Industry Talks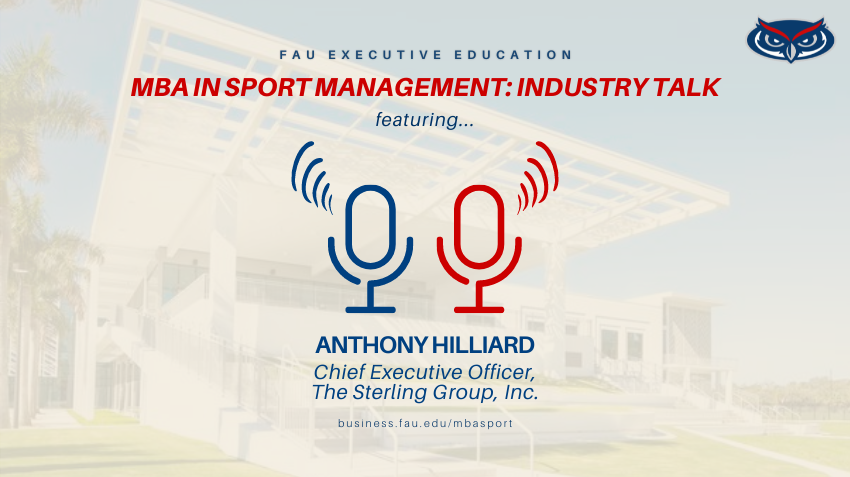 Industry Talk 1: Anthony Hilliard, Chief Executive Officer, The Sterling Group, Inc.
On the first episode of MBA in Sport Management: Industry Talks, our very own MBA Sport Director Dr. James Riordan welcomes to the classroom Chief Executive Officer of the The Sterling Group, Inc., Anthony Hilliard.
Find out how Anthony sticks to his integrity and honor to succeed in the Sports business.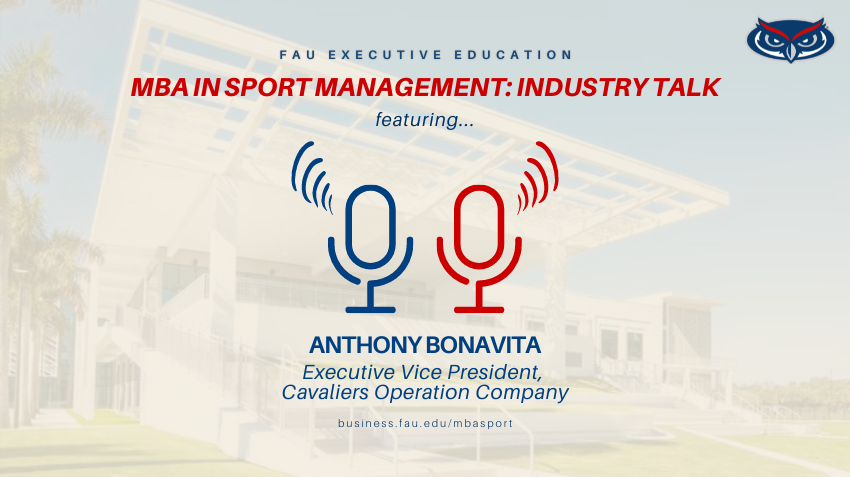 Industry Talk 2: Anthony Bonavita, Executive Vice President, Cavaliers Operation Company
On this episode, listen to Anthony Bonavita's successful journey of how he rose in the Sports industry and how aspiring leaders can apply this knowledge to their own journey.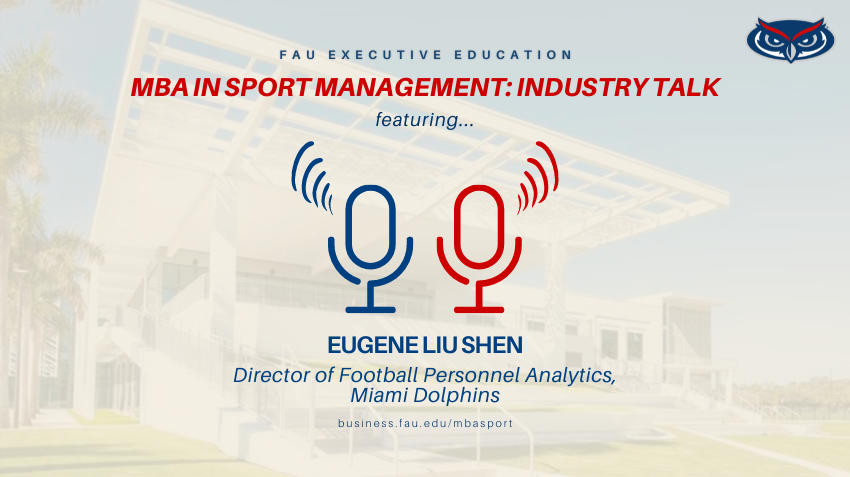 Industry Talk 3: Eugene Liu Shen, Director of Football Personnel Analytics, Miami Dolphins
Want to know how decisions are made using analytics? Listen in to this conversation with Eugene Liu Shen to see the science behind tactics and strategy at the Miami Dolphins. Learn about game management, personnel structure, talent identification, trades recommendation, and contract structures.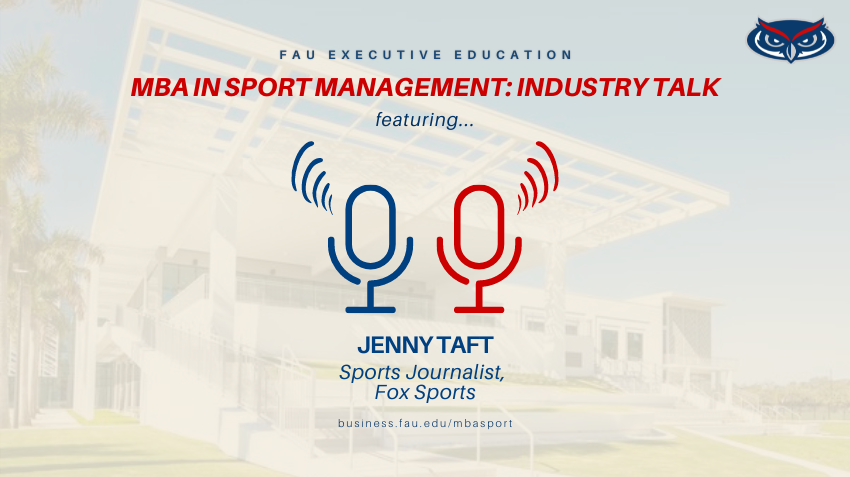 Industry Talk 4: Jenny Taft, Sports Journalist, Fox Sports
Jenny Taft started as a news desk reporter, evolved to college football correspondent, and then reported the Westminster Dog show, racing, and world cups. Now, she is an American sports television personality, serving as the moderator on Fox Sports 1's Skip and Shannon: Undisputed. Listen to more of her career adventures in the video below.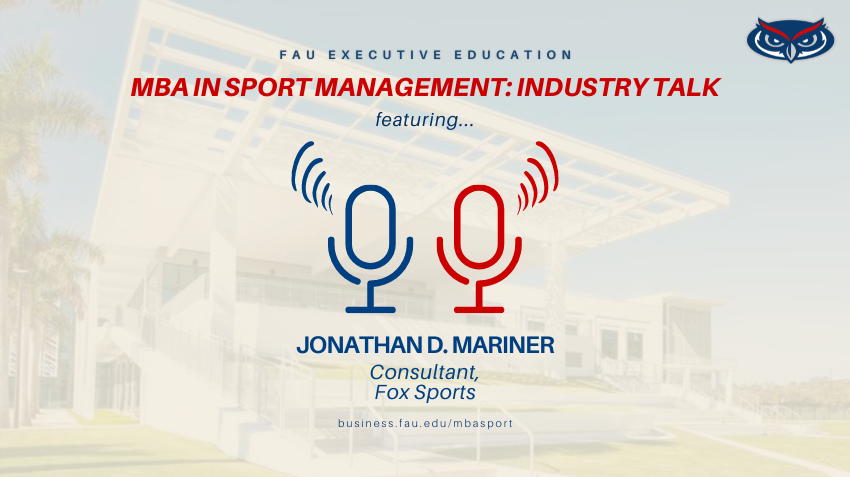 Industry Talk 5: Jonathan D. Mariner, Consultant, Fox Sports
Want to gain insight into baseball and other sports business models? Watch Johnathan Mariner's class. Formerly, he served as an Executive of the Miami Marlins and Florida Panthers, was former CFO of Major League Baseball, and is currently a Consultant at Fox Sports.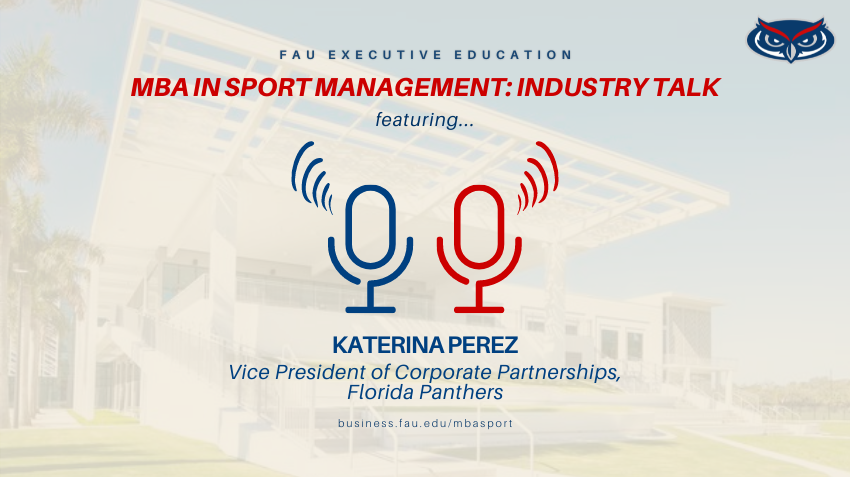 Industry Talk 6: Katerina Perez, Vice President of Corporate Partnerships, Florida Panthers
Listen in to Katerina Perez's successful journey starting from FAU to where she is now, as VP of Corporate Partnerships for the Florida Panthers. Learn the art behind corporate partnerships, such as the one she leads with Lexus, and the adventures in her career development from the beginning to her current role.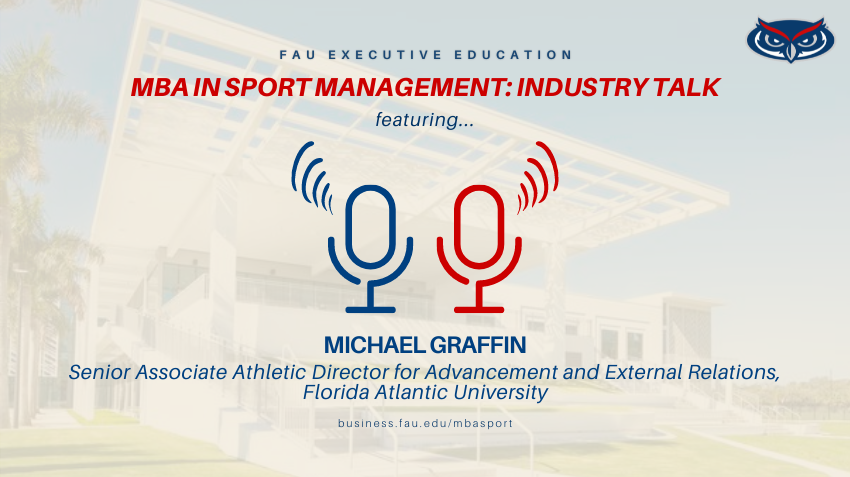 Industry Talk 7: Michael Graffin, Senior Associate Athletic Director for Advancement and External Relations, Florida Atlantic University
Curious about how FAU's Athletics team pivoted and adjusted from the COVID-19 pandemic? In this episode, Michael Graffin shares his experience and insights on how his team managed challenges that arose from last year to date. Discover how he overcame learning curves and how he built his career in Sports.