FAU's International Business Program Improves in U.S. News Top 25 Ranking
MEDIA CONTACT: Paul Owers, 561-221-4090, powers@fau.edu
---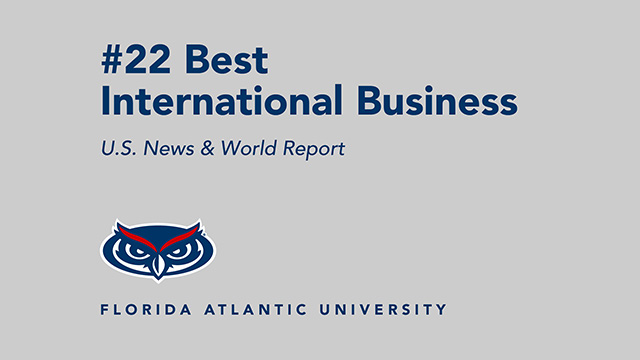 BOCA RATON, Fla. (Sept. 16, 2020) – Florida Atlantic University's International Business (IB) undergraduate program in the College of Business moved up three spots to No. 22 in the latest U.S. News & World Report national rankings. The improvement comes one year after the program reached the top 25 for the first time.
"We are honored to be ranked among such an esteemed group of universities with prominent IB programs," said Len Treviño, Ph.D., director of FAU's International Business program. "Having a top 25 ranking for two years running is a testament to the hard work of our IB faculty as well as valuable input from our external advisory board. We will leverage this ranking to create even more international opportunities for our IB students."
FAU and Michigan State University share the No. 22 ranking.
FAU's Department of Management Programs offers two types of International Business undergraduate programs. The first is the Bachelor in Business Administration with a concentration in International Business. In this program, student complete requirements of the Department of Management as well as the core business courses taken by all majors in the College of Business.
The second type of program is a Bachelor of Science in Management with a concentration in International Business. The goal of the program is to provide students with a highly focused degree in the science of international business.
"This has been an area of focus for us for many years, and we're pleased that the work has been recognized by our peers," said Daniel Gropper, Ph.D., dean of FAU's College of Business. "We take great pride in this honor, and the credit goes to our distinguished faculty, led by SBA Communications professor Len Treviño."
A full member in the Consortium for Undergraduate International Business Education, FAU's International Business program enrolled 108 students during the 2019-2020 academic year, with 38 graduates. Students in the program have participated in College of Business faculty-led study abroad programs in Argentina, China, Costa Rica, South Africa and Uruguay.
Both a business field as well as a social science field, the international business major provides relevant training for a variety of careers. Graduates can expect to land such jobs as financial analyst, accountant, controller, project manager, business analyst, banker and business process consultant.
"Having our undergraduate International Business program again ranked in the company of so many other prestigious schools is a great honor that recognizes the efforts of our faculty, the COB administration and staff, our students and our partners in the South Florida global business community," said Roland Kidwell, Ph.D., chair of FAU's Department of Management Programs and DeSantis Distinguished Professor of Management and Entrepreneurship. "We will continue improving and developing our IB efforts and are planning for our master's degree program in International Business to launch in 2021."