Boca Raton Mom Earns Degree On Same Day Her Son Gets His
By Paul Owers and Brittany Sylvestri | 05/06/2022
Tags:
Health-Administration | ITOM
Categories:
Accolades | Students
---
The 890 College of Business graduates in spring 2022 included Christine Eagle, who earned a master's degree on the same day her 17-year-old son Aden took home his bachelor's degree.
Christine received a Master of Science in Health Administration in the 1 p.m. ceremony on May 5. Four hours later, Aden graduated with a Bachelor of Science degree in data analytics and a perfect 4.0 GPA. Aden earned his college degree eight days before he received his high school diploma from FAU High School.
"Christine, I can attest first-hand to the challenges of parenting a teenager, and I commend you for raising such an impressive young man, while furthering your own education," FAU President John Kelly said in his commencement address.
Aden was his mother's inspiration to return to graduate school.
"We would proofread each other's essays, and he constantly challenged me to excel in my courses," said Christine, 53. "We have such a better understanding of each other because of this experience."
It all started when Aden achieved an impressive score in the Duke Talent Search ACT program. That caught the eye of FAU High, which invited him to join the school's dual-enrollment program.
At the time, Christine, Aden and his father William lived in Sebring, but they moved to Boca Raton to allow Aden the opportunity to dual enroll.
"Ever since ninth grade orientation, he heard that he could graduate from college before he graduated high school, and he zeroed in on that," Christine said.
Once the family of three settled in Boca Raton, Christine started working in food and nutrition services at HCA Florida JFK North Hospital in West Palm Beach. She wanted to move into a leadership role and decided to apply to the master's in health administration program in FAU's College of Business.
"I was excited when my mom told me she was going back to school," Aden said. "I was very proud of her."
This is the second master's degree for Christine, who earned her first in nutrition and dietetics at Central Michigan University in 1999.
"I'm just elated," said William, who has been married to Christine for 30 years. "We've had our nose to the grindstone for so long that this feels like the first day we can look up and appreciate what we did."
William said Aden embraced academics as a youngster. He remembers when their son was part of a state-sponsored quiz contest in middle school. Aden rattled off so many answers in a row that he felt bad and started helping the other students.
Aden's goals have since led him to the field of artificial intelligence (AI). As a Magar fellow at the Max Planck Academy at FAU's John D. MacArthur campus in Jupiter, he was one of a few FAU High students immersed in neuroscience classes at Max Planck Florida Institute working in a lab with its scientists. Aden spent his days predicting the activity of individual neurons to understand how the brain keeps track of memories to help with AI technology.
The self-taught guitar player also spent his free time as secretary of FAU's Google Developers Club and president of the Science Olympiad Club at FAU High. These experiences led to long conversations in the car between Christine and Aden.
"It was a great bonding experience," she said.
Aden will enroll at Carnegie Mellon University in Pittsburgh, where he will begin the neural computation Ph.D. program in the fall. His next goal: become a computational neuroscientist and work at Google as a research scientist to understand how the brain works and make better tools for AI.
"It will be extremely difficult when Aden leaves in the fall, similar to the first day I dropped him off at daycare," Christine said. "But I am very excited and proud of him. It's going to be a hard transition and I will miss having him so close."
For more information about the spring commencement, click here.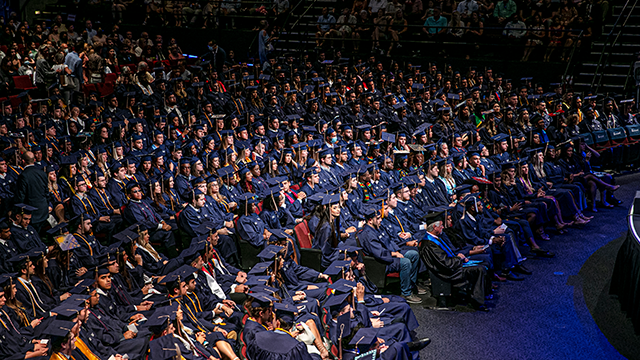 -FAU-