FAU Accounting Students Present at Beta Alpha Psi 2023
By Denise Gravatt | 03/15/2023
Tags:
Accounting | Bulletins
Categories:
Academics | Accolades | Students
Discussing Transformations in Accounting at Mid-year Meeting
---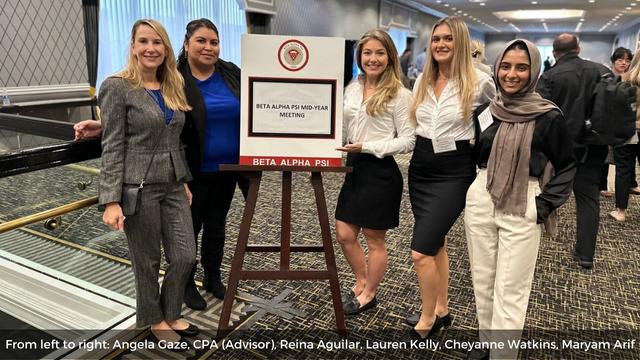 A talented team of FAU's Beta Alpha Psi students attended the 2023 Mid-Year Beta Alpha Psi meeting in Charlotte, North Carolina.
The participants consisted of four students from different business disciplines and their FAU BAP advisor and Senior Instructor, Angela Gaze, CPA. Beta Alpha Psi is an international honorary organization for financial information students and professionals with over 300,000 members and over 300 college and university chapters.
"Recently, our chapter has become a more inclusive organization by including finance and MIS majors with accounting majors," said Gaze. The FAU chapter of Beta Alpha Psi is incredibly grateful to be able to attend the BAP meetings. Our students presented very well at the BAP Mid-Year Meeting, and the conference was a wonderful experience for them."
Lauren Kelly, an online accounting student, and Cheyanne Watkins, a management information systems major, presented on the topic Transformations in Accounting in the Deloitte Best Practices competition. The two presented how the growth of technology has created diverse career paths in accounting firms, who are now not only hiring accounting graduates for their consulting/advisory service lines but are also recruiting from other business majors as well.
"We had an incredible weekend attending the Beta Alpha Psi conference! It was great to network and learn about new trends and best practices in accounting, finance, and technology. Thank you to the firms who helped make our project a success. I'm so thankful to have been involved and am looking forward to applying my newfound knowledge at FAU!" ~Lauren Kelly

"I was pleased to represent Beta Alpha Psi at FAU. Our presentation discussed how accounting is transforming; obtaining additional technical certifications and developing soft skills are critical to demonstrating your worth and adding value to yourself.

~Cheyanne Watkins
Two other FAUBAP officers also attended the meeting in support: Maryam Arif, one of our Accounting Scholars, and Reina Aguilar, who is pursuing her Executive Master of Accounting degree.
FAU BAP also received an EY award of $500 in fall 2022 for our Inclusive Leadership Program, which was created by another BAP member, Maria Edelshtein. The Inclusive Leadership Program (ILP) involves monthly Zoom meetings of 50 minutes long where several diverse participants explain how their culture influences their leadership style. At the end of the spring semester, participants will complete a questionnaire. The questionnaire will ask about their views on the multicultural experience and how their leadership style can be enhanced by learning more about different cultures.
-FAU-