FAU Climbs Significantly in 'U.S. News' 2024 List of Top Universities
By Lisa Metcalf | 09/18/2023
Tags:
Deans-Office | Press-Releases
Categories:
Academics | Accolades | Announcements
---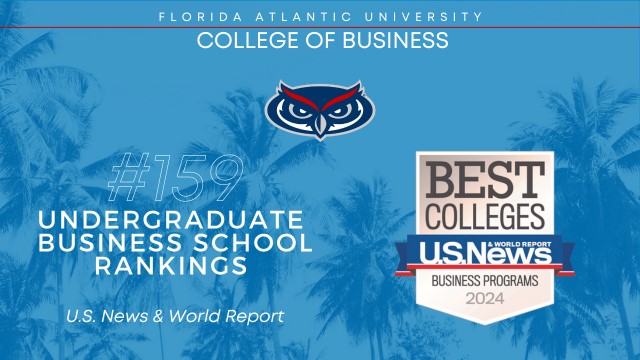 Florida Atlantic University made considerable gains in the U.S. News & World Report list of "Top Public Schools," moving up to No. 112 from No. 131 in this year's ranking of the nation's best universities. This is the largest rise out of all public universities in the state of Florida for the second year in a row. U.S. News & World Report also ranked FAU at No. 209 for "Top National Schools," up from No. 262 last year.
"The Florida Atlantic community has worked incredibly hard to reach new levels of excellence," said FAU President Stacy Volnick. "It's an honor to see our efforts reflected in this year's rankings as we continue to innovate and expand while ensuring success for all."
FAU also rose to No. 26 in the U.S. News & World Report "Social Mobility" ranking, up from No. 41. This number is computed using graduation rates of students receiving Pell grants and includes public and private national universities. At FAU, the outcomes for underrepresented minority students and students who come from low-income backgrounds all outpace the university's overall retention and graduation rates.
In other rankings, FAU moved up 15 spots to No. 150 from No. 165 last year in the U.S. News & World Report list of undergraduate engineering programs. Undergraduate computer science is now at No. 210 from No. 215 one year ago. Its undergraduate business programs also moved up to No. 159 from No. 164 last year; undergraduate international business is ranked No. 22, up from No. 26 last year. New to the list is undergraduate psychology at No. 234 and undergraduate economics at No. 240.
-FAU-