FAU's MBA in Sport Management Program Jumps to Top 10 in Global Rankings
By Amber Bonefont | 10/12/2023
Tags:
Executive-Education | MBA-Sport | Press-Releases
Categories:
Academics | Accolades | Announcements | Faculty/Staff
---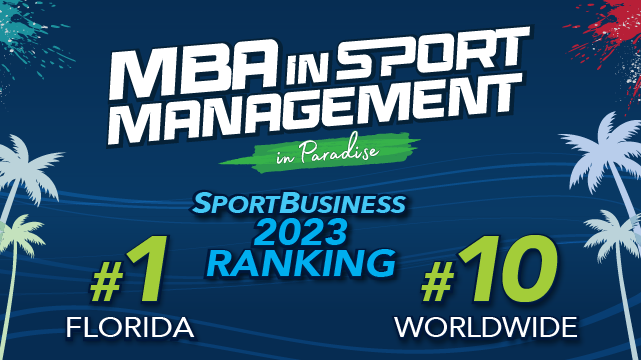 Florida Atlantic University's MBA in Sport Management program broke the top 10 in the international ranking among the top 40 postgraduate sport management degrees.
FAU ranked No.10 worldwide for 2023, up from No.11 in 2022, according to SportBusiness, a London-based sports intelligence and analysis firm. Among North American programs, FAU's MBA in Sport Management rose to No. 9, up from No. 10 last year.
"It's an honor to have this worldwide ranking and it is a testament to the strength of our MBA in Sport Management program," said Daniel Cornely, assistant director of the program in the College of Business. "The high career placement rate of the MBA in Sport Management students is one of the distinguishing features of the program."
The 12th annual rankings are based on two surveys, one conducted by course officials and another by alumni who were enrolled in 2020. The company also worked with a seven-person advisory board to put the rankings together.
"We are thrilled that the College of Business' MBA in Sport Management program has broken the top 10 in worldwide rankings. It is a reminder of the hard work and efforts of our faculty and students," said Daniel Gropper, Ph.D., dean of FAU's College of Business. "The program gives students an excellent background to launch them for success in a highly-competitive industry."
The program is also No. 1 among sport management programs in Florida. FAU's program has never fallen below 30 in rankings performed by SportBusiness. The rankings come after FAU's College of Business Executive Education program ranked No.2 among open enrollment professional education programs in the U.S. by the Financial Times.
The FAU Sport Management program was founded by James Riordan, Ph.D., in 2000, who passed away in 2022. With more than 25 years of experience in the industry, Riordan left a lasting impact on his students and the FAU community.
-FAU-