Accounting Students Experience A Day As An IRS Criminal Investigator
By Denise Gravatt | 10/24/2023
Tags:
Accounting | Executive-Education | Forensic | Press-Releases | SOAEP
Categories:
Academics | Alumni | Faculty/Staff | Students
---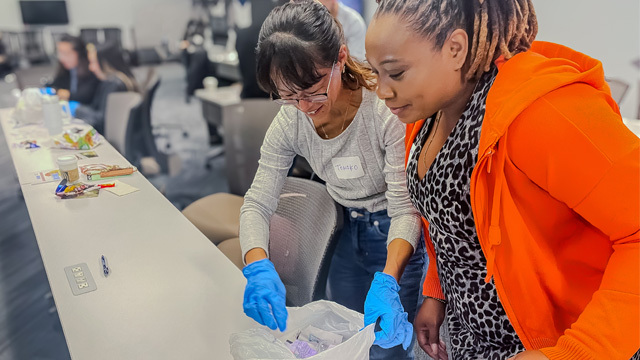 During a structured one-day event, forensic accounting students got the chance to step into the shoes of financial crime investigators through an immersive and interactive simulation.
FAU Executive Education hosted a team of 20 Special Agents and Professional Staff from the IRS: Criminal Investigation (IRS:CI) branch for the "Citizen Academy" event, where agents take students through the various activities, giving them a glimpse into what a day as an IRS-CI Special Agent is like.
Students learned what it takes to catch white-collar criminals—from investigating a fictional financial crime using real-world investigative techniques and "following the money" to navigating the federal judicial system, and more.
"At IRS:CI, recruiting and educating the public of who we are and the important role IRS:CI plays in federal law enforcement are significant areas of focus," said Special Agent in Charge Matthew D. Line. "Hosting this year's Citizen Academy at Florida Atlantic University-Boca Campus on Oct. 20, was a great opportunity to interact with young students and professionals to do just that. Partnering with the College of Business allowed students to experience first-hand a day-in-the-life of an IRS:CI Special Agent and to better understand the role IRS:CI plays in the law enforcement community."
A select group of students earning their Master of Accounting degrees with focus on Forensic Accounting or Digital Accounting Forensics and Data Analytics experienced hands-on activities and learned how their degree can lead to exciting careers within the IRS, beyond tax audits.
The dozen participants learned about the IRS: CI's history and the famous Al Capone case. They then worked side by side with IRS-CI special agents going through the different facets of investigative work, including doing a trash run to unearth clues and evidence; learning about public records and gaining access to records and data crucial for an investigation; practicing surveillance, the art of discreet observation to gather information; and performing mock interviews to extract critical details. Working through lunch, as agents often do, students delved into topics on undercover operations, the dynamics of maintaining law and order, and when use of force may be necessary.
The end of the day was a time for recognition and relfection. Every student received a Certificate of Participation and commented on the day's experiences and lessons; closing remarks were made the IRS:CI experts.
Special Agents and FAU alumni Karyn Calabrese and Danielle Mederos were integral in coordinating the event. Special Agent and Lead Recruiter Karyn Calabrese said, "participating in the Citizen Academy is one of my favorite recruiting events of the year. You can tell students and alumni about our job but being able to actually show them some of our investigative techniques is the best way to generate excitement about it."
Danielle, a double owl, who earned her bachelor's degree in Criminal Justice and then focused on forensic accounting for her master's, was able to leverage her academic background and specialized knowledge in accounting to become an IRS-CI Special Agent not long after graduating. "By sharing my experiences with students who are now sitting right where I once was, I hope to give back by sharing a career path they can take and inspire some to explore the incredible and rewarding IRS-CI roles their degrees in forensic accounting can open up for them," said Danielle.
Any student interested in becoming a special agent can send an email to miamirecruiting@ci.irs.gov
---
Florida Atlantic's Executive Master of Accounting with concentrations in Forensic Accounting and Digital Accounting Forensics and Data Analytics is recognized for its excellence in producing skilled professionals in the field of financial investigation. Students graduate ready to step into diverse career opportunities in government agencies like the IRS: CI and others as well as roles in the private and public sectors. Events, networking opportunities, and conferences sponsored by FAU's Center for Forensic Accounting offered each semester enhance students's academic experience.

-FAU-