Competitive US Senate and Governor Races in Florida
Competitive US Senate and Gubernatorial Races in Florida (2 weeks out)
Senate Race
The US Senate race is tight with Gov. Rick Scott (R) at 42% and Incumbent US Senator Bill Nelson (D) at 41%, and 13% were still undecided. In addition, Independents are in favor for Scott over Nelson in the Senate race 39% to 27%.

Gov. Scott has a slight edge in job performance with a 43% approval and 36% disapproval, while Sen. Nelson has a 36% approval and 35% disapproval.
It appears Scott's response to the Hurricane was positively viewed with 39% saying he did an excellent job and another 32% said he did a good job; 25% said he did a fair job with 5% saying it was a poor response.
Voters also approved of the Florida evacuation plan with 74% saying the State had a good/excellent plan while 26% said it was fair/poor.
Gubernatorial Race
In the Gubernatorial race, Democrat Andrew Gillum is at 41% with Republican Ron DeSantis at 37%, 18% were still undecided. In addition, Independents are in favor for Gillum 34% to 26%.

A major factor in the Governor's race is age, as 18-34 year olds are in favor for Gillum 46% to 25%.
Presidential Job Approval
President Trump has a 45% approval rating and 42% disapproval.
Important Issues for midterm elections
The most important issues for voters is healthcare at 31% and immigration at 24%. The only other issues to reach double digits is the economy at 13% and gun control policy at 10%. Voters who said healthcare was most important are breaking for Nelson 64% to 20% while voters who said Immigration was most important were breaking for Scott 71% to 17%.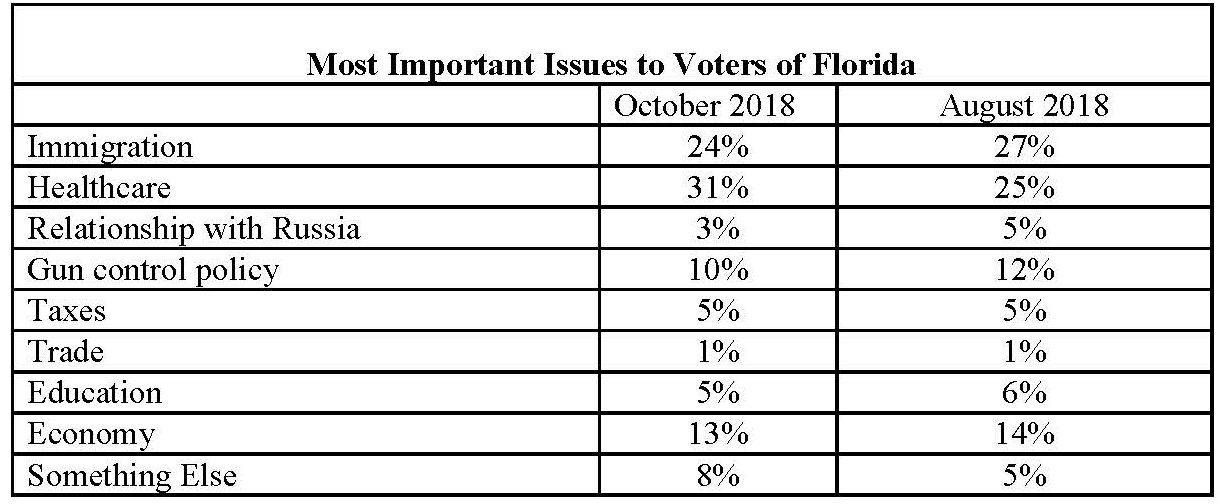 Regarding Gun policy, voters' support an assault weapons ban 43% to 34% who oppose, 24% were undecided.
Methodology
The FAU BEPI Florida poll was conducted October 18-21, 2018. The sample consisted of registered voters who said they were very likely to vote, n=704, the poll's margin of error (MOE) of +/- 3.6 percentage points. The data was weighted by ethnicity, mode, party affiliation, gender based on a 2016 voter model. It is important to remember that subsets carry with them higher margins of error, as the sample size is reduced. Data was collected using both an Interactive Voice Response (IVR) system of landlines and an online panel provided by Survey Sampling International, SSI.