Florida Voters want Background Checks and to Raise Age on Gun Purchasers
A new Florida Atlantic University Survey finds 70% of voters want stricter gun laws while 11% said laws should be less strict and 19% said laws should be left as is. All voters, regardless of party affiliation, want stricter gun laws with Democrats most in support at 84%, followed by Independents at 69% and Republicans at 55%. The survey of 800 voters was conducted February 23-25.
The most popular policy proposal is universal background checks with 87% of voters supporting and 6% opposing this policy. The second most popular policy is raising the minimum age to purchase a gun from 18 to 21 with 78% support and 11% oppose. 69% support a ban on assault-style rifles with 23% opposed and arming teachers is the most controversial with 56% opposed and 31% support.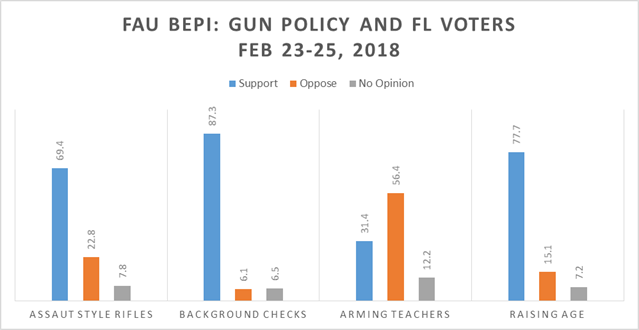 Voters were split on the cause of these shooting with 39% saying availability of guns is the cause while a lack of mental healthcare is seen as a major contributor by 24% of voters. Violent TV and Video games came in third at 18% and something else was picked by 14%.
Forty-one percent (41%) of voters own a gun, if they have children this number increases to 46%, if they don't have children it drops to 28%. Republicans are more likely to own a gun (52%) than Democrats (36%) and Independents (33%).
The survey also found Floridians disapproving of President's Trumps response to the recent mass shooting 49% to 34%.
In a potential U.S. Senate Election, Sen. Bill Nelson leads Gov. Rick Scott 40% to 38%. Bad news for Scott is that his A+ rating from the National Rifle Association (NRA) would lead 44% of voters to be less likely to vote for him and 26% more likely. A deeper dive into these number also finds Independents less likely to vote for Scott 43% to 17% because of his rating.
Methodology
This survey was conducted using an online sample supplied by Survey Sampling International (n=400) and via an automated telephone platform (IVR) using registered voter lists supplied by Aristotle, Inc. (n=400). There were total 800 respondents sampled between February 23-25, 2018 with a credibility interval, a measure of accuracy, of 3.6 percentage points. Responses for the entire sample were weighted to reflect the statewide distribution of the Florida registered voting population by gender, party affiliation, ethnicity and region.