Early Returns: Governor DeSantis Popular with Voters
Early Returns: Governor DeSantis Popular with Voters.
Floridians Support Construction of Additional Border Wall.
A new Florida Atlantic University survey finds President Trump and Speaker of the House Nancy Pelosi with about the same level of popularity in the Sunshine State; Trump at 46% disapproval and 41% approval, Pelosi is at 44% disapproval and 40% approval. Meanwhile, newly elected Governor Ron DeSantis appears to be enjoying a honeymoon period with a 48% approval and 18% disapproval. The poll was conducted Feb 7-9 of n=500 registered voters, +/-4.3%.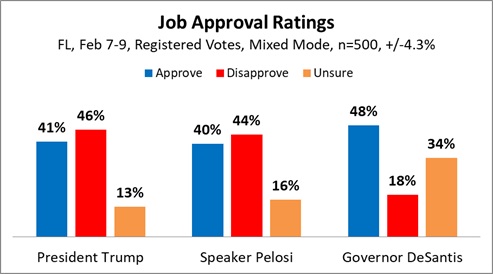 DeSantis struggles with Democrats with a 32% disapproval and 23% approval but Independents like what they see so far in their new Governor with a 49% to 12% approve/disapprove and Republicans approve 73% to 8%.
The most popular public policy asked about in the survey is the creation of a task force to reduce the impact of the harmful algae blooms; this had 59% support and 10% opposition (+49). This has the strongest appeal across all demographics including gender, party affiliation, race, age, education, and region.
Eliminating the common core standards from exams in Florida was the second most popular policy with 52% approval and 21% disapproval (+31). This has the greatest support from 18-29 year olds with 71% in support and 11% opposed. Those over 30 support the elimination about 2:1.
On the federal level, construction of additional border wall is popular in Florida with 55% support and 37% opposition (+18). This is driven by party affiliation with Republicans most in support at 84% with 11% opposed while Democrats oppose 67% to 23%. Independents are more in line with Republicans on this issue with 59% in support and 29% opposed. And similarly 51% voters support congressional funding for a border wall in exchange for avoiding another partial government shutdown with 36% in opposition (+15).
Voters are split on US military intervention in Venezuela in support of Juan Guaido and against Venezuelan President Nicolas Maduro with 36% in support and 35% in opposition (+1). It appears race and age maybe a factor as Hispanics support the military action 57% to 23% and 18-29 year olds support it 65% to 11%. African Americans slightly support military action at 41% to 33% while Caucasians oppose 39% to 30%. Opposition to military action increases with age; of those 30-44, 47% support/25% oppose, those over 45, 45% oppose/25% support.
Nearly one year since Parkland the survey found 45% of voters are extremely concerned about the physical safety of students at schools, another 41% were somewhat concerned and only 14% had no concerns at all. Potential solutions could be stricter gun control laws which has 65% support but laws authorizing teachers to carry firearms on school property are not popular with voters with 51% opposed and 37% in support (-14).
Methodology
The FAU BEPI Florida poll was conducted February 7-9, 2019. The sample consisted of registered voters, n=500, the poll's margin of error (MOE) of +/- 4.3 percentage points. The data was weighted by ethnicity, age, party affiliation, and gender based on a 2016 voter model. It is important to remember that subsets carry with them higher margins of error, as the sample size is reduced. Data was collected using both an Interactive Voice Response (IVR) system of landlines and an online panel provided by Survey Sampling International, SSI.