FAU Poll Finds Warren Cutting Into Biden's Lead in Florida, Where Trump Narrowly Leads in Matchups with Democrats
FAU Poll Finds Warren Cutting Into Biden's Lead in Florida, Where Trump Narrowly Leads in Matchups with Democrats
The Democratic Primary in Florida, scheduled for March 17, 2020, continues to be a stronghold for former VP Joe Biden according to a new FAU BEPI poll, where Biden leads the field with 34%, while Senator Elizabeth Warren has seen her support double in the last 5-months to 24% and Bernie Sanders is at 14%. No other candidate clears 5%, 6% were undecided. This poll was conducted Sept 12-15 with and Democratic primary voters comprised n=407, +/-4.9%. This is a tightening of the race from FAU's May poll where Biden was at 39% and Warren and Sanders were tied at 12% each.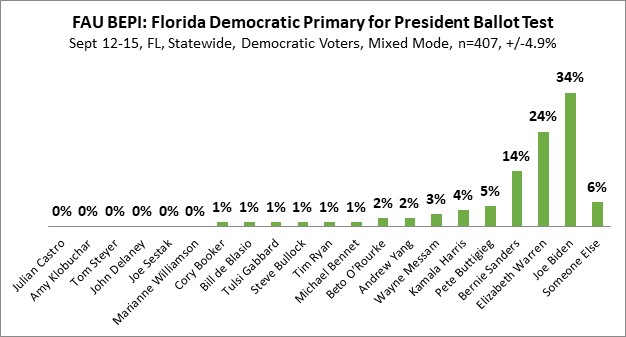 Highlights:
Biden leads both males (38% of the vote) and females (31%).
Sanders leads with voters under 29 with 40% of the vote while Biden is at 17% and Warren 15%.
Biden's strength is with voters over 50 taking nearly 57% of the vote from these older voters.
Biden has a strong base of support with 67% of his voters saying they will definitely stick with him, Sanders voters are at 52% while Warren voters appear to still be looking with 33% saying they plan to stick with her.
President Trump Approval and Republican Primary:
President Trump continues to hold a positive approval in the Sunshine State at 49% with a disapproval of 46%. A gender divide continues to persist with female disapproving of the President 48% to 43% while males are approving 55% to 42%.
Trump is very strong with Republican Primary voters netting 85% of the vote, 8% and 5% for former Congressman Mark Sanford (SC) and Joe Walsh (IL) and 2% for former Governor Bill Weld (MA). Further, 93% of Trump voters say they will definitely stick with him for the Primary. (n=355, +/-5.2%)
Trump is in a statistical dead heat against Warren, Biden and Sanders. Trump's best support is against Harris with a 52%-48% advantage.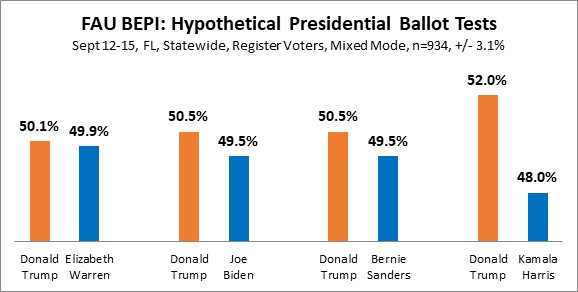 Most Important Issue for voters:
Overall, the most important issue in deciding for whom voters will choose for President is the economy at 21%, immigration at 19%, healthcare at 18% and the environment at 11%.
For Republicans, The economy was most important at 30% with immigration at 21%. For Democrats their top issue is healthcare at 22% with the environment at 17%. For Independents, the top issue is immigration at 25%, followed by the economy at 19%.
Gun Policy ranked as the 6th most important issue for voters at 9%, but support for universal background checks for all gun buyers has overwhelming support at 75% with 14% who opposed. There is bi-partisan support for this legislation with 82% of Independents are in support, 81% of Democrats and 64% of Republicans.
Voters are split on the new tariffs on Chinese Goods with 40% saying it hurts America, 33% said it helped America and 27% said it had no effect. Around 40% of Democrats say it hurts America, 44% of Independents say it hurts America and only 20% of Republicans say it hurts America.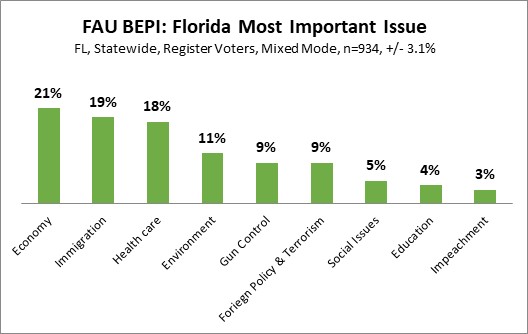 Methodology
The FAU BEPI Florida poll was conducted September 12-15, 2019. The sample consisted of registered voters, n=934, the poll's margin of error (MOE) of +/- 3.1 percentage points. The data was weighted by ethnicity, age, education, party affiliation, region and gender based on a 2016 voter model. It is important to remember that subsets carry with them higher margins of error, as the sample size is reduced. Data was collected using both an Interactive Voice Response (IVR) system of landlines (n=608) and an online panel provided by Dynata (n=326).