Biden Way Ahead in Sunshine State
Florida 2020: Biden Way Ahead in Sunshine State – 10 days out
Voters Confident in Government versus Coronavirus
A new Florida Atlantic University BEPI poll taken 10 days before the Florida Primary finds support for the Democratic nominee has consolidated around former Vice President Joe Biden who is getting 61% of the vote and Senator Bernie Sanders who is at 25%, 3% said they are voting for Congresswoman Tulsi Gabbard, and 10% were undecided. Data was collected March 5-7, 2020, MM, n=399, +/-4.9%.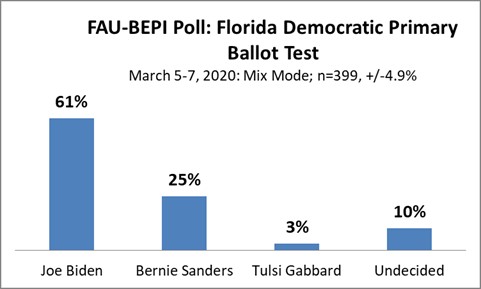 Biden saw a 19 point bump since January when he was leading with 42% of the vote, now he is at 61%. Sanders watched his numbers improve 9 points from 16% to 25%. Voters have also locked in on their choices with 79% saying they will definitely vote for their current candidate, up from 54% in January.
There continues to be a generational divide among candidate supporters with Sanders leading among 18-29 year olds 35% to 15% but trails by larger margins with older voters. Among 30-49 Biden leads 58% to 34%; among 50-64 year olds Biden leads 71% to 19% and among voters over 65 years old the lead grows to 82% for Biden and 13% support for Sanders.
President Trump enjoys a positive approval in his "new" home state of Florida with a 49% approval and 41% disapproval. This is a slight improvement from January where his approval was 45% and disapproval was 43%. In the Republican primary for the party nomination, Trump receives 93% of the vote, Weld at 4% and 4% were unsure.
In head-to-head match-ups Trump leads Biden 51% to 49%, and Trump leads Sanders 53% to 47%. This is a reversal from January when Trump trailed Sanders 53% to 47% and trailed Biden 51% to 49%.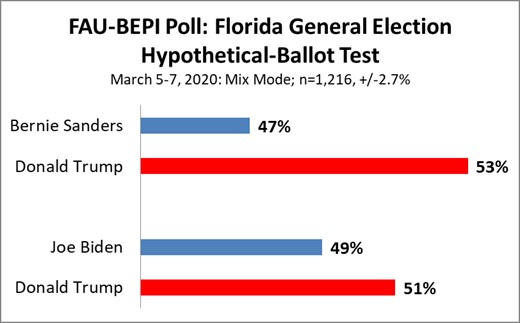 Statewide Issues
The most important issue for Florida voters is healthcare at 26%, followed by the economy at 23%. The environment and immigration were tied for third at 11% each; no other issue was in double digits.
A majority of voters in Florida, 52%, are confident that the federal government will be able to handle an outbreak of Coronavirus in the US while 31% are not confident. This confidence splits primarily by party lines with 77% of Republicans confident in the Government compared with 9% not confident. Among Democrats, 43% were not confident and 38% were confident. Among Independents, 41% were not confident and 39% were confident.
A majority, 51%, also approves of the job President Trump is doing in handling the spread of coronavirus in the United States, 36% disapprove and 13% were neutral/no opinion. This is also driven by party affiliation with Republicans approving of Trumps handling of the virus at 86% with 8% disapproving. Democrats disapprove 64% to 21% and Independents lean in favor of the President with 46% approving and 34% not approving.
Governor Ron DeSantis is extremely popular in the Sunshine State with a 54% approval and 20% disapproval, 26% were unsure.
Methodology
Data was collected March 5-7, 2020 via a mix mode sample with an online panel provided by Dynata (n=581) and a landline sample provided by Aristotle Inc and collected by IVR (n=635) for a total sample size of n=1,216, +/-2.7%.
Data was weighted based on gender, age, education, region, and ethnicity based on 2016 voter modeling.