Biden Widening Lead in Florida, Where Trump Has Fallen Behind in Matchups with Democrats
Voters Split on Whether Trump Should be Removed from Office
January 9-12, 2020
A new Florida Atlantic University BEPI poll finds former Vice President Joe Biden with a significant lead in the March 17 Florida Democratic Primary with 42% of the vote, followed by Senator Bernie Sanders at 16%, Senator Elizabeth Warren at 10%, Michael Bloomberg at 7%, Senator Amy Klobuchar at 6% and Andrew Yang at 5%, Pete Buttigieg is at 3%. (Jan 9-12, 2020, MM, n=494, +/- 4.4%).
This is an eight point bump for Biden from the FAU September poll that had him at 34%, Sanders saw his vote tick up 2 points from 14% but it is Warren who lost the most support going from 24% in September to 10% in the January poll.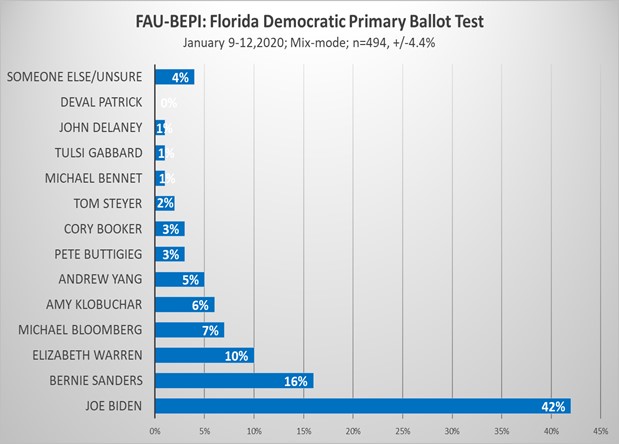 A majority of Democratic primary voters, 54%, said they will definitely vote for their top choice with 46% saying there is a chance they could change their minds and vote for someone else.
Overall, President Trump continues to enjoy a positive approval in the Sunshine state at 45% and 43% disapproval. He continues to be very popular in the GOP with a 66 percentage point lead in a potential primary against two Republican rivals, Trump garners 80% of the vote (n=488, +/-4.4 %).
Florida looks to be competitive in 2020 with the four top Democratic rivals either tied of leading against President Trump in potential head to head general election match ups, a flip from the September poll where Trump has small leads over his rivals.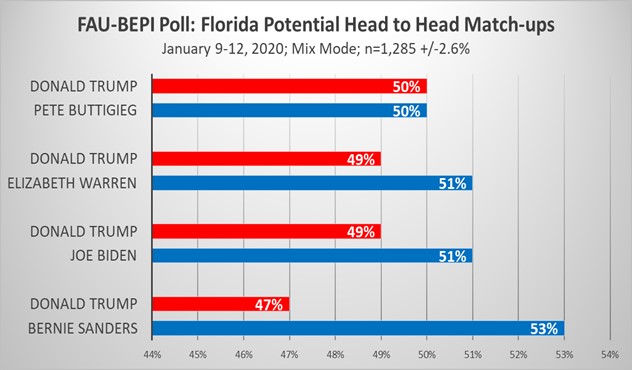 Overall, voters are split if Trump should be removed from office with 51% saying he should not be removed while 49% say he should be removed. Voters are also split about their Congress person voting to impeach the President with 40% saying it will make them less likely to support the candidate with 38% saying they were more likely to support and 21% had no effect.
Sixty-one percent (61%) of voters do not think the US is going to get into a war with Iran while 39% think we will go to war.
Governor Ron DeSantis who has just completed his first year in office is popular with 48% approval and 28% disapproval, 25% of voters were neutral or had no opinion. This is similar to his February 2020 approval of 48% and disapproval of 19%.
Methodology
Data was collected January 9-12, 2020 via a mix mode sample with an online panel provided by Dynata (n=432) and a landline sample provided by Aristotle Inc. and collected by IVR (n=853) for a total sample size of n=1,285, +/-2.6%. Data was weighted based on gender, age, education, and ethnicity based on 2016 voter modeling.