Florida 2020: It's the Economy…
Dead heat in Sunshine State between Trump and Biden; Importance of Coronavirus Split by Party
A new FAU BEPI pre-election poll of likely Florida voters has President Trump tied with his Democratic opponent former Vice-President Joe Biden at 50% each. This is a bounce back for Trump who in the May FAU poll had fallen 6 points behind Biden 53% to 47% after leading in March 51% to 49%.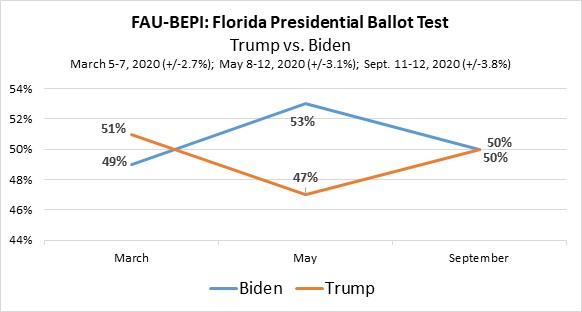 Biden holds a 49% to 46% lead in the ballot test with 5% undecided. Those undecided voters are breaking for Trump 4:1 resulting in a statistical tie at 50% each. About 9% of voters said there is a chance they will change their mind while the other 91% said they will definitely stick with their choice. 97% of Trump voters and 94% of Biden voters say they will not change their minds.
When voters were asked what issue was driving their vote, 37% said the economy, 17% said Coronavrius and 14% said healthcare. Racism/equality ranked 4th at 10%, foreign policy was most important for 9% and no other issue cleared 5%.
For 60% of Republicans the Economy is the most important issue and it ranked the most important issue for Independents at 37% while it ranked at 15% for Democrats. On the issue of the Coronavirus, 27% of Democrats said this is their most important issue, 21% of Independents ranked it as most important while 5% of Republicans ranked it as most important.
When voters were asked about their level of excitement of the election 91% of voters said they are excited for the election with 63% saying they are extremely excited. 72% of Trump voters said they are extremely excited while 60% of Biden supporters held a similar sentiment.
Regardless of who wins 82% of voters said they are confident in the election results, 14% said not so confident and 4% said not confident at all.
Florida voters are expecting to hear results of the election outcome soon after the polls close on November 3 with 38% expecting results on Election Day and another 31% said the next day. Nine-percent (9%) of Florida voters think it could go beyond a week. In 2000 the Florida recount process took 37 days.
President Trump has seen his popularity improve in his new home state since May with a 47% approval and 49% disapproval. Governor DeSantis is in a similar position with a 43% approval and 44% disapproval.
A plurality, 45%, of voters say they plan to vote by mail before the election while another 31% said they plan to vote in-person early. Twenty-four percent (24%) of voters said they plan to vote on Election Day in person. Of those that said they are voting by mail, Biden leads 61% to 32%, of those who said they are voting in person early, Trump leads 62% to 25%. Election Day voters are breaking slightly for Trump 50% to 45%.
Methodology
Data was collected September 11-12, 2020 using a blended mode of n=245 mobile responses, n=157 online responses provided by Dynata and n=229 landline respondents by IVR with both cell and landline samples provided by Aristotle, Inc. The total sample size is n= 631, +/-3.8%, likely general election voters. Data was weighted based on gender, age, education, party affiliation, and ethnicity based on 2016 US Census Voting and Registration modeling.