Floridians Split on President Biden's first 100 Days
Voters Favor Biden's Pandemic Response and Disapprove Handling of Southern Border
A new FAU BEPI poll of registered Florida voters finds that after 100 days in office, President Joe Biden has a 45% approval rating on his overall job performance, with 43% disapproving and 13% undecided.
The data suggests that President Biden's overall approval is driven by how he is handling the coronavirus pandemic. Overall, 57% approve of his handling of the pandemic, with 32% disapproving and 12% unsure.
Another aspect of the Covid response that appears popular is the recent economic stimulus package passed in March 2021. Voters approve with 57% support, 31% disapproval and 12% unsure.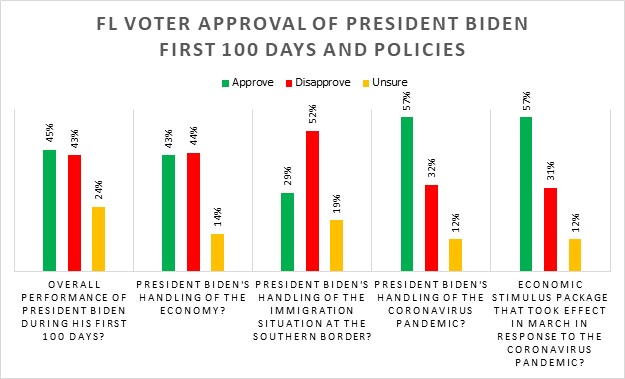 Despite support for the stimulus package, voters are split on President Biden's handling of the economy with 44% disapproving and 43% approving. Response to Biden's infrastructure plan is tepid, with 42% support and 36% opposing and 22% unsure.
The poll data suggests support for potential tax increases with a majority -- 54%, support a tax increase for households earning over $400,000 from about 37% to 40%. Meanwhile, 35% oppose the tax increase and 12% were unsure. This plan is most popular with individuals between 18-29 years old (59% support it) and with those between 30-44 years old (60% support it).
Also, a majority of voters, 55%, support raising the corporate tax rate from 21% to 28%. Thirty-five percent (35%) opposed and 10% were unsure. Once again, this plan is more popular among the younger population. Around 64% of those between 18-29 years old support it and around 63% of those between 30-44 years old support it.
It appears the issue hurting President Biden's popularity is immigration and border policy. Overall, 52% disapprove of President Biden's handling of the immigration situation at the southern border with 29% approving and 19% undecided.
Potential concern about the overall mood of the electorate was found in the data, with 57% reporting being dissatisfied with the way things are going compared with 30% of voters who are generally satisfied with the way things are going, and 14% unsure.
A different question found that Floridians are split about the United States' future, with 51% saying the best days are yet to come while 49% said the U.S.'s best days are in the past. This perception cut by age with a majority, 54%, of those 45 and older thinking the nation's best days are in the past, while a majority of those under 44, 56%, think the best days are yet to come.
While voters were split about the country as a whole, a separate question found a majority -- 59% thought it is easier to achieve the American Dream in Florida than elsewhere in the U.S. This question in the survey received positive responses from members of both political parties, with Republicans (74%) and Democrats (52%) indicating that it is easier to achieve the American Dream in Florida.
A majority of voters, 62%, would like to see more attention paid to global warming and alternative energy solutions in Congress, of which 40% want much more attention. Twenty-four percent (24%) said less attention should be paid to the issues, and 14% said it is currently receiving the right amount of attention.
A plurality of voters, 36%, want to make sure that everyone who wants to vote can do so, 26% were more concerned about making sure that no one votes who is not eligible to vote, while 33% said both were of equal importance, and 5% said neither/unsure.
Caller ID.
The FAU BEPI poll was conducted April 30-May 2, 2021. The sample consisted of Florida registered voters, n=893 with a margin of error (MOE) of +/- 3.2 percentage points. The data sets were weighted by gender, age, education, race, party affiliation, and region. It is important to remember that subsets based on gender, age, party breakdown, ethnicity, and region carry with them higher margins of error, as the sample size is reduced. Data was collected using a cellphone sample of SMS-to-web (n=374), landline sample via IVR (n=285), and an online panel provided by Dynata (n=234).