DeSantis Leads Crist in Florida Governor's Race
US Senate and Gubernatorial Races in Florida (3 weeks out)
Gubernatorial Race
With three weeks until the election on Nov. 8, Gov. Ron DeSantis holds an 11-point over Charlie Crist (51% to 40%). Furthermore, 66% of voters expect the Governor to be re-elected.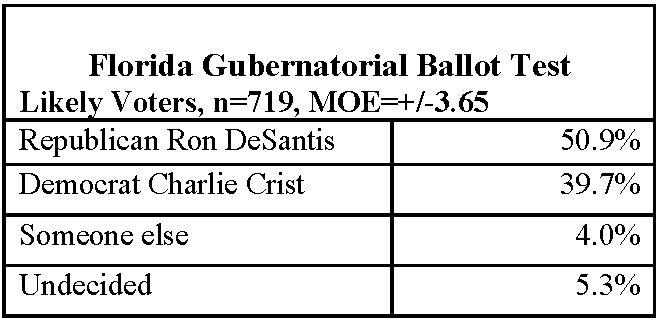 Gubernatorial Job Approval
Governor DeSantis has a 53% approval rating and 39% disapproval rating. Most Republicans (89%) approve the governor's overall job performance in comparison to only 20% of democrats approving his overall performance.
Governor DeSantis received stronger approval for his recent hurricane response (63%) than his overall approval (53%). This includes 41% of democrats approving his hurricane response performance and 32% of democrats disapproving it.
Senate Race
In the Senate race, Incumbent U.S. Senator Marco Rubio (R) is at 48% and Val Demings (D) at 42%, and 7% are still undecided. Furthermore, 60% of voters expect Senator Rubio to be re-elected.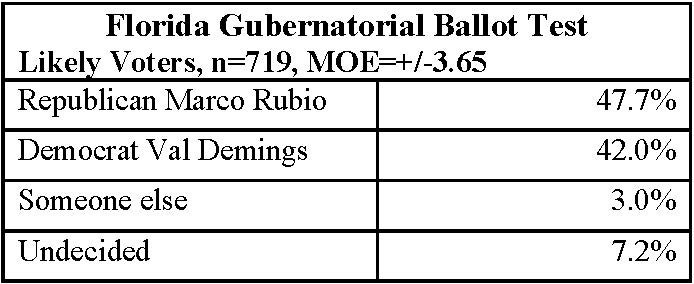 Presidential Job Approval
President Biden has a 41% approval rating and 50% disapproval among voters.
Important Issues for midterm elections
The most important issues for voters are inflation at 36% and threat to democracy at 19%. The only other issues to reach double digits is healthcare at 11%.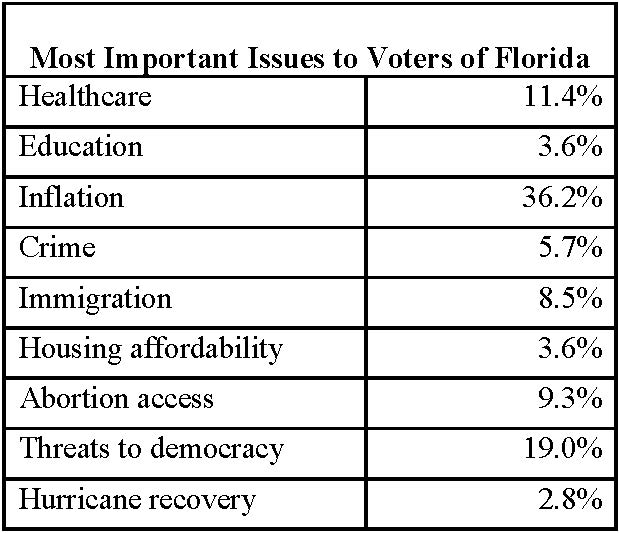 Other findings:
Of the four statewide candidates, DeSantis is the most popular with a 56% favorable/38% unfavorable rating. Rubio has a 51% favorable/41% unfavorable rating, Demings has a 43% favorable/37% unfavorable rating and Crist has his ratings underwater with a 41% favorable/47% unfavorable rating.
In a hypothetical 2024 matchup between President Biden and DeSantis, DeSantis leads 48% to 42% compared with former President Trump who leads Biden 45% to 41%.
Around 34% of the voters indicate that the recent FBI search of Mar-a-Lago make them less likely to support Donald Trump if he runs for election in 2024, while 33% indicate it will make them more likely to support him and 33% indicate that it will not make a difference.
Forty eight percent of the voters said they are likely to vote due to the overturn of Roe vs. Wade, while 48% said that the overturn will not make a difference and only 3% said that the overturn will make them less likely to vote.
Methodology
The FAU BEPI Florida poll was conducted October 12-16, 2022. The sample consisted of registered voters who said they were likely to vote, n=719, the poll's margin of error (MOE) of +/- 3.65 percentage points. The data was weighted by gender, age, education, ethnicity, region and party affiliation based on 2020 turnout modeling. It is important to remember that subsets carry with them higher margins of error, as the sample size is reduced. Data was collected using a cellphone sample of SMS-to-web (n=246), landline sample via IVR (n=80), and an online panel provided by Dynata (n=393).