FAU College of Business Faculty
Dr. Jim Riordan, Director of the MBA in Sport Management program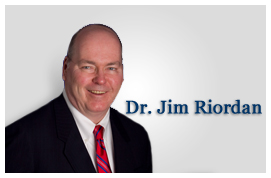 Dr. Riordan initiated the MBA Sport Management program at Florida Atlantic University on July 1st, 2000. Prior to coming to South Florida, Riordan was Director of the Masters of Science in Sport Administration program at Canisius College in Buffalo, NY. During his five year tenure in Western NY, Riordan placed over 80 percent of over 60 graduates in full-time positions in the sports and entertainment industry. Riordan's seven- year placement record at FAU is close to 90 percent. The Miami Dolphins, Miami Heat, University of Miami, Florida Panthers, Radford University, Boston Bruins, Global-Spectrum, Jacksonville University, Florida Marlins, USOC, Toronto Maple Leafs, the LPGA, Conference-USA South Florida PGA, the ACC, and Iowa State University are some of the organizations that have hired FAU MBASport students under his watch. Riordan served as Director of Training and Quality Control for the New York Mets, as well as assisting in the management of Shea Stadium. Between 1980 and 1983, Riordan served as an Assistant Director of Stadium Operations for the West Side Tennis Club (Forest Hills, NY) and the National Tennis Center (Flushing Meadow, NY) the former and current home of the US OPEN TENNIS CHAMPIONSHIPS. In August of 1983, he was named Director of Security and Event Services for what is now known as the Wachovia Spectrum (Philadelphia). At 22, Riordan became the youngest individual in a major market to hold such a position.
In addition to his Spectrum duties, Dr. Riordan served as Director of Security for the Philadelphia Flyers of the NHL and assisted in the planning and implementation of crowd management operations for major outdoor concerts that included the Grateful Dead, Bruce Springsteen, Beach Boys, and the Live Aid benefit concert held in 1985. Other major events that he has performed similar duties for include the 1987 Stanley Cup Finals, official visits to Philadelphia by Hillary Clinton and Nelson Mandela; to Richmond (VA) by Margaret Thatcher, to New York City by Pope John Paul II. Riordan worked for Spectacor Management Group (SMG) between 1989 and 1994. Riordan served as Manager of Event Services at Long Island's Nassau Coliseum, as Director of Operations for the Richmond (VA) Coliseum and Mosque Theater, and as Director of Operations for the Philadelphia Civic Center. In 1996, Dr. Riordan was hired by the Atlanta Committee for the Olympic Games to serve as Sector Coordinator for the Olympic soccer medal-round site, Sanford Stadium at the University of Georgia. In 1999, he was retained by Contemporary Services Corporation (CSC) as a crowd management and event operations consultant for Super Bowl XXXIII in Miami and for XXXIV in Atlanta. In 2004, he wrote a textbook chapter on "Sports as a Leisure Experience" and has served as an expert commentator on sport, entertainment, stadium/arena and crowd management issues for The Sports Business Journal, Athletic Business, South-Florida-Sun Sentinel, Miami Herald, BusinessFirst, Tampa Tribune and WMAQ-AM (Miami)and ESPN's Outside the Lines Nightly.
In 2003, he served as a special consultant to the chair of the FAU Director of Athletics search committee. In 2004, he was named a member of FAU's Athletic Advisory Board, and served on the committee that coordinated FAU's Department of Athletics NCAA Self-Study Re-Certification. He served for two years as the NCAA Faculty Athletic Representative for FAU and was chair of FAU's Athletic Advisory Board. In 2006, Dr. Riordan was named a member of the National Advisory Board of the University of Washington's Executive Education Masters degree program in Intercollegiate Athletics Management and served as an adjunct professor there in 2007. He is a peer-reviewer for the NCAA Self-Study/Re-certification program.
Riordan, holds a BS and MBA from Saint John's University in New York and has completed doctoral work at Temple University in Philadelphia. He holds a PhD in Higher Educational Leadership-Higher Education from Florida Atlantic University and is a member of the national academic honor society of Phi Kappa Phi.
Carl D. Berry
Carl D. Berry, a former New York State Trooper and U.S. Marine Corp Reservist who served during the Gulf War, received his bachelors in political science from the State University of New York, College at New Paltz and his juris doctorate from North Carolina Central University School of Law. As managing partner of Berry, Clark & Wildman, he represents a number of companies in general business matters including, commercial transactions, corporate compliance, mergers and acquisitions, licensing, and litigation in state and federal court. Berry also practices sport and entertainment law providing representation to world class professional athletes, musicians and producers, and television and event production companies.
While at North Carolina Central University, a historically Black University, Berry served as class Vice President and class President. He was a founding member of the law school's Entertainment & Sports Law Association and served on the school's Coalition for Battered Women. Berry was selected by the University's Chancellor, the Honorable Julius Chambers, to serve on the Select Search Committee for the law school's dean.
Early in his career, Berry had the opportunity to work in private practice under the tutelage of former Florida Secretary of State, the late Jessie J. McCrary, who was the first African American to hold to the post for the state of Florida since reconstruction. During that time Berry became a Jim K. Batten Fellow and was on the Board of Directors for the Miami Black Archives. Berry continued his private law practice which included commercial litigation, real property litigation, labor and employment, contract, copyright, and sports and entertainment law.
Berry also worked in sports television, and event promotion, initially, with Don King Productions, Inc. and later Warriors Boxing Promotions, Inc. He has worked on and promoted television programs seen on HBO, Showtime, ESPN, domestic cable and Pay Per View. Berry has published articles and text in the area of federal labor and employment, Americans with Disabilities Act, as well as EEOC law. Berry is an adjunct professor at Florida Atlantic University, teaching sports law for the MBA Sports Administration program and business law for the Barry Kaye College of Business.
Tony Hernandez
Deputy Athletic Director at the University of Miami, Hernandez will teach the Management & Administration of Intercollegiate Athletics course to FAU MBA in Sport Management's faculty. Hernandez previously taught the Sport Law and Management of Intercollegiate Athletics courses for FAU MBA in Sport Management program from 2004-2005. Hernandez has been the Deputy Athletic Director at the University of Miami since April, 2012. He is responsible for coordinating all business operations for the Athletic Department. Hernandez has been at the University of Miami since 1999, holding various positions. He has held the title of Deputy Athletic Director- COO, Senior Associate Athletic Director- COO, Acting Director of Athletics, Associate Athletic Director for Student Services, Interim Associate Athletic Director for External Affairs, Assistant Athletic Director for Compliance, Director of Athletic Compliance, and Compliance Coordinator all at the University of Miami. He received both his Bachelor of Business Administration in Finance and Juris Doctor from the University of Miami. He is currently on a variety of committees including Division 1A AD's Task Force on Enforcement, NCAA Amateurism Cabinet, and the NCAA Student-Athletic Reinstatement Committee.
Patrick W. Lawlor
Patrick W. Lawlor, an Adjunct Professor at Florida Atlantic University, will be teaching Sport Law for the MBASport program commencing in the Fall 2015 semester. Since 1993, Lawlor's career has spanned a broad range of litigation including cases such as Personal Injury, Maritime Law, Wrongful Death, Premises Liability, and Product Liability. In addition to a career in litigation, Lawlor has embarked in a career as a Sports Agent and is currently the President/CEO-Athlete Representation for Galaxy Sports Advisors, Inc. Lawlor has represented Patrick Peterson, the #5 overall pick in the 2011 NFL Draft, and negotiated a contract for over $18.4M, Tyrann Matthieu, a Hesiman Trophy Candidate and #69 overall pick in the 2013 NFL draft, Nick O'Leary, a Florida State TE and the #194 pick in the 2015 NFL draft, and over 30 other professional football players. Lawlor earned a Bachelor of Arts in Political Science from the University of South Florida, a Master of Public Administration from the University of South Florida, and a Juris Doctorate from Nova Southeastern University.