Online MBA (OMBA) in Hospitality and Tourism Management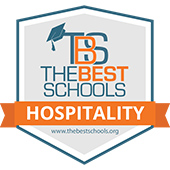 Hospitality and tourism is the world's largest service industry with managerial needs and opportunities across a vast variety of segments: resorts, restaurants, private clubs, meeting and event planning corporations, destination marketing organizations, casinos, theme parks, sport facilities, entertainment venues, and many more.
A Hospitality and Tourism Management specialization prepares students to become service industry leaders ready to join the thriving local, regional and global hospitality network. FAU faculty possess extensive industry experience and continually update curriculum with real-world scenarios to meet current industry demands. Students explore key competencies relevant to hospitality-specific management roles: marketing-management issues, theories on customer, competitor, and core organizational capabilities; advanced managerial perspectives in guest services (including service operations management and strategies for competitive excellence); and operational excellence in event and meeting planning.
Students who choose a Hospitality and Tourism Management specialization select courses from the list below, or other approved Special Topics courses to fulfill the 12 credit (4 course) elective requirement. Elective course offerings vary by semester. Courses may be offered online or on-campus.
*Certain specializations may vary in cost and schedule from the enrolled program (e.g. some specializations may be only available online or require class attendance outside of the regularly scheduled program times, such as on the weekends).
HMG 6299: Hospitality Operations: A Case Approach
Examines operations of hospitality management businesses using critical case analysis approach; reviews multiple industry segments (resorts, casinos, airlines, restaurants, etc.).
HMG 6506: Contemporary Issues in Hospitality Marketing
Offers an advanced examination of services marketing and management within the context of the hospitality industry. Discusses marketing-management issues specific to hospitality and covers theories related to customer, competitor and core organizational capabilities.
HMG 6546: Strategies for Excellence in Guest Service Management
Explores the provision and management of guest service in the hospitality industry from an advanced managerial perspective. Covers service operations management from an integrated viewpoint with a focus on the overarching goal of competitive excellence.
HMG 6756: Meetings and Events Management
Investigates the events industry using an advanced managerial perspective. Examines the structure of the events industry, its global economic impact, the various protocols and procedures in event delivery and the challenges facing today's executives with strategies for operational excellence.
HMG 6901: Directed Independent Study (DIS) in Hospitality Management

(Instructor permission needed)
Supports students in developing an advanced-level research project within the hospitality industry. Students may develop a review of literature on a specific hospitality topic or perform applied research. Design of topic and project done in concert with course professor.