FAU Grad, 'Role Model' To Take Helm of Chicago-based Accounting Giant
By Paul Owers | 09/16/2021
Tags:
Accounting
Categories:
Alumni | Accolades
---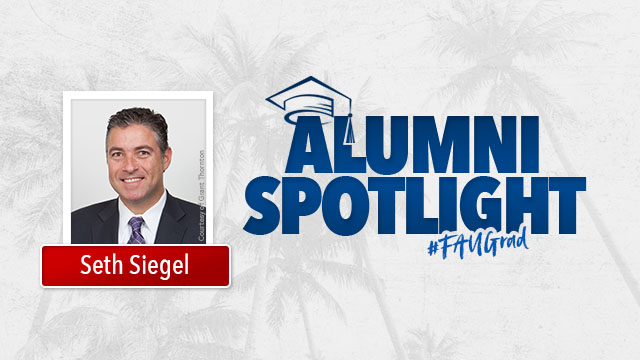 A College of Business graduate has been appointed CEO-elect of Grant Thornton, a Chicago-based audit, tax and advisory firm.
Seth Siegel, the managing partner for the firm's South Florida operations, will succeed retiring CEO Brad Preber on Aug. 1, 2022.
Grant Thornton said its Partnership Board selected Siegel after a succession planning and search process. He also is a board member.
"My goal is to lead our team in helping our clients solve the issues of today while preempting the business challenges of tomorrow," Siegel said in a statement.
Siegel, 49, received a bachelor of science degree in accounting from FAU in 1996. A licensed certified public accountant in Florida, he serves on FAU's School of Accounting Advisory Board and was a past president. He joined Grant Thornton in 1996 and became a partner 10 years later after leaving the firm briefly in the late 1990s.
"There's no doubt that Grant Thornton will thrive under Seth's leadership because he is a very capable manager," said George Young, Ph.D., director of FAU's School of Accounting. "He has used his considerable abilities to contribute to the success of the School of Accounting, and we owe him a debt of gratitude for his focused belief in the school. Seth stands as an excellent role model for our students, and we are proud to call him one of our alumni."
Grant Thornton was founded in 1924. It has more than 50 offices and revenues of nearly $2 billion.
-FAU-