FAU Marketing Students Top Other Florida Schools, Place in International Competition
By Paul Owers | 01/29/2021
Tags:
Marketing
Categories:
Accolades | Students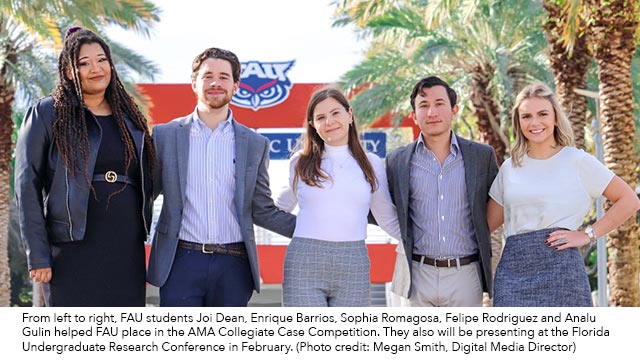 In just its second year of competition, Florida Atlantic University's American Marketing Association (AMA) ranked among the top 25 universities in an international contest featuring 66 entries.
FAU and the other entrants were tasked with providing a $1 million integrated marketing communications plan for storage company PODS, the sponsor of the AMA Collegiate Case Competition. FAU and the University of South Florida earned Honorable Mention designations, ranking higher in the year-long competition than any other schools in Florida's State University System.
Eileen Acello, a marketing instructor and faculty adviser for FAU's 22-person team, said the students' ideas helped PODS improve its standing among a declining Gen Z customer base during the coronavirus pandemic. Their proposal included an umbrella campaign called Push on With PODS.
"I could not be prouder of the talented students that comprised this team," Acello said. "Their creativity and dedication to excellence is largely the reason we received this honor."
The AMA Collegiate Case Competition features top marketing students, who address business challenges submitted by a sponsoring organization.
Last fall, Acello taught a special topics course, Marketing Strategy Case Competition, that used the AMA contest as the major component. FAU's Marketing department plans to turn it into a regular course to be offered each fall, according to Cheryl Burke Jarvis, Ph.D., chair of the department.
"I expect our teams will only improve with Eileen's continued guidance," Jarvis said. "It's a terrific experiential learning opportunity for our majors, and a great way to get FAU Marketing some international attention."
In addition, the FAU proposal was accepted into the 2021 Florida Undergraduate Research Conference, giving FAU's College of Business representation at the statewide event in February. The five FAU students scheduled to present at the conference are: AMA President Felipe Rodriguez; Vice President Enrique Barrios; Community Events Director Joi Dean; Analu Gulin and Sophia Romagosa.
-FAU-