FAU Health Administration Students Shine at ACHE South Florida Case Study Competition
By Denise Gravatt | 05/10/2021
Tags:
Executive-Education | Health-Administration | Management
Categories:
Accolades | Students
FAU College of Business students shine at the 2021 American College of Healthcare Executives (ACHE) South Florida Case Study Competition. Both the undergraduate team (Digital Docs) and graduate team (FEES Consulting) were recognized for their outstanding performance. Competing against other South Florida universities, FAU's Digital Docs earned 2nd place and FEES Consulting took home 3rd place at the closing ceremony.
The case study competition centers on current issues and challenges in healthcare. Students, along with a mentor and local healthcare organizations, spend three months working through the case scenario. This year, students examined a challenging case involving the expansion of a telemedicine company and provided insightful, professional recommendations.
"I was incredibly proud of the hard work these students all put into this year's competition. A panel of healthcare executive judges fired some difficult questions their way, which they all handled with great expertise," said faculty advisor for ACHE event, Jennifer Attonito, Ph.D. and FAU Instructor of Health Administration in the department of Management.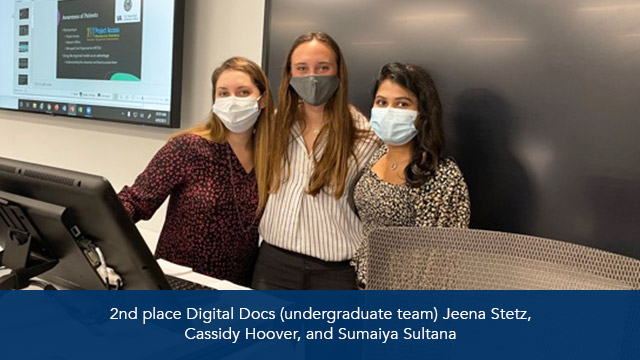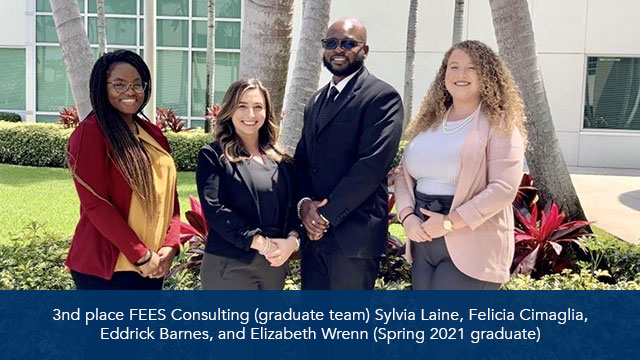 Each team was assigned a community mentor. Graduate students from across several of FAU's Master of Health Administration program options—traditional, online and executive—collaborated on their case and were mentored by Haroula Protopapadakis Norden from ACHE and the Associate Administrator for Memorial Regional Hospital. FAU's undergraduate team was mentored by Sophia Mantovanelli, Clinical Informatics Manager at Broward Health.
Acknowledgments for the event's success include Ms. Ayana Miller, the ACHE-SF Chair who helped to coordinate the event. From the Department of Management – Health Administration programs, Dr. Alan Whiteman, Associate Director Instructor along with Dr. Neeraj Puro, Associate Professor, attended graduate team meetings to provide extra guidance. Thanks as well to Executive Education's Josh Shampaner and Lacey Kramer for arranging meeting rooms for teams to present.
-FAU-