Hispanic Heritage Spotlight: Monica Escaleras
By Jennifer Mullins | 10/15/2021
Tags:
BEPI | Economics
Categories:
Accolades | Faculty/Staff | Initiatives
Newest Chair of the FAU Economics Department
---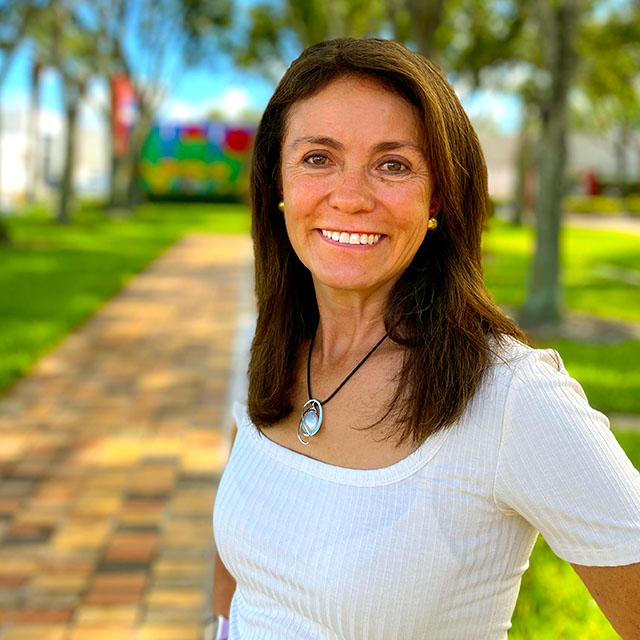 Meet Monica Escaleras, Ph.D. - newly selected Chair and Professor in the Economics Department at the FAU College of Business. Her areas of expertise include Decentralization, Business Administration, Business and Economics Polling, Natural Disasters, Political Economy, Agricultural Economics and Corruption.
Recently featured in Boca Magazine, Monica spoke on how economies respond to natural disasters. She provided a glimpse into her experience as a 16-year-old living in Ecuador, her native country, during an earthquake, which kindled her interest in disaster management and economics.
Monica received her Bachelor's Degree in Business Administration from Kentucky Wesleyan College, a Master's in Food and Resource Economics from the University of Florida, and a Doctorate in Economics from Florida International University. She joined the FAU College of Business in 2004 as an Associate Professor of Economics and, in 2014, founded the FAU Business and Economics Polling Initiative, also known as BEPI.
With the help of undergraduate research students, FAU BEPI conducts surveys on business, economic, political, and social issues with a main focus on Hispanic attitudes and opinions at regional, state and national levels. Students are involved in questionnaire design, data collection and data analysis, and the initiative includes both Hispanic opinion polls and the quarterly Hispanic Index of Consumer Sentiment.
Hispanic Americans are not only the largest ethnic minority group in the United States, but they are also one of the most complex. Hispanics in the U.S. trace their roots to a variety of continents and practice a variety of customs. As the Hispanic population grows, the American public's knowledge about Hispanic Americans grows as well, and the research conducted by FAU BEPI sits at this juncture.
In recognition of Hispanic Heritage Month, we want to recognize Monica for her outstanding accomplishments, awards, and contributions to FAU's students, the College of Business, the University and our South Florida community, including:
Congratulations, Monica, we are so proud of you!
-FAU-