Nearly 600 College of Business Students Earn Degrees in Summer '21
By Paul Owers | 08/11/2021
Tags:
Executive-Education | ITOM | MBA
Categories:
Students
---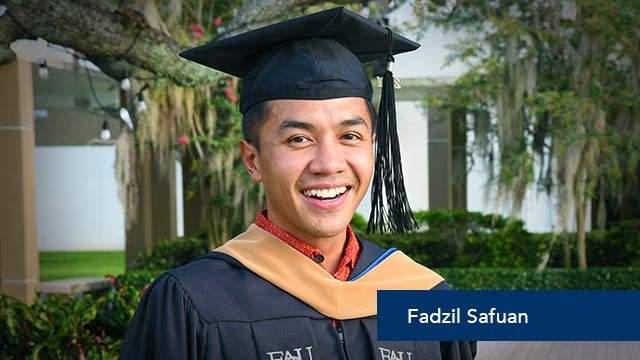 Roughly 600 students in Florida Atlantic University's College of Business were among more than 2,000 people to earn their FAU degrees this summer.
The university celebrated with four commencement ceremonies on Aug. 10 in the Carole and Barry Kaye Performing Arts Auditorium.
College of Business bachelor's degree students received their diplomas with the College of Engineering and Computer Science and the Harriet L. Wilkes Honors College during a 4 p.m. ceremony. Graduate degree students in the College of Business had their own ceremony at 7:30 p.m.
Fadzil Safuan, who graduated with an MBA in business analytics, began the graduate program in spring 2019, a year before the COVID-19 pandemic. In spring 2020, FAU switched to virtual learning because of COVID before reopening campuses for some in-person classes last fall.
Despite the obvious inconveniences that included studying with classmates via Zoom, Safuan said he wouldn't trade the experience.
"It was a fun journey, meeting my team and working with them," he said. "We were trying to reach perfection, which doesn't exist, but it was a good goal."
Also graduating this summer was the first class in the Christine E. Lynn College of Nursing's new second-degree, part-time nursing program. The College of Business executive education team, led by Sybil Alfred, is managing operations for the program.
"We already have the structure and manpower," Alfred said. "We're sharing our knowledge with them."
For more information on the summer commencement, click here.
-FAU-