FAU's AMA-zing Students Continue to Shine
By Denise Gravatt | 04/28/2022
Tags:
Bulletins | Marketing
Categories:
Accolades | Faculty/Staff | Students
---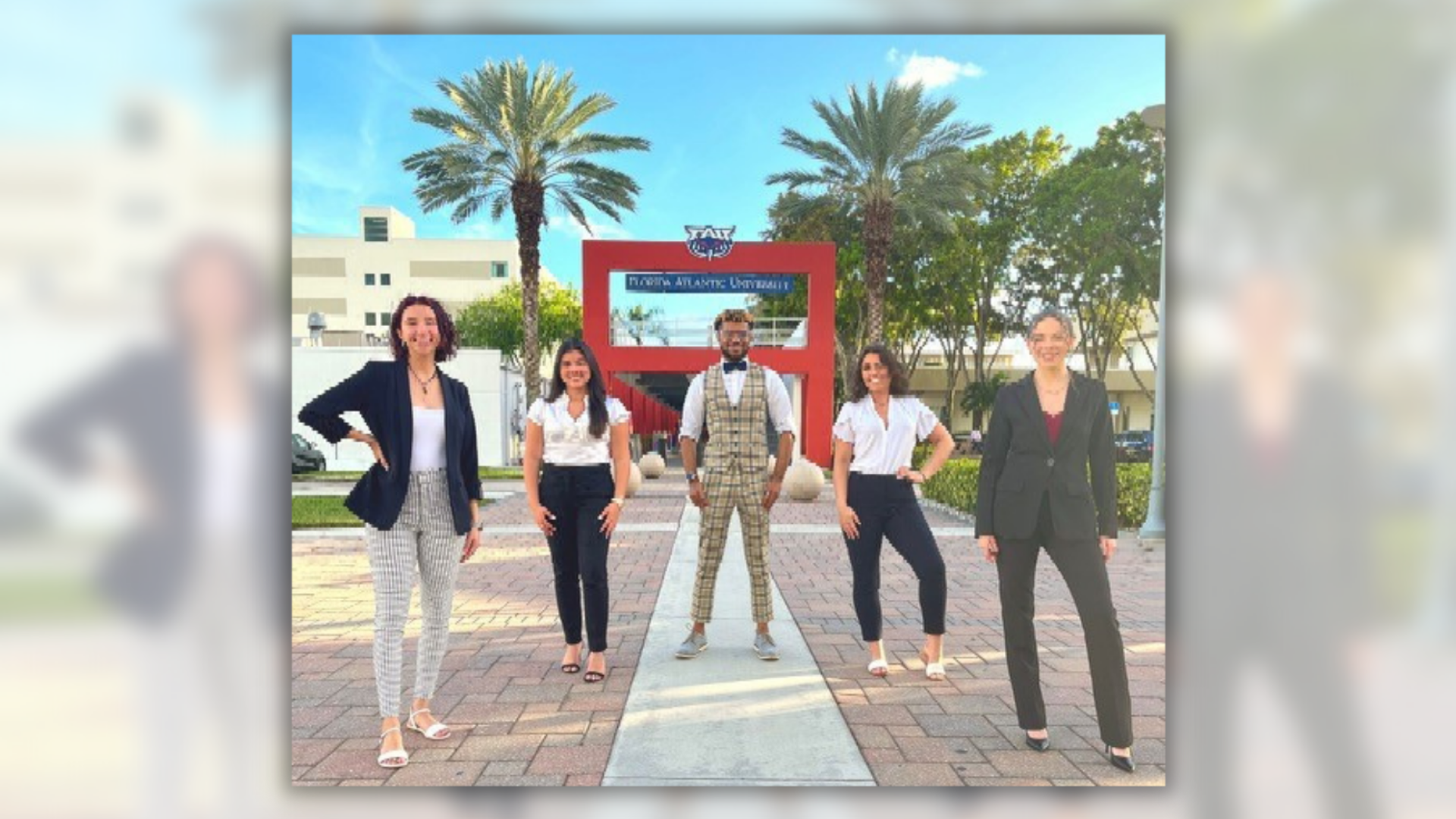 FAU's American Marketing Association (AMA) chapter has a lot to be proud of this year. From sponsoring philanthropic events, like Palm Beach County Food Bank, hosting networking workshops like with E&J Gallo Wines for "Wine Etiquette" night to bringing in local marketing experts and alumni guest speakers, FAU AMA provides students with professional and social opportunities.
FAU's AMA chapter of 65 AMA-zing students also has some notable accomplishments in its marketing work and research: earning an Honorable Mention and Top 27 placement in AMA's International Case Competition, participating in the state-wide Florida Undergraduate Research Conference, and winning first place among FAU undergraduate researchers.
Under the guidance of Eileen Acello, AMA advisor and marketing instructor, with support from FAU's Marketing department, this year's FAU AMA team once again placed in the top 27 at the AMA International Collegiate Case Competition among 76 schools. For a second year (in only its third submission), the FAU team earned an "Honorable Mention," ranking alongside other Florida universities (FSU, UF, and USF), in the category. No Florida school ranked higher!
This year's case study, sponsored by Amazon's Prime Student, focused on the Amazon Prime Student as the corporate "client," and included developing a full marketing plan. Students take the special topics course, Marketing Strategy Case Competition course each fall, to learn essential research, data gathering/analysis, and teamwork skills all in preparation for the AMA competition. Professor Acello teaches the course and observes the students' strong work ethic and dedication firsthand: "the students in the AMA Competition class worked diligently to create a comprehensive plan for their client Amazon Prime Student.They learned that their strategic decisions need to be rooted in research which they conducted through surveys, interviews, and focus groups. It was a great learning experience for all of them."
The 22-person team conducted extensive research for its Amazon Prime Student Case Study: Targeting Generation Z, a campaign designed to increase Prime Student subscriptions among the target audience of 18–25 year-olds. Marketing strategy decisions were based on data-driven insights gleaned from primary data sources created and conducted entirely by students:
514 survey responses
108 student interviews conducted
28 interviews with Orientation Leaders and Resident Assistants
Focus group consisting of 7 people (on Zoom)
Secondary research from credible sources, articles, reports, and statistics
The case presenters included Marcus B. Walker, Arianna Dalfonso, Valeria Tineo, Lizzie Mulvaney & Samantha Rodriguez
"As my time at FAU comes to an end, my greatest piece of wisdom for students is to get involved in student organizations on campus. My American Marketing Association membership rewarded me with leadership opportunities, internships, a network of industry professionals, and job offers before graduation! I'm beyond grateful for my experience as President and the ability to watch my chapter flourish in the hands of those I positively influenced."

~ Sophia Romagosa (AMA President)
"AMA is an organization on campus that every aspiring leader whether it be in marketing or any other business-oriented field should join. This organization has helped me network with professionals, meet a group of inspiring and intelligent individuals, and set me up to have multiple job offers before graduation. I could not be grateful enough for my membership in the AMA at FAU!"

~ Lizzie Mulvaney
"Being a part of the AMA organization has been one of the most rewarding experiences in my collegiate career. It's opened doors for me that I never thought would be there and has helped prepare me for life after graduation!"
~ Valeria Tineo
"Joining AMA at FAU has been incredibly beneficial for my personal and professional development. My time so far with the organization has helped me further enrich my communication, time management, and workplace skills. Not to mention, I've been exposed to a plethora of business-related individuals and resources to help propel my career to the next level."

~ Marcus B. Walker

FAU AMA had 15 students participate in the March 2022 AMA International Collegiate Conference in Chicago where more than 300 collegiate AMA chapters and 900+ students from the US, Canada, and Puerto Rico gathered to network.
The AMA team case was accepted and presented at the competitive Florida Undergraduate Research Conference hosted at the University of Central Florida in Orlando in February 2022. The team was also accepted and presented in the National Conference for Undergraduate Research (NCUR) in April 2022. And in a final culminating success for this year, the AMA team won first place in business research at FAU's 2022 Office of Undergraduate Research and Inquiry (OURI) Symposium, receiving the Eric H. Shaw Symposium Excellence award, a monetary prize thanks to the generous donation of Dr. Eric H Shaw, Emeritus Professor of Business.
"The team that delivered the presentation at OURI went over and above to communicate, create, and practice long after their class ended. I am very proud of all of their accomplishments!"

~ Eileen Acello
Special mentions for AMA 2022 Participation, Service, and Leadership:
Executive Board for AMA: Valeria Tineo, Denzel Tennant, Sophia Romagosa (current president)
Graduating Seniors: Lizzie Mulvaney, Samantha Rodriguez, Aiyanna Bhagwandin, Mercedes Rodriguez.
Co-presidents for 2022-23: Thuy Do and Casey Morgan
- FAU -