Students Get Scholarships To Attend Forensic Accounting Conference
By Denise Gravatt | 05/16/2022
Tags:
Accounting | Centers | Executive-Education
Categories:
Initiatives | Students
Scholarship Recipients Learn About Fraud, Forensic Accounting, and Asset Forfeiture/Asset Protection
---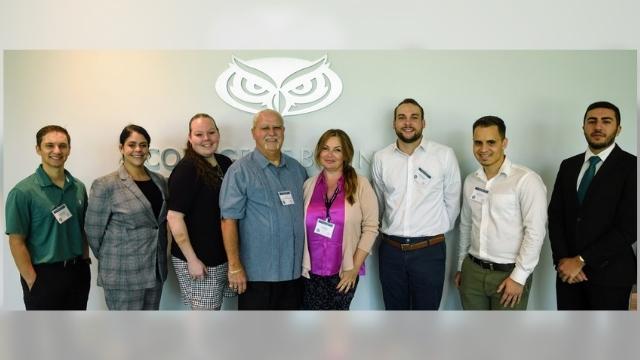 Eight FAU College of Business students received scholarships to attend the two-day Forensic Accounting and Asset Forfeiture/ Asset Protection Conference jointly sponsored by the U.S. Department of Treasury's Office of Inspector General, FAU's Center for Forensic Accounting, and the Palm Beach County chapter of the Association of Certified Fraud Examiners (ACFE) on May 5-6, 2022.
For the first time, scholarships were made available for students to attend the conference. Initiated by Dr. Jay Leiner, Co-director of the Center for Forensic Accounting and instructor in the graduate program, where he teaches courses on fraud investigations and interviewing, the students' conference fees were funded by the Palm Beach ACFE and a private sponsor. Students attended twelve presentations by industry and government experts, enjoyed catered meals for both days, and received a certificate of attendance awarded by FAU.
Each of this year's scholarship recipients are FAU Accounting students—graduate students pursuing their Master of Accounting with concentrations in Forensic Accounting and Digital Accounting Forensics and Data Analytics along with undergraduates—all interested in learning more about the many career opportunities in fraud and forensic accounting. Congratulations to Ashely Werdann, Iuliia Tran, Daniel Mazloum, Dylan Scheuerer, Quentin Maiwald, Stacey Levine, Chris Stewart, and Ryan Garcia.
Dr. Leiner believes the greater exposure students have to the different areas within the forensic accounting field—from private to public and government agencies—the better they will be able to realize their career goals and take advantage to learn more about the many avenues in the profession.
"The conference was a chance for students to meet professionals who are very excited about the fields they work in. Whether working in the public or private sector, networking and exchanging information is always taking place. The students got the chance to connect and network, make contacts, and even possibly opened up doors for future opportunities."

~Dr. Jay Leiner
Featured speakers from various areas of government as well as private sector experts from the forensic accounting and law enforcement communities shared information for current trends in asset tracing, money laundering and combating fraud. This conference focused on criminal civil asset tracing and forfeiture along with private sector asset protection through forensic accounting, covered interesting topics, including:
"Fundamentals of Money Laundering"
"Fraudulent Conveyances, Alter Egos, and Nominees, Oh My! Avoiding Tax Evasion Schemes Advertised as Asset Protection"
"Ethics in a Bottle: What Hasn't Changed and What is Coming"
"Case Study: Reclaiming Frozen Proceeds of Pandemic Fraud from the Financial System Through Asset Forfeiture"
Students shared what they learned and the value of attending the conference:
"Attending the conference was a great way to finish my Master of Accounting degree with a Forensic Accounting concentration, my fourth master's degree. I earned the first three in Ukraine, where I am from and where I worked as a forensic accountant for seven years before moving to the U.S. in 2016. By 2018, I enrolled at FAU and earned my CFE in 2020. The conference was my next educational journey. As a CFE, the Covid-19 related fraud schemes stood out to me, and I was very interested in learning more about PPP and EIDL loans. All the presentations were very informative, and the networking was awesome!

~Iuliia Tran, CFE & Spring 2022 Graduate Executive
Master of Accounting (Forensic Accounting)
"My favorite part of the conference was the collaboration and the teamwork that took place after each challenging question. Rather than brushing it off, the presenters and multiple subject matter experts would engage in a dynamic dialogue to give the best answer. I'm grateful for the opportunity, and glad I was able to invite some fellow classmates and learn with them outside a traditional classroom setting."

~Daniel Mazloum, Senior Accounting student and
President of the Accounting Students Association and
President of Beta Alpha Psi
I knew there was fraud surrounding the recent PPP loans, however, I was blown away by the huge numbers. It seems overwhelming! I was also interested in learning how many government departments are involved with investigating and prosecuting fraud.

The conference was a great opportunity to network with professionals already established in their careers. Networking with the speakers as well as the attendees that came for CPE credits was a great chance to see accounting careers from different perspectives. I came away from the conference convinced that I need to do more research on how I can specialize in accounting.

~Quentin Maiwald, FAU Undergraduate Accounting 2022 Graduate
-FAU-