FAU's Beta Alpha Psi Chapter - A Decade of Superior Status
By Denise Gravatt | 08/30/2022
Tags:
Accounting | Bulletins
Categories:
Accolades | Students
---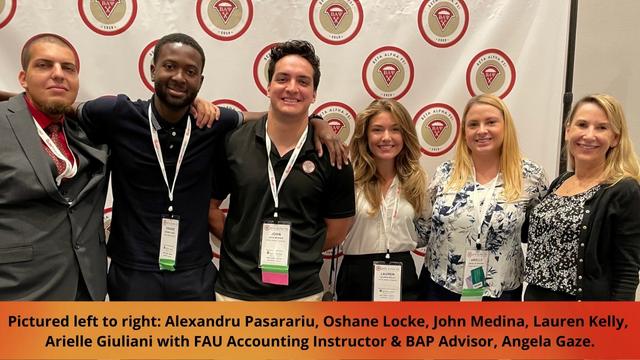 For a decade, the FAU chapter of Beta Alpha Psi (BAP) has consistently maintained Superior Status recognition because of the hard work and dedication of the BAP officers and members. Superior Status (along with a check of $500 from KPMG) is awarded to BAP chapters based on the chapter's professional development hours, community service hours, and active involvement in regional and national activities (such as presenting at regional and annual meetings).
BAP's Annual Meeting of all chapters reconvened its in-person conference during the last week of July 2022 in Orlando, Florida. FAU students Arielle Giuliani, John Medina, Alexandru Pasarariu, Oshane Locke, and Lauren Kelly, attended and presented in competitions:
Deloitte Best Practices competition: Arielle Giuliani and John Medina received first place earlier in the year at BAP's Southeast Regional competition for their "Art of Change" video. Only first place winners from each of the nine regions were permitted to compete at the BAP Annual Meeting. "Art of Change" documented FAU BAP's innovative adaption to serving students during Covid.
Project Run With It competition: Presenters were Alexandru Pasarariu and Oshane Locke.
"The Project Run With It presentation at the BAP conference not only provided me with an opportunity to gain real-world consulting experience, but I also faced my fear of public speaking. Attending the BAP conference was a wonderful opportunity to network with business majors from around the world, some as far off as Australia.

Students should consider joining BAP because it is the premier honor society for business majors. Being a BAP member has greatly benefited me as a student as it has given me more opportunities to network with my peers and develop my skills as a leader."

~Alexandru Pasarariu, FAU Accounting Student & BAP Officer (Director of Media & Marketing)
FAU's BAP chapter supports the organization's mission:
Promoting academic excellence in accounting, finance, business analytics, and digital technology.
Providing professional development opportunities among members and professionals.
Encouraging ethical, social, and public responsibility in practice.
"Our Beta Alpha Psi students exhibit the very best the School of Accounting offers. Their knowledge, abilities, and teamwork reflect their personal qualities and those of FAU's accounting program. We are immensely proud of them!"

~ George Young, Director of FAU School of Accounting
Beta Alpha Psi is a 100 year old international honor organization for financial information students and professionals that has grown to over 300 chapters and over 300,000 members across colleges and universities around the world. All schools with BAP chapters are highly accredited with AACSB and/or EQUIS accreditations.
Learn more about upcoming events and how to get involved in FAU's Beta Alpha Psi.
-FAU-