FAU Student's Pet Project Wins Statewide Entrepreneurship Competition
By Paul Owers | 07/08/2022
Tags:
Bulletins | Entrepreneurship
Categories:
Accolades | Faculty/Staff | Initiatives | Research | Students
---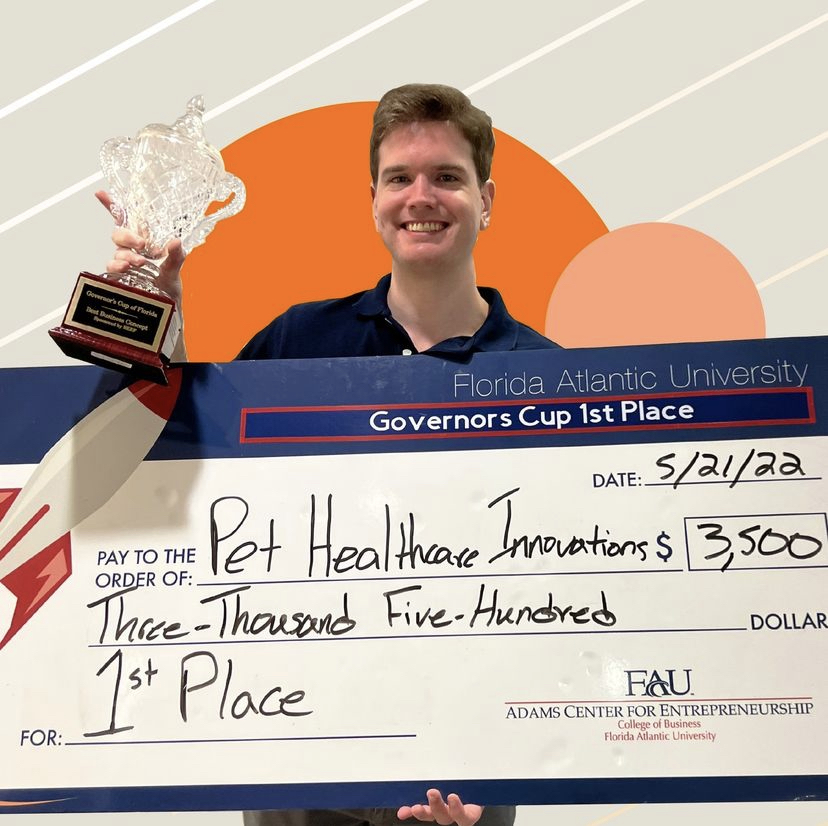 An FAU student's start-up that makes mobility devices for pets won first place in The Governor's Cup, considered Florida's premier collegiate business pitch competition.
John Thomerson's Pet HealthCare Innovations beat five other entries and earned $3,500 from the contest sponsored by the Roundtable of Entrepreneurship Educators of Florida.
Thomerson started his company after his own dog, Daisy, a wirehaired terrier, suffered from weakness and paralysis in the legs. Thomerson created a prototype device that supported the animal when she went potty, extending her life for more than two years.
He plans to test the device with veterinarians and pet owners, and he'll modify it based on their suggestions. He then hopes to generate sales and branch out into related products while entering more business plan contests across the country.
"We're just getting started," said Thomerson, 36, who is seeking a dual major in mathematics and neuroscience and behavior in FAU's Charles E. Schmidt College of Science. "I can't wait to see what we can do in the next year."
In addition to winning the Governor's Cup, Pet HealthCare finished in second place in FAU's April Business Pitch Competition, sponsored by the Adams Center for Entrepreneurship in the College of Business.
FAU hosted the Governor's Cup after it was shelved for two years during the pandemic.
"We enjoyed hosting the annual statewide business pitch competition," said Kevin Cox, Ph.D., assistant director of the Adams Center. "The student entrepreneurs from universities all around the state were very impressive, making for a challenging and intense, but friendly, competition."
The runner-up was Coast to Coast Hammock Co. by the University of Tampa's Haley Tisone and Sophie Dickerman, who took home $2,500. Third place and $1,400 went to Wriggle Brew by Samuel Baker of the University of Central Florida.
-FAU-